2020 Matteo Pellicone | UWW Ranking Series
Matteo Pellicone Memorial Greco-Roman Preview
Matteo Pellicone Memorial Greco-Roman Preview
The complete Matteo Pellicone Memorial greco-roman preview.
Jan 13, 2020
by Timmy Hands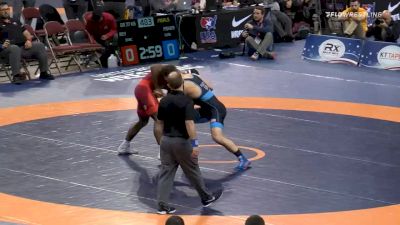 Unlock this video, live events, and more with a subscription!
Get Started
Already a subscriber? Log In
Unlock this article, live events, and more with a subscription!
Get Started
Already a subscriber? Log In
How important is the Matteo Pellicone Memorial this week in Rome, Italy? It depends on who you are and where you're from.
The First Step Towards Olympic Qualification
Precious "Ranking Series" points elevate the status of a tournament that, before last year, was seen as a somewhat average international gathering due to its occasional sprinkling of top-level athletes who would show up in Italy just to jump in a few matches, collect a little prize money. But once ranking points entered the picture in 2019, participation naturally expanded, the action improved, and it was good enough to warrant a return to "Ranking Series" designation in the most critical year of the entire quadrennial.
That is why 2020's running of Pellicone (which begins on Wednesday morning) once again welcomes in a substantial number of World medal-winning wrestlers. The points matter. Big time. For those already qualified for the Tokyo Olympics, said points influence potential seeding concerns. For those who are not, points acquired may result in a top-2 seed at their respective Continental Olympic Qualifiers, where appearances in the final round automatically translate into tickets punched for Tokyo.
Watch the Matteo Pellicone LIVE on Flo
January. 15-18 | 4:30 AM Eastern
The latter scenario represents the boat in which five US athletes are paddling, making their success in Pellicone all the more desirable. When the Pan Am Olympic Qualifier pops off in March, all SIX American Greco wrestlers getting the nod have to place in the top-2. That's the assignment.
Yes -- there will be one more shot for Olympic qualification following Ottawa, the "Last Chance" tournament in Bulgaria. But that is a situation everyone would like to avoid, not just the US, since the climb there is expected to present exceedingly treacherous uphill terrain.
The bottom line: Matteo Pellicone in 2020 is a marquee elite-level event on its own merit. But for US athletes, it's more than that. With Cuba not sending a single, solitary wrestler (but Venezuela sending several), a solid all-around showing this week could clear a path for qualification in Ottawa, and by extension, guarantee a USA Greco-Roman presence in Tokyo.
The Landscape
55 kg: USA Entrant — Max Nowry (Army/WCAP)
Coming off of his 5th place finish in Nur-Sultan, Nowry entered the Farrell at 60 kilos and had a great showing, ultimately placing 2nd to teammate Ryan Mango (they didn't actually wrestle the final round). 60 is where Nowry will be for the Trials, but he's going 55 in Italy because 1) he doesn't cut to 60; 2) he wants to acquire ranking points just in case he winds up in the non-Olympic weight Worlds.
Not a steep bracket at 55 in Rome, but Andrii Semenchuk (UKR) and Dogus Ayaczi (TUR) are suitably tough. Nowry did score a win via fall over Ayaczi this past August in Poland, so there's just a little history for which to account.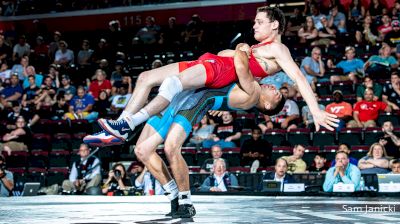 Unlock this video, live events, and more with a subscription!
Get Started
Already a subscriber? Log In
60 kg: USA Entrant — Ildar Hafizov (Army/WCAP)
Hafizov wrestled inspired at the Worlds, going 1-1 with his lone loss to '18 World bronze Lenur Temirov in a winnable bout. A month later at the Military Worlds, Hafizov decisioned '18 bronze Sailike Walhian en-route to 3rd. He has been at it constantly. Outside of a brief respite, Hafizov has remained on the horse given this season's implications. So long as he's healthy, you're talking about the most elegantly violent technician in our country.
China has both Walihan and Erbatu Tuo registered, and that's just the beginning. Also slated for involvement are former age-group stud Kerem Kamal (TUR) and steady hand Islomjon Bakhramov (UZB), as well as the always-solid Erik Torba (HUN), among others. It's a rough road, but certainly not above Hafizov's pay grade.
67 kg: USA Entrants — Jamel Johnson (Marines) & Xavier Johnson (Marines)
No relation (you knew that already, right?), but the Johnson duo from the Marine Corps -- both National Team members -- are serious contenders domestically at 67, and are both qualified for the US Trials. The Marines, they travel. A lot. Overseas action is a part of their lifestyle. Jamel has an arsenal of big moves, but is a little more classical in his approach than Xavier, who is walking stick of dynamite when he locks his hands.
The conversation at 67 elsewhere begins and ends with Mohamed El Sayed of Egypt, who is in the midst of a magical run that has included back-to-back U23 World titles, a Military World gold, and of course, that 5th from September that qualified him for the Olympics. The US will have their eye on Joilson de Brito Ramos (BRA), since he is an obstacle for #1 Ellis Coleman in Ottawa, so if either (or both) Americans grab de Brito Ramos it's going to be scrutinized accordingly. But all in all, a surprisingly light field at 67 despite the event's significance.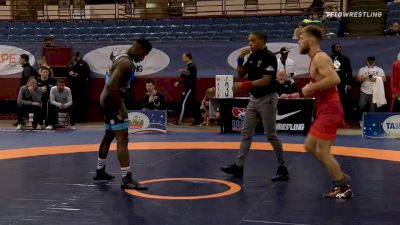 Unlock this video, live events, and more with a subscription!
Get Started
Already a subscriber? Log In
72 kg: USA Entrant — Raymond Bunker (Marines)
Bunker is quickly becoming a folk hero, a lunch pail everyman who plows and plows, and fights and fights; and if the opposition is still standing, at the very least, they are battered and broken. That is Bunker's calling card, to just keep coming and coming. Underhooks are his best friend, but if he struggles to gain his footing in the pummel the lack of one is not an alarming liability given how hard he charges. That, plus his reverse lock, are why he was a World Team member in '19, and why he is a medal candidate in Italy.
Non-Olympic 72 is not packed. World runner-up Aram Vardanyan (UZB) is the obvious front-runner on paper, an all-around stylist who can throw, but also pick and peck for passives and lifts. Pariz Nasibov (UKR), who most remember from when he was an age-grouper, is a gamer with a clean par terre game. 2018 U23 World Champ Cengiz Arslan (TUR) would obviously be tabbed as another name to watch. You want to see Bunker versus any or all of them.
77 kg: USA Entrants — Kamal Bey (Sunkist); RaVaughn Perkins (NYAC); & Patrick Smith (Minnesota Storm)
77 kilos in Rome is being met with some serious American firepower. All three have been World Teamers, and all three are considered big threats at the Olympic Trials. Bey just wrapped his fourth US National title, while Perkins, who is recovered and healthy, finished third in Texas. Smith has focused on his training plan since the World Championships, and has paid special attention to par terre as of late. Fans want to see a State College preview featuring any combination of the three (particularly Bey and Perkins because they've never locked horns in a match), but maybe let's wait on that. The field here offers some other compelling potential matchups, and those US vs. US (Greco) bouts overseas tend to unfold in an echo chamber.
Two-time World medalist Emrah Kus (TUR) leaves 82 kilos for the first time since '17, so he has Olympic aspirations. A prolific reverse-lifter. Countryman Fatih Cengiz, a U23 World champ in '17 as well as Senior bronze that same year, is compact and pesky, but keeps a nice pace and can roll 'em up from par terre. Attention should be paid to Wuileixis Rivas Espinosa (VEN) and Angelo Marques Morreria (BRA), respectively, since both are Pan American athletes who Smith may run up against in March.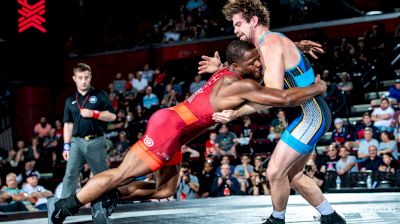 Unlock this video, live events, and more with a subscription!
Get Started
Already a subscriber? Log In
82 kg: USA Entrant — John Stefanowicz (Marines)
The World Championships left a bitter taste in Stefanowicz's mouth. It was a Murphy's Law set of circumstances. Anything that could go wrong, did, and worse yet, Stefanowicz was unable to stem the tide. It was quicksand, and not all of his own doing. Some of that feeling was eased in November. That's when Stefanowicz, up at 87, won Sweden's Haparanda Cup, his first Senior overseas gold. A notoriously hard-charger, the Marine also sports a deft arm spin and an increasingly reliable toolkit from par terre top. 82 is not going to be STEF's weight in April; that will be 77. But for now, like Nowry, Rome is more of a "get matches in without cutting" factor.
The spotlight is going to shift right away to '19 bronze Jalgasbay Berdimuratov (UKR), who Stefanowicz nearly clipped last year in Zagreb. 2017 U23 World Champion Burhan Akbudak (TUR) is fresh off a monster campaign that saw him place in three of four "Ranking Series" events and win Pytlasinski. Still, Turkey sent Kus to Nur-Sultan because they had to, though Akbudak was seen by some as the stronger choice. Nevertheless, here he is, and will be joined by a trio of skilled Germans -- Rolan Schwarz (who impressed last season at Euros and defeated Smith at the Worlds), '16 Military World gold Pascal Eisele, and Florian Neumaier, who doesn't have the resume yet but is on the come-up.
87 kg: USA Entrants — Patrick Martinez (NYAC/FLWC) & Joe Rau (TMWC/Chicago RTC)
"Lone Wolf" Martinez was stringing together another glittering Nationals performance in Texas last month until his back locked up and forced a withdrawal from the finals. But that's okay. He's fine. Martinez and the rest of the US athletes just finished camp in Springs. Rau makes his season debut after recovering from a shoulder injury that provided a good scare. As such, he is re-energized, motivated, and ready to make this tournament count for something. This is yet another weight class for the USA showcasing two athletes who have been on multiple World Teams. Both are fitfully experienced against top-flight foreigners, which is a very good thing to have when you glance at the other entries in this bracket.
The reliable multi-time World medalist Viktor Lorincz (HUN) is going to get the most publicity, and you know, he deserves it. Nearing 30, Lorincz is one of the most consistent upper-weights in the sport and projects as a pick for many in Tokyo. The guy most will ignore but shouldn't is Dogan Goktas (TUR). Obscured normally by Turkey's depth, Goktas has to take advantage of these opportunities. It just so happens that he is an actual thrower on the feet when so many are content with metronome-like pummeling. For Rau, it'll be very interesting to get a match with Luis Avendano Rojas (VEN). Avendano downed Rau at the Pan Am Games, which of course means that he is seen as a possible issue in Ottawa. For his part, Avendano is a very legitimate athlete whose physical ability outshines his actual wrestling skill. Either way, he is a puzzle in need of solving, so if that can happen in Rome to a degree, super.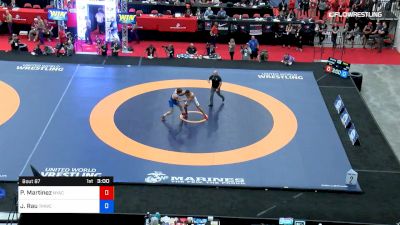 Unlock this video, live events, and more with a subscription!
Get Started
Already a subscriber? Log In
97 kg: USA Entrants — G'Angelo Hancock (Sunkist) & Daniel Miller (Marines)
He does not care -- at all -- but Hancock's World #2 ranking is on the line in Rome. That's because UWW's top-20 will reset following the tournament. There are bigger issues at the moment for Hancock. He is gearing up for Ottawa like everyone else, and has been preparing accordingly. He snared gold in New York, and keeps finding his way across the ocean in search of foreign partners. Miller, he is also always training, and US fans know he has a knack for performing overseas. Two goals for two wrestlers: Hancock wants the points for bracket separation in March; and Miller wants to buoy his confidence heading into the spring when the real cards are dealt.
Maybe Hancock needs a match with '14 World champ Melonin Noumonvi (FRA) just to send a message that what happened in Nur-Sultan shouldn't have, but it's more likely that he and Miller won't be able to zero in on any one opponent. That's because there are plenty from which to choose. Finland is showing up hard-style: U23 World Champion Arvi Savolainen has become a major player here, but Matti Kuosmanen (U23 World silver in '17) earned the spot for at Senior in '19. Double trouble, but 97 kilos is enormous up and down the bracket in Rome. Norway's Felix Baldauf is now firmly established, Janogir Turdiev (UZB) is one of the most well-balanced wrestlers in this bracket, Germany is coming with Ramsen Azizir and Jan Zirn… It's a minefield, and hopefully that leads to this weight class taking a step up in the eyes of viewers.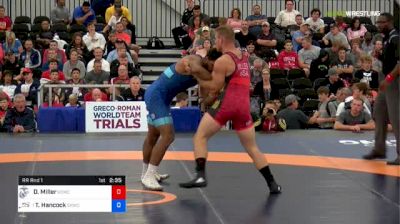 130 kg: USA Entrants — Adam Coon (NYAC/Cliff Keen)
Across the board, in each and every phase, Coon is even better than he was when he surged to silver at the '18 Worlds. At the same time, he was, rightfully perhaps, none too pleased with his results last season. Losing his only bout in Kazakhstan to a guy he defeated the year prior (Lingzhe Meng of China), along with going one-and-done at the Pan Am Games before that (granted he fell to a previous World bronze) did not sit well, but that's all in the past. Coon has been hard at work, and his gutwrench has become a trusty, punishing lock that could use a stiff test or two this week. And when he forces reactions, be it off the over/under or by simply imposing his will via snaps, his confidence in-match grows. That's what he needs in this tournament, an early moment or two against a solid foreigner to regain that feel. Coon is the ultimate gamer, so that shouldn't be a problem.
Wouldn't you know it, but Meng is registered. So is Norway's Oskar Marvik, who as of now is also registered for Thor Masters this weekend, which would be quite the workload. Former age-group dynamo and U23 World bronze Osman Yildirim (TUR) is getting a shot after winning two ranking events last year. Yildirim, for any other nation on Earth would he be a coveted heavyweight. Maybe Muminjon Abdullaev (UZB) could do something here. He seems to have the tools a heavyweight needs, but in the interest of brevity, US fans (and coaches, and Coon) will want to check out Moises Perez Hellburg (VEN). Perez Hellburg benefited from a sparse path to the Pan Am Game finals and obviously projects as someone Coon needs to squash in March.