Arizona State Uses Long Break To Qualify 3 Wrestlers To Olympic Trials
Arizona State Uses Long Break To Qualify 3 Wrestlers To Olympic Trials
The Arizona State wrestling squad had a big break for the holidays, but the Sun Devils used that time to qualify three wrestlers to the Olympic Trials.
Jan 2, 2020
by Nick Zeller-Singh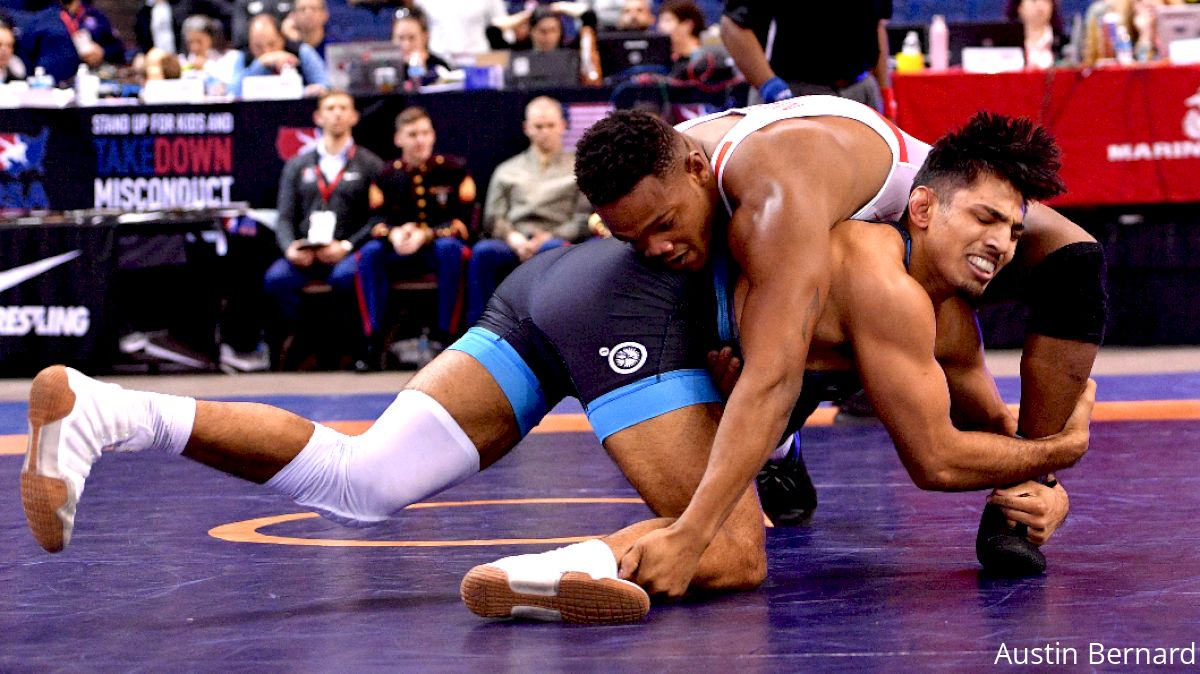 Unlock this article, live events, and more with a subscription!
Get Started
Already a subscriber? Log In
The last time Arizona State stepped on a mat together was December 6, 2019. Although head coach Zeke Jones placed a month break on the schedule until the Sun Devils face off against Ohio State on January 6, the time off allowed the squad to compete for spots in the 2020 Olympics.
While most of the Devils will not compete in Tokyo, three wrestlers decided to utilize the month to pursue their dreams. Freshman heavyweight Cohlton Schultz, as well as Anthony and Zahid Valencia, took down the US Open.
Anthony battled the 74 kg bracket while Zahid topped the 86 kg class, and Schultz captivated the 125 kg class.
Schultz triumphed the tournament as the first seed. The merciless 19-year-old had a simple game plan that led to the gold-medal finish.
"The plan usually stays the same," Schultz said. "I'm going to get to my ties, be able to control position and control the middle of the mat, and look for offense whenever I can get it. I just got to be hungry and take whatever they give me."
Schultz's eagerness placed him one step closer to his dream: representing the red, white, and blue.
"I qualified already by getting a medal at Junior Worlds this year, but it's definitely exciting to see everything come together," Schultz said. "My goal has been to be a world Olympic champion forever, so to see it getting closer and closer is exciting for sure."
Although Schultz dominated, the Valencias headlined the showcase for two separate reasons.
Anthony slipped into an Olympic Trial spot by finishing fifth. However, he knows he's inches away from flipping a fifth to a first.
"I like to think of it as a chess game. I know I'm right there with these guys," Anthony said. "I just got to work on my skills a little bit more and figure them out. Any one of the top six could have won that tournament, and it's just a matter of inches."
Tickets punched ???

You'll be seeing these guys at the U.S. Olympic Trials in April!

? Ed Sanchez pic.twitter.com/NNAkmWY6vU

— Sun Devil Wrestling (@ASUWrestling) December 23, 2019
Despite sliding lower in the ranks, Anthony honors capturing a spot before the last chance qualifier. With that being one week after the NCAA tournament, Anthony would have had to cut the weight while competing for a national title.
Instead, he has time to work with Zahid and prepare for the tough bracket with powerhouses like Isaiah Martinez and Jordan Burroughs.
Zahid coasted to another title. Besides a battle with Myles Martin in the finals, the Hodge favorite flawlessly picked up another accolade.
"It feels great," Zahid said. "This is what I've been training for, so being able to go into the US Open and getting that win, knowing I can compete with everyone, it just feels great."
Nonetheless, Zahid wants to stay consistent throughout the preparation for the Trials. Although he is not a film connoisseur, he and his coaches will go back to the drawing board so he can improve for perfection.
After hundreds of wrestlers competed for six spots in each weight class, three young Devils kept promises rolling.
Sitting one tournament away from performing on the largest stage for the largest country, how do they feel?
"It's definitely exciting. Growing up you get to see all these dudes on the big stages and you get to look up to all these guys," Schultz said. "I've been blessed that at 19, I'm already getting onto the same stage as these guys and able to compete with them."
"It's been my dream for the longest time and knowing that I'm in this position to make the Olympic team is great," Anthony said.
"It's great to just be given the opportunity being able to be put in this position to try and make the Olympic team and represent my country. This has been my goal and my passion and that's why I do it," Zahid said.
---
Nick Zeller-Singh is a student at Arizona State studying Sports Journalism. In addition to writing for FloWrestling, he appears on his college radio station, does play-by-play, and covers a variety of sports as a beat writer. Follow him on Twitter.