2020 Southern Scuffle
5 Matchups We Hope Go Down At The Southern Scuffle
5 Matchups We Hope Go Down At The Southern Scuffle
Bratke breaks down the five matches he hopes go down at the 2020 Southern Scuffle.
Dec 28, 2019
by Kyle Bratke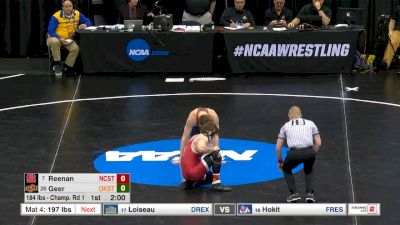 Unlock this video, live events, and more with a subscription!
Get Started
Already a subscriber? Log In
Unlock this article, live events, and more with a subscription!
Get Started
Already a subscriber? Log In
Year in and year out, the Southern Scuffle helps usher in the second half of the NCAA wrestling season and always delivers matches that wrestling fans from coast to coast are dying to see. This year is no different. Take a look at the five matches I hope go down in Chattanooga. Let me know which potential matchups you want to see.
Watch the 2020 Southern Scuffle LIVE on Flo
January 1-2 | 10:00 AM Eastern
#11 Real Woods (Stanford) vs #13 Tariq Wilson (NC State)
Including his redshirt season last year, Real Woods is 29-2 as a collegiate wrestler and his only losses are to Nick Lee and Luke Pletcher by a combined five points. This tournament a year ago is when Woods showed he would be a force for years to come when he made the finals before falling to Lee.
Wilson is up from 133 this season where he was an All-American two years ago and a round of 12'er in Pittsburgh. The transition hasn't been the smoothest for Wilson, though, as he was just seventh at CKLV with losses to Chad Red and then-unranked Michael Blockhus.
The Wolfpack All-American is known for his dynamic offense, and in the 16 matches he's wrestled this season has scored over 10 points seven times. On the other end, the young Stanford hammer is known for his stingy defense. The most points Woods has allowed this season is three, and it took Luke Pletcher an extra period of wrestling to score that.
#4 Boo Lewallen (Oklahoma State) vs Andrew Alirez (Northern Colorado)
A wily, experienced veteran and a freshman stud looking to skyrocket up the rankings. Despite there being five other ranked wrestlers in the bracket, Boo Lewallen's biggest threat may be unranked (for now) true freshman Andrew Alirez.
Lewallen has had a career plagued by injuries, but when healthy and able to crack the Cowboys loaded lineup, he has consistently been a top 10-ranked wrestler and was an All-American in 2018. Lewallen is off to a fast start this season with a perfect 9-0 record and has a controlling 8-3 win over Brayton Lee on his resume.
Even before he was wearing a Northern Colorado singlet, Alirez was knocking off college wrestlers. All-Americans Nick Lee, Dom Demas, and NCAA champion Dean Heil all fell victim to Alirez while he was in high school wrestling on the freestyle circuit. In his first 10 collegiate matches, the Greely has been dominant with eight bonus-point victories.
#7 Shane Griffith (Stanford) vs Carter Starocci (Penn State)
Like his teammate you read about above, Shane Griffith burst onto the scene last year in Chattanooga with a third-place performance and a narrow loss to Vincenzo Joseph in a match that was decided by just a takedown. Now, Griffith enters as a top 10-ranked wrestler, and Penn State redshirt Carter Starocci is looking to do what Griffith did one year ago.
Starocci is undefeated on the year and has a win over #21 Ben Harvey of Army on his resume, but all of his matches up to this date have been up at 174.
Like Woods, including his redshirt year Griffith has an incredible collegiate record so far of 36-2, and as I mentioned above one of those losses came to two-time NCAA champion Vincenzo Joseph. Griffith has been even more dominant so far this season with half of his matches ending by fall to this point.
#2 Trent Hidlay (NC State) vs #8 Nino Bonaccorsi (Pittsburgh)
For a freshman with only 12 official matches under his belt, Trent Hidlay is as battled-tested as anyone in the country. In the first month and a half of the season, Hidlay has already wrestled #1 Zahid Valencia, #4 Taylor Lujan, #6 Lou Deprez, #7 Ben Darmstadt, and #18 Owen Webster. In those matches, Hidlay is 4-1 with his only loss coming to top-ranked Valencia. In Chattanooga, Hidlay will have a chance to face another top-10 opponent in Pitt's Nino Bonaccorsi.
As a freshman, Bonaccorsi fell in the round of 12 and is off to another great start this season. In the 10 matches he's wrestled so far this season, Bonaccorsi has scored double-digit points eight times. Can Bonaccorsi figure out Hidlay's deadly underhooks?
#6 Dakota Geer (Oklahoma State) vs #11 Nick Reenan (NC State)
After bouncing back and forth between 184 and 197 a year ago, All-American Dakota Geer is up at 197 to stay for the season. Also new to 197 is Nick Reenan, who was a two-time NCAA qualifier down at 184.
These two actually met down at 184 last March at the NCAA Championships with Geer coming out on top, but it's no secret that Reenan was not 100 percent. They also met in the 2017 Super 32 finals where Reenan was the 4-3 winner.
Since Reenan was recovering from injury he has only wrestled one matchup at 197 so this will be a big test and will help show where he stands in the 197-pound pecking order.