Unlock this article, live events, and more with a subscription!
Get Started
Already a subscriber? Log In
In a week that was light on wrestling results, we gained a bit more insight about this year's team race and had one of the most compelling individual match results of the season. Here are the top stories of the week:
---
Austin DeSanto, #1 at 133
Seth Gross has long been considered the heavy favorite to with the NCAA title at 133 and a serious contender for this year's Hodge Trophy, but on Sunday night in front of a packed Carver-Hawkeye Arena, Austin DeSanto controlled the Badger senior for a 6-2 win.
Before the Iowa vs Wisconsin dual, DeSanto was considered to be a huge underdog against Gross, who has looked dominant for most of this NCAA season and has already qualified for the Olympic Trials at 57kg. This will likely end Gross' bid for this season's Hodge Trophy, but it certainly ups the anticipation for future matches between Gross and DeSanto.
DeSanto has a history of coming out on top in underdog situations like this. In high school, DeSanto took out now-teammate Spencer Lee, one of the most decorated high school wrestlers in recent memory. He also had unexpected wins over Michigan's Stevan MIcic as a true freshman and Rutgers' NCAA champion Nick Suriano last season.
This will move DeSanto to #1 in the 133-pound rankings and create a lot of buzz for the next meeting between these two. Check out highlights posted by the Iowa on BTN Twitter account:
Austin DeSanto (133) just knocked off No. 1 Seth Gross and Carver is officially up for grabs. 🔊🗣️ @Hawks_Wrestling

Tune into BTN now!@FloWrestling x @ncaawrestling pic.twitter.com/7SJoHHJKjz

— Iowa On BTN (@IowaOnBTN) December 2, 2019
---
Iowa Looks Like #1 After Wisconsin Win
Last week, for the first time this season, Iowa passed Penn State in the NCAA team rankings, but there was some question as to whether Iowa was really the top team in the country. The Hawkeyes looked the part on Sunday taking 9/10 matches against Wisconsin in a dual that shed some light on the title chase. The DeSanto over Gross result was the biggest upset win for the Hawks, but a few other matches give Iowa fans reason to be excited about this team's bid for a title.
At heavyweight, Tony Cassioppi took out #3 Trent Hillger. Cassioppi has been an exciting prospect for the Hawkeyes, but he's currently ranked #12, a projection that would mean he would not score meaningful team points in March. He looked better than that in his win over Hillger. If he's able to consistently knock off highly ranked guys like Hillger, that would go a long way for Iowa's chances at the No. 1 spot.
An upset to finish the night❕ 💪

No. 12 Tony Cassioppi (@tony25_8) capped off the night by taking out No. 2 Trent Hillger and sending @Hawks_Wrestling fans home happy with a 32-3 Hawkeye victory. @FloWrestling pic.twitter.com/nQzPKmdOf7

— Iowa On BTN (@IowaOnBTN) December 2, 2019
At 165, #2 Alex Marinelli notched another win over #3 Evan Wick. This matchup became a rivalry after Wick majored Marinelli at the 2018 NCAA tournament. Since then, it has been all Marinelli as he's won the last four contests against Wick including Sunday's 4-2 decision.
Wisconsin's lone win in this dual came at 184 where Johnny Sebastian beat Cash Wilcke. While Badger fans can talk about how solid their senior 184-pounder looked, Iowa fans have a lot to talk about after this result as well. This was Wilcke's first dual meet start of the season. In the first two duals of the year, the Hawks rolled out freshman Nelson Brands in what appeared to be a backup capacity. Brands, however, seized his opportunities, beating ranked opponents Matt Waddell of Chattanooga and Sammy Colbray of Iowa State. Those Brands wins and this Wilcke loss offer plenty of fodder for the conversation about Iowa's starting spot at 184.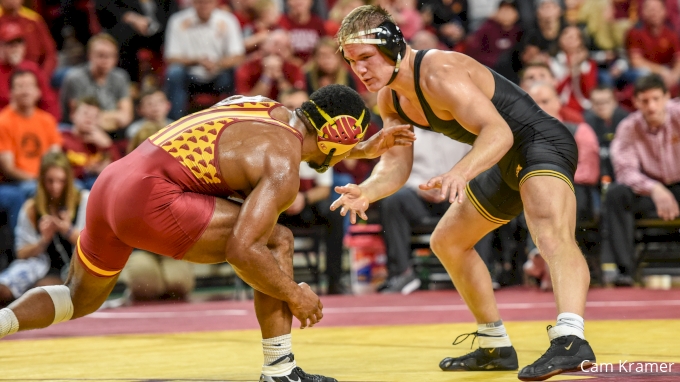 Unlock this video, live events, and more with a subscription!
Get Started
Already a subscriber? Log In
---
Ohio State Holds Serve Against Cornell
The #5 Buckeyes hosted #16 Cornell in a Covelli Center dual on Sunday. Both teams entered the contest on the heels of losses, Ohio State's to Virginia Tech and Cornell's to NC State. This was a compelling dual because of the number of tossup matches. Ultimately, it was Ohio State taking 7/10 bouts in a 23-9 win over Cornell.
Cornell's three wins came from #6 Chas Tucker at 133, Colton Yapoujian at 157, and #4 Ben Darmstadt at 184. The Buckeyes took the remaining bouts including a tight contest at heavyweight between tOSU's Gary Traub and Cornell's Brendan Furman.
Ohio State's biggest win of the dual came at 174 where #13 Kaleb Romero notched a slight upset over #11 Brandon Womack. Romero, who had an up-and-down freshman season a year ago, remains undefeated this season and just notched his biggest win of the year. While he hasn't faced any of the top contenders at 174, he has taken care of all of the opponents in his path.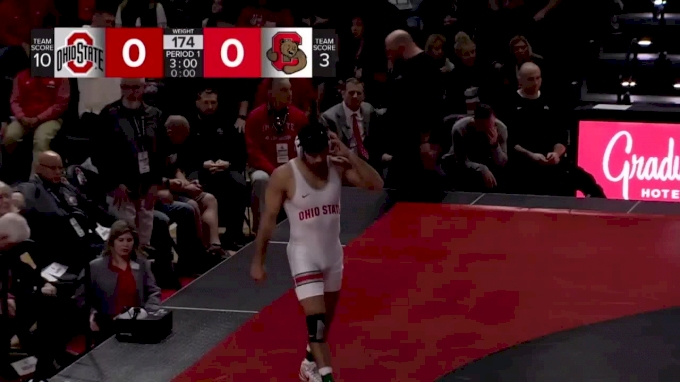 Unlock this video, live events, and more with a subscription!
Get Started
Already a subscriber? Log In
---
Fresno Fans Endure 2-Hour Delay Then Witness Win Over Northern Colorado
Saturday night's matchup between Northern Colorado and Fresno State was delayed roughly two hours when the scheduled official failed to attend the dual. Despite the long delay, Fresno State fans stayed in their seats and provided loud support for their Bulldogs.
Even though Northern Colorado was missing starters #18 Jace Koelzer at 125 and Andrew Alirez at 149, the dual was an exciting back-and-forth affair with Fresno State coming out on top 25-15. Fresno State picked up an upset at 165 when Ricky Padilla earned a major decision over #10 Austin Matthews.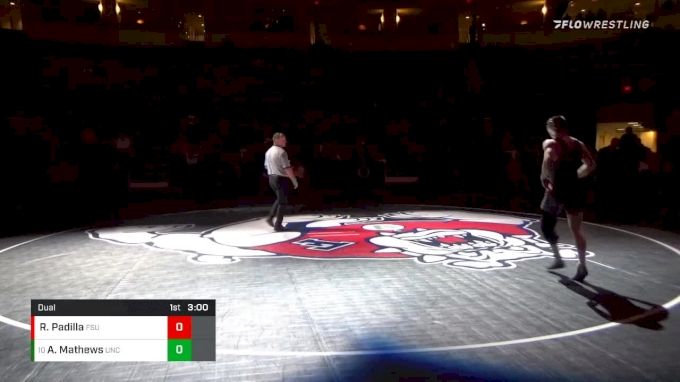 Unlock this video, live events, and more with a subscription!
Get Started
Already a subscriber? Log In
---
While week 5 of the NCAA season had the fewest matches of any week so far, it gives us a chance to catch our breath before one of the biggest weeks of the year. It's time to start gearing up for this year's Cliff Keen Las Vegas Invitational!