Unlock this article, live events, and more with a subscription!
Get Started
Already a subscriber? Log In
After a Thanksgiving feast and Black Friday chaos, #16 Cornell and #5 Ohio State square off in a high-powered Sunday afternoon dual at the Covelli Center. Here are a few reasons you won't want to miss this one:
Watch Cornell vs Ohio State LIVE on FloWrestling
Sunday, December 1 | 2:00 PM ET
---
1) 3 Top-5 Guys!
This dual meet has plenty of star power. Half of the starters in this dual are ranked including three in the top five. Two of those are #1 wrestlers.
Cornell's 184-pounder, #4 Ben Darmstadt, is unconventional and must-watch. His scrambling ability and his top game make him so good.
Ohio State boasts two undefeated #1 guys in 141-pounder Luke Pletcher and 197-pounder Kollin Moore. Both have looked incredibly solid so far this season. The Buckeyes will look for them to maintain that consistency this weekend.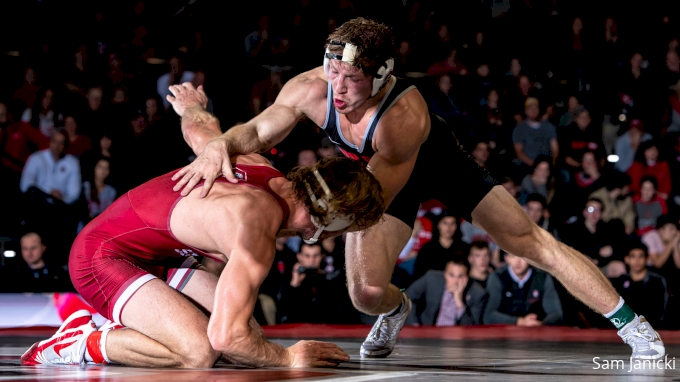 Unlock this video, live events, and more with a subscription!
Get Started
Already a subscriber? Log In
---
2) Both Teams Looking to Rebound
This is a rare situation in which both Cornell and Ohio State are coming off dual meet losses. Ohio State dropped their last contest against Virginia Tech while Cornell last lost to NC State.
In the VT vs tOSU dual, Ohio State's high-profile freshman Sammy Sasso was pinned by Virginia Tech's Brent Moore. That was Sasso's first loss on the year, and this is his first opportunity to wrestle since that loss. Sasso is a guy who many consider to be a threat to win an NCAA title. It will be interesting to see how he looks after his first loss.
Cornell's Ben Darmstadt is another highly-ranked guy who's coming off a loss. Darmstadt dropped a match last week to NC State's Trent Hidlay. The All-American Darmstadt will look to bounce back on Sunday in his first match since that loss.
Based on the formation of each team's lineup, this dual looks like each team will be favored at five weights. That means that each team will be looking for upsets and bonus points.
---
3) #6 Tucker vs #18 Kinner
One of the key matchups of this dual will come at 133 between Ohio State freshman Quinn Kinner and Cornell senior Chas Tucker. While Tucker will be the clear favorite in this match, Kinner comes into this contest with a lot of intrigue.
Chas Tucker is ranked sixth this season on the strength of a really solid career, but he has yet to reach All-American honors. Matches like the one coming up with Kinner will be important opportunities for Tucker to beat the kinds of guys he's likely to see at the NCAA tournament. Tucker is coming off a nice summer of freestyle, having competed in the U23 World Championships. He will look to translate that freestyle success onto the NCAA mats this year.
Kinner, on the other hand, has yet to prove himself against a top-10 guy, but enters his freshman year with a lot of expectations having been an important piece of Ohio State's big recruiting class from two seasons ago. He already has a couple solid wins this season, the best of which came against #19 Mario Guillen of Ohio, but he's still looking for his first signature win. He'll have an opportunity on Sunday night against Chas Tucker.
Check out Tucker's U23 finals win over Micky Phillippi:
Unlock this video, live events, and more with a subscription!
Get Started
Already a subscriber? Log In
---
4) #11 Womack vs #13 Romero
This matchup at 174 could ultimately decide the dual. We expect to see 13th-ranked Kaleb Romero start for the Buckeyes, but it's worth mentioning that freshman Rocky Jordan got the nod in their last dual. Still, the undefeated Romero has looked solid this year seems the most likely to go. So far, Romero looks more solid than he did a season ago, but Womack is the highest-ranked foe he will have faced.
Cornell senior Brandon Womack was an All-American as a freshman. He has qualified for NCAAs the past two seasons as well, but he has not been able to replicate his All-American performance. If he's going to mount a strong senior campaign, he'll need to show up in big spots like this.
---
5) Covelli Center Duals are a Great Show
On top of all the great action on tap this weekend, this dual is worth watching because Ohio State home duals in the Covelli Center are a great product. This new venue was built to showcase wrestling, and it delivers. To get a taste of the production value, check out Ohio State's home opener against Stanford, and then tune in on Sunday for this one with Cornell.