Unlock this article, live events, and more with a subscription!
Get Started
Already a subscriber? Log In
We've come to demand wild results from each week of this 2019-20 season. By Friday of week four, we already had a dual meet upset of historic proportions, and the headline results just kept coming. Here are a few of the biggest stories from this week in NCAA wrestling.
---
#5 Arizona State Snaps #1 Penn State's 60 Dual Win Streak
Even the savviest of wrestling fans could be forgiven for failing to pick this upset. Penn State has been consistently winning every dual meet it enters for nearly half a decade. Arizona State, while ranked fifth in the country coming into Friday night's contest, was still a major underdog, and is projected to score less than half as many team points as Penn State at this season's NCAA tournament. So how did they do it?
For a match by match breakdown of the dual, check out our match notes, but, in short, ASU's Kordell Norfleet upset PSU's 13th-ranked Kyle Conel at 197. The Sun Devils also won important matches that were considered toss-ups at 125 and 149. It can't be ignored that Penn State opted to forfeit to Arizona State's #1-ranked 184-pounder Zahid Valencia.
So what does it mean? Well, Penn State snapping its years-long dual meet winning streak in a dual where it forfeited may call into question the dual meet format and the strength of Penn State's lineup. This result gave us a lot to chew on, and Christian Pyles dove into those topics in an article over the weekend.
Despite possible concerns that could arise from this dual, wrestling is undeniably strong in Arizona. ASU broke its attendance record, and its athletes rose to the occasion. The celebratory scene in Tempe was encouraging for wrestling fans everywhere.
TEMPE, WE LIT 🔥 pic.twitter.com/XpjcKj10pw

— Sun Devil Wrestling (@ASUWrestling) November 23, 2019
---
Iowa Dominated Cy-Hawk; Carr & Brands Stole the Show
After last year's surprise thriller in Iowa City, the entire country was well aware of the threat Iowa State posed to #2 Iowa in Sunday afternoon's dual meet. The Hawkeyes showed up ready to wrestle and dominated Iowa State 29-6.
Many of Iowa's wins were relatively unsurprising, but they did have one big swing-match victory and a marquee upset. At 149, Pat Lugo finally got revenge against Jarrett Degen. The Lugo-Degen matchup feels like one years-long back and forth match with long breaks in-between. It was Lugo ending up on top this time in another match that went down to the wire.
The major upset of the day for the Hawkeyes came at 184. Iowa opted to start Nelson Brands who, despite his win over a ranked Chattanooga foe last week, was considered to be the backup to #11 Cash Wilcke. That perception may change after today as the freshman Brands upended #5 Sammy Colbray in an overtime war: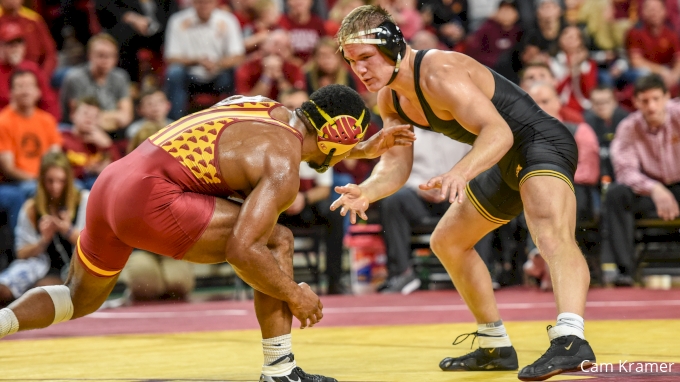 Unlock this video, live events, and more with a subscription!
Get Started
Already a subscriber? Log In
Iowa State was not without its own major upset. At 157, 19th-ranked freshman David Carr took on Iowa's #2 Kaleb Young. This match was close until one sequence near the end of the third period. Carr's statement win over Young was the silver lining for Iowa State, but it's quite a silver lining.
---
UNI Gets Big Wins, Nebraska Takes Dual
The Nebraska vs Northern Iowa dual was wild from the moment it started. Seriously, do yourself a favor and watch the whole thing before you read another word.
Welcome back. The atmosphere in West Gym is legendary, but even for a venue known for its incredible action and raucous crowds, this dual was spectacular. We had bonus points left and right, high-profile matchups, and crucial upsets.
The two matches everyone had circled for this dual came at 174 and 184. At 174, #5 Bryce Steiert of UNI took on #4 Mikey Labriola of Nebraska. Steiert won a 2-1 match that came down to a locked hands call for the minor upset. At 184, UNI's #4 Taylor Lujan looked dominant against Nebraska's #7 Taylor Venz with a 15-6 major decision.
While those two marquee matches went Northern Iowa's way, Nebraska won the dual. The entire team shares the credit, of course, but one of its most exciting wins came at 149. Nebraska's 20th-ranked Collin Purinton took out UNI's #3 Max Thomsen in a match that went to overtime. The action started from the opening whistle. That match, like every match in this dual, is worth watching again: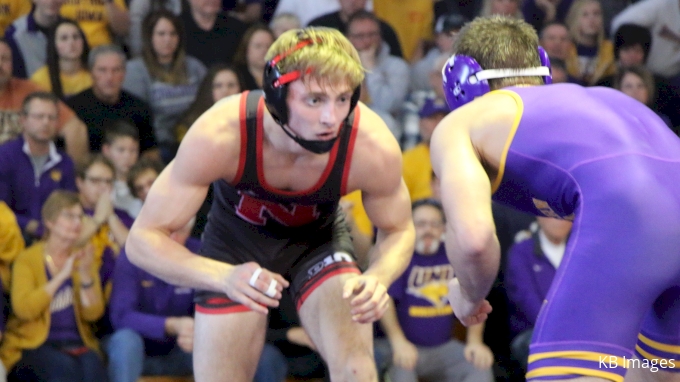 Unlock this video, live events, and more with a subscription!
Get Started
Already a subscriber? Log In
One final note: our own Wrestling Nomad believes West Gym to be a bucket-list venue for watching wrestling. Read his impassioned description of why "Everyone Should Go Watch A Dual In West Gym Before They Die."
---
Hidlay Headlines Big Matchups
As usual, this weekend had a number of big upsets. You've already read about some that happened in the high-profile duals above, and you can read a more comprehensive list in the Week 4 Upsets article. But here are the highlights.
NC State freshman Trent Hidlay registered the most impressive single day results of any wrestler this season by knocking off #3 Ben Darmstadt and #2 Louie DePrez in consecutive road duals. His win over DePrez took overtime, and you should really see it for yourself: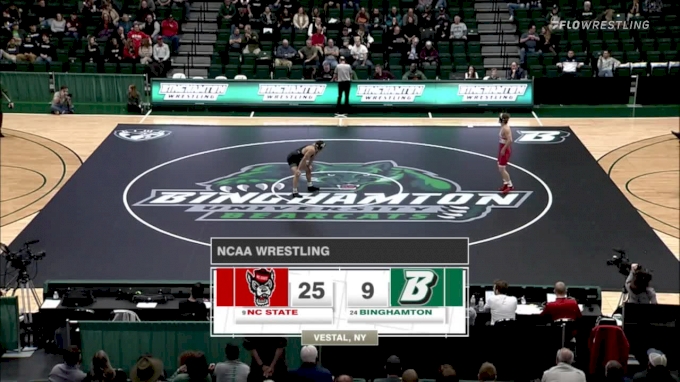 Unlock this video, live events, and more with a subscription!
Get Started
Already a subscriber? Log In
Another matchup that a lot of people had circled this weekend was between Wisconsin's top-ranked 133-pounder Seth Gross and Utah Valley's Taylor LaMont. While LaMont's credentials and toughness posed a legitimate threat, Gross was more than up for the challenge and handled the match. The conversation around Gross is now back to whether or not he'll win the Hodge trophy this year.
In the same dual, Utah Valley's third-ranked Tate Orndorff took on Wisconsin's seventh-ranked Trent Hillger. These two met last season in one of the most exciting heavyweight matches of the year. Their mutual respect was evident in this weekend's contest, but it was ultimately Hillger who came out on top for the second year in a row.
One other notable Utah Valley result happened in UVU's dual against South Dakota state. Tanner Orndorff took on SDSU's Tanner Sloan, the fourth-ranked 197-pounder in the country. Sloan took an early lead, but Orndorff came away with a monster upset. Watch the match here: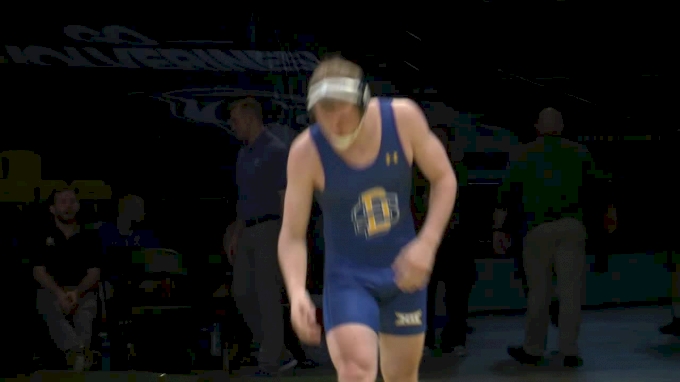 Unlock this video, live events, and more with a subscription!
Get Started
Already a subscriber? Log In
---
Dual Meets on Display
The three dual meets above were the highest-profile duals of the weekend, but so many teams squared off against one another this weekend. While there were too many results to recount them all, two dual meets jumped off the page.
First, Princeton knocked off Lehigh in a tight 18-14 contest. This dual had its share of matches that came down to the wire, and it signals a potential EIWA team race battle in the making. Princeton has continued to develop as a program, and a win over storied power Lehigh, who just knocked off Oklahoma State, is certainly a good sign.
Second, Arkansas Little Rock hosted the first dual in its program's history, knocking off a tough in-state Division III program in The University of the Ozarks. NCAA wrestling fans have long looked for signs of the growth of wrestling. Little Rock is a brand-new program that put 1,500 fans in the seats for its opening dual. That seems like a sign of growth. Here's a glimpse inside that first dual.
𝙝𝙞𝙨𝙩𝙤𝙧𝙮 🎥🤼‍♂️#LittleRocksTeam pic.twitter.com/ZrTUTxF7J8

— Little Rock Wrestling (@LittleRockWRES) November 24, 2019