Unlock this article, live events, and more with a subscription!
Get Started
Already a subscriber? Log In
This Sunday, one of the greatest rivalries in the history of college wrestling will cap off another weekend full of action. Iowa State hosts in-state power Iowa in a match that's sure to have a lot of excitement.
You won't want to miss this dual. Here are a few reasons we think you should tune in.
Watch Iowa vs Iowa State LIVE on FloWrestling
Sunday, Nov 24 | 3:00 PM ET
---
1) This Rivalry Gets Crazy
While Iowa has controlled the series with Iowa State for most of recent memory, last year's Kevin Dresser led Cyclone squad won five of 10 matches in a wild 18-19 dual. In a match where Iowa was favored at eight weights, Iowa State came into Carver-Hawkeye Arena and took Iowa down to the wire.
Half the matches in the dual were decided either in the closing seconds or in overtime. While most year-old dual meets don't have a ton of fan appeal, last year's Iowa vs Iowa State match is dramatic enough to rewatch in its entirety. If that was any indication of what we can expect this year, you won't want to miss Sunday's dual.
---
2) David Carr vs Kaleb Young
Junior world champ David Carr has been one of the most anticipated freshmen in the country for the past two seasons. While his freestyle season was outstanding, he has yet to face a lot of high-level NCAA competition, so it's hard to measure where he is compared to the field at 157.
We should get some clarity about that this weekend when Carr wrestles #2 Kaleb Young. So much intrigue surrounds this match, and while Young is the on-paper favorite, David Carr has major upset potential.
Watch Mike Mal's telestration of Carr vs Young
---
3) Pick Two: Teasdale, Glynn, DeSanto, Murin
We saw all four of these guys between 133 and 141 last weekend for Iowa. Teasdale wrestled at the Luther College Open where he started hot with two tech falls before dropping a bout to Kristian Rumph of Wartburg, the #6 133-pounder in DIII. Murin also competed in the Luther Open but only wrestled one match before defaulting from the tournament. Glynn and DeSanto both picked up wins in the Chattanooga dual.
But only two of them can start against Iowa State on Sunday. The most likely combination is DeSanto at 133 and Murin at 141. If that's what happens, we'll get a rematch of the wild Parker vs Murin match from last year's dual. Regardless of who Iowa sends at these weights, we'll have more information about Iowa's lower weight lineup on Sunday.
Here's that wild Parker vs Murin match from last year: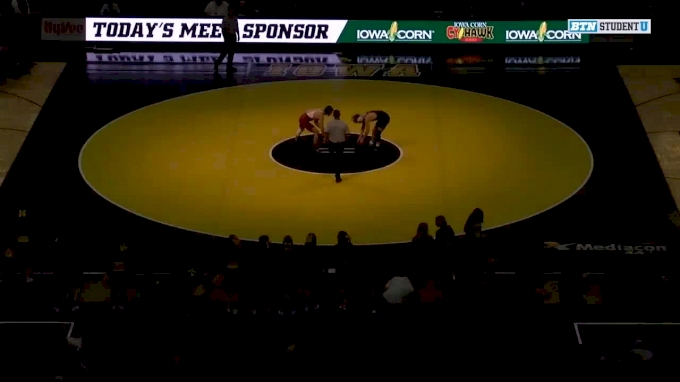 Unlock this video, live events, and more with a subscription!
Get Started
Already a subscriber? Log In
---
4) Can Lugo Solve the Degen Puzzle?
Jarrett Degen and Pat Lugo met twice last year. In each meeting, Lugo had no trouble scoring on Degen, but winning the match proved to be trickier. Degen's length and unconventional approach are partly what make him so formidable, but he has also proven to be skilled at closing out matches.
Hopefully, the third meeting between these two is as eventful as the first two. To get a taste for the back-and-forth nature of their matches, check out the 149-pound seventh-place match at NCAAs: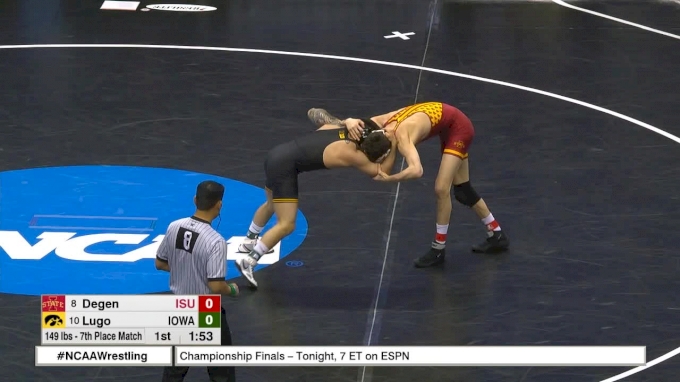 Unlock this video, live events, and more with a subscription!
Get Started
Already a subscriber? Log In
---
5) Wilcke or Brands? Who Gets Colbray?
Over the weekend, Cash Wilcke dominated the field at the Luther College Open with two pins and two technical falls while Nelson Brands notched a win over Chattanooga's #17 Matt Waddell. It is unclear why Wilcke opted for the open and Brands started in the dual. It's also unclear whether last weekend's results will have any impact on this weekend's starter at 184.
If Brands gets the nod, he'll have his second opportunity in as many weeks to wrestle a ranked opponent in #5 Sammy Colbray. If Wilcke goes, we'll see a rematch of another of last year's thrillers. Check out the third-period thriller from the 2019 Iowa vs Iowa State dual: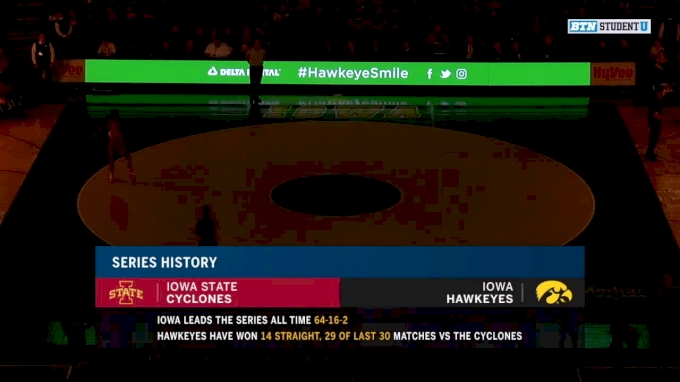 Create a free account to unlock this video!
Get Started
Already a subscriber? Log In
---
6) Cassioppi Chasing Pin Record
Iowa heavyweight Tony Cassioppi went public with his goal of surpassing Ed Banach's Iowa pin record. So far, Cassioppi is 1-0 on the year with one fall. While it's interesting enough to watch a freshman try back up a bold statement like this, the fall in this particular situation would provide important team points in a dual with a number of toss-up matches.
Cassioppi will have his hands full on Sunday as he's likely to see #15 Gannon Gremmel in Cyclone territory. While Gremmel is a very tough opponent, Cassioppi did earn a fall over Gremmel at last season's Lindenwood Open.
Here's a tweet about Chris Brewer's story on Cassioppi's quest for the fall record from Iowa Hawkeye Wrestling.
"I want the fall. That is the goal every match. I know Ed Banach holds the (school) record and that is what I am looking at. I think I can do it." -- Tony Cassioppi

LINK: https://t.co/hiCKNt5FmQ | #Hawkeyes pic.twitter.com/AtJ5gh2UCu

— Iowa Hawkeye Wrestling (@Hawks_Wrestling) November 1, 2019