Unlock this article, live events, and more with a subscription!
Get Started
Already a subscriber? Log In
It's Iowa Week here on FloWrestling, which is like Shark Week, but for corn. Case in point, the Iowa Corn Cy-Hawk Series, which will take place this Sunday at 3:00 PM ET in Ames, Iowa.
Watch Iowa at Iowa State LIVE on FloWrestling
Sunday, November 24 | 3:00 PM ET
The Hawkeyes will be favorites to win the dual meet by a sizable margin, but a Cyclone victory is far from unthinkable. It is indeed quite thinkable. We can all literally think about it happening right now.
One reason to think of such an occurrence is last season's Cy-Hawk tilt. The Black and Gold were even larger favorites, yet the Cardinal and Gold nearly pulled off the upset in Iowa City. We can all relive that excellent dual by watching the video below.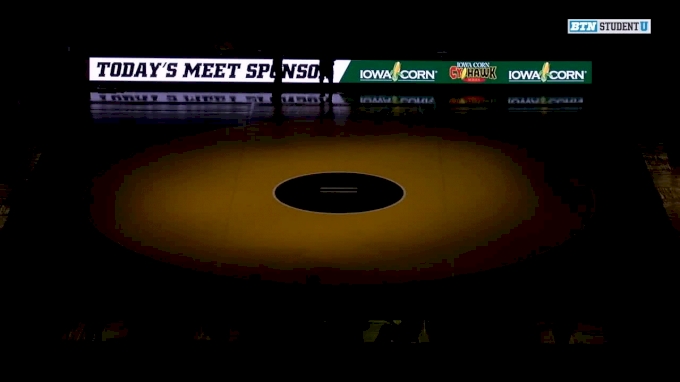 Unlock this video, live events, and more with a subscription!
Get Started
Already a subscriber? Log In
Though home mat advantage may help Iowa State this Sunday, nothing that happened last season counts for this dual. It will be up to the 10 Cyclones who run out on the mat to get the job done. So how could Coach Dresser's squad secure a win in the Cy-Hawk series for the first time since the 2003-04 season? We will run down the potential lineups and provide a plausible scenario where that happens.
Also, that is correct, the Hawkeyes are on a 15-dual meet winning streak.
125 Pounds
#1 Spencer Lee (Iowa) vs #7 Alex Mackall (Iowa State)
If this match was happening in March, we'd say this tech-fall written all over it. But as this is November, it is not unreasonable to convince of "The Secret Life of" Alex Mackall to hold the Lee to a regular decision. Only last week was Lee "held" to a major decision against Fabian Guiterrez of Chattanooga. Meanwhile, Mackall finished 2-2 at last year's NCAAs and tech-falled another NCAA qualifier, Jay Schwarm, just two weeks ago.
Watch Lee vs Fab Guti in the video below: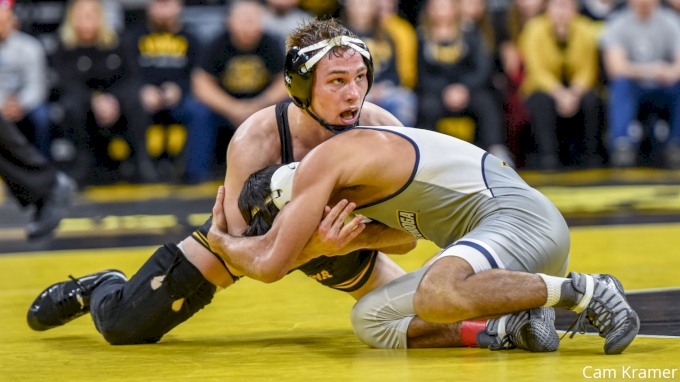 Unlock this video, live events, and more with a subscription!
Get Started
Already a subscriber? Log In
Assuming the dual starts at 125, that makes the score Iowa 3, Iowa State 0.
---
133 Pounds
Paul Glynn or Gavin Teasdale (Iowa) vs Todd Small (Iowa State)
We're unlikely to see Austin Gomez, as he is still making his descent down to 133, which hurts the Cyclones here. But Iowa may also send out a wrestler who won't be their 133-pound postseason starter. If it's Paul Glynn, as it was against Chattanooga, and if it's Todd Small, as it was for the Cyclones against Bucknell last weekend, then a victory for Small over Glynn, which occurred at the 2018 Lindenwood Open, could very well happen again.
Iowa 3, Iowa State 3
---
141 Pounds
#2 (at 133) Austin DeSanto (Iowa) vs #13 Ian Parker (Iowa State)
Perhaps no one thrives more in an "Iowa-style" environment than Austin DeSanto, but DeSatno will be giving up weight if he weighs in at just a hair over 133 and bumps up to 141 like he did last week. That could be a big advantage for Ian Parker, who beat DeSanto 7-5 back in November of 2017 when Austin was still at Drexel. Iowa-style or not, Parker could very make it two for two in head-to-head matches.
Iowa State 6, Iowa 3
---
149 Pounds
#6 Pat Lugo (Iowa) vs #4 Jarrett Degen (Iowa State)
Another opportunity for the Cyclones to pick up a win, as Degen beat Lugo not once, but twice last season. The first time was at last season's dual meet in tiebreakers. The second time was at the NCAAs 11-9. Can Degen make it three for three? We'll find out soon enough, but for now, let's make the reasonable assumption that he does.
Watch Degen beat Lugo for seventh place in a wild placement match at the 2019 NCAAs: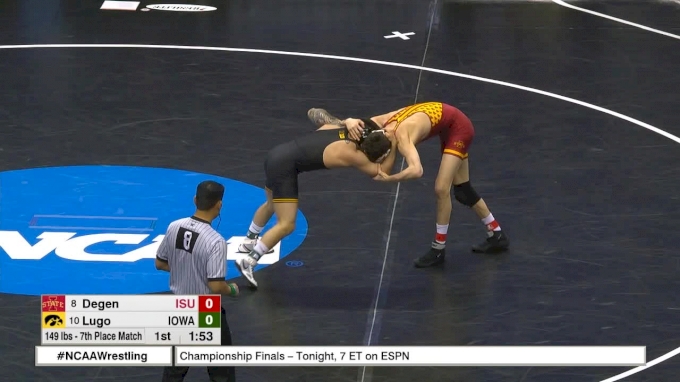 Unlock this video, live events, and more with a subscription!
Get Started
Already a subscriber? Log In
Iowa State 9, Iowa 3
---
157 Pounds
#2 Kaleb Young (Iowa) vs #19 David Carr (Iowa State)
This one take a bit of a leap of faith. There's not a lot of overlap between Kaleb Young and David Carr. Young went from not starting at 174 two years ago to taking fifth at the NCAAs at 157-pounds last season. Carr was a true freshman last year who wrestled in Opens while redshirting. Their only common opponent in college is UNI's Isaiah Patton, who they both pinned. Carr also has a freestyle junior world championship to his name.
This will be a pivotal bout in the dual. If Carr wins, the Cyclones will have a chance. If Young prevails, Iowa will be in the driver's seat, and Iowa State will need some very unlikely occurrence elsewhere. For the sake of this argument, let's give the dub to Carr by regular decision.
Iowa State 12, Iowa 3
---
165 Pounds
#2 Alex Marinelli (Iowa) vs Chase Straw (Iowa State)
This would appear to be a perfect opportunity for the Bull to turn the Hawkeyes' fortune around, potentially with a bonus victory. But similarly to how Spencer "merely" majored his opponent last week, Marinelli was only able to muster a regular decision against Drew Nicholson of Chattanooga. Straw, an NCAA qualifier from last season, has a more impressive resume than Nicholson. Implementing the transitive property, we can project a regular decision in this matchup as well.
Iowa State 12, Iowa 6
---
174 Pounds
#3 Michael Kemerer (Iowa) vs Marcus Coleman (Iowa State)
For the Cyclones to make this upset a reality, not only do their lower weights have to deliver victories, but their upperweights need to limit the damage. Two-time All-American Michael Kemerer will be the heavy favorite, but Marcus Coleman is solid, having beaten many quality opponents on his way to a 2-1 record in Pittsburgh last March. Kemerer looked beastly last weekend, but Coleman is certainly capable of keeping this one within seven points.
Iowa State 12, Iowa 9
---
184 Pounds
#11 Cash Wilcke or Nelson Brands vs #5 Sammy Colbray (Iowa State)
Colbray is the exception to the rule that Iowa State's upperweights need to concern themselves with limiting their margin of defeat. Colbray will be counted on to win his match, just as he did last season when he beat Wilcke 7-6. That mission does not change for Colbray if the Hawkeyes send out Nelson Brands, as they did last weekend against Chattanooga.
Watch Colbray defeat Wilcke in dramatic fashion in last season's dual: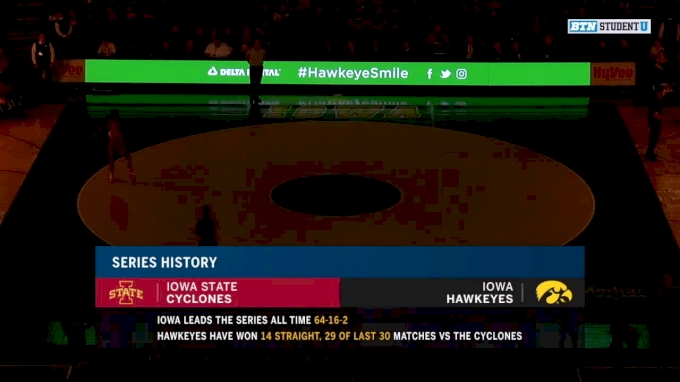 Create a free account to unlock this video!
Get Started
Already a subscriber? Log In
Iowa State 15, Iowa 9
---
197 Pounds
#6 Jacob Warner (Iowa) vs Joel Shapiro (Iowa State)
Another mismatch on paper in favor of Iowa, Joe Shapiro will need to keep his motor running the entire seven minutes in order to keep All-American Jacob Warner from racking up bonus points. But there are many reasons to think Shapiro can limit the damage to three team points. In 30 matches during a redshirt true freshman campaign, Shapiro gave up bonus points just once, to Shakur Rasheed at the Southern Scuffle. Warner, on the other hand, has only bonused six of 28 opponents last season. Call it just three more for Iowa.
Iowa State 15, Iowa 12
---
285 Pounds
#12 Anthony Cassioppi (Iowa) vs #15 Gannon Gremmel (Iowa State)
If everything goes as described, which were all reasonable assumptions, this dual will come down to heavyweight. Cassioppi will need a victory, and may need a bonus, depending on how criteria shakes out. If Gremmel wins, then obviously the day will be the Cyclones, and you should all make your way to Ames for the party.
But if Cassioppi wins, and is held to a decision, then we will go to tiebreakers. With a five to five split in matches, we get to skip past first criteria. With no pins, DQs, or other varieties of six-point matches, we move to the third criteria, which is points individual match points per team.
Not really a 50/50 match, but if all these assumptions play out, the final outcome essentially comes down to what is, in essence, a coin flip.
Iowa State 15, Iowa 15, Cyclones win on third criteria. Potentially.
Matches aren't determined on paper, or on whiteboards, or on bits of information smashed out on MacBook, but that doesn't mean we can't, or shouldn't, speculate on their possible outcomes. Now let's all agree to hope for an entertaining dual regardless of the outcome.