Unlock this article, live events, and more with a subscription!
Get Started
Already a subscriber? Log In
Forget everything you thought you knew about the NCAA landscape after last weekend. Active NCAA champions wrestled freestyle during the college season, five top-12 teams were upset, top teams' rosters shifted, and we had individual upsets galore.
Here are a few of the biggest stories of the weekend:
---
Five Top-12 Teams Knocked Off
Let's start at the top. After looking solid against Stanford last week and Pitt earlier this weekend, #3 Ohio State lost 21-15 in their dual with #23 Virginia Tech. The Hokies pulled it off with the help of Joey Prata's upset of #21 Malik Heinselman at 125, and one of the biggest upsets of the weekend, #21 Brent Moore's pin over #6 Sammy Sasso at 149. Ohio State was not without a massive upset of its own as #21 Ethan Smith knocked off #4 David McFadden at 165. Still, Tech took six of 10 matches in that dual and stunned the Buckeyes in Columbus.
The #4 UNI Panthers dropped a home dual at #15 Northwestern. Two surprising factors helped the Wildcats surpass the Panthers. The first was unranked Michael DeAugustino's upset of #9 Jacob Schwarm at 125. The second was the unfortunate injury of UNI's #4 Jacob Holschlag at 197. Holschlag, the 2018 All-American, is a fun guy to watch at 197, and we hope he's back to full strength as soon as possible. You can watch the full dual here.
Out in Pennsylvania, the #12 Lehigh Mountain Hawks knocked off the #7 Oklahoma State Cowboys. The biggest story of this dual was who wasn't in the lineup for Oklahoma State. The Cowboys were open at 133 and were missing 10th ranked 141-pounder Kaden Gfeller and sixth-ranked 174-pounder Joe Smith.
On Friday night, unranked Rider toppled #10 Minnesota 21-17. The biggest stories in Minneapolis were Rider's Jonathon Tropea knocking off high profile freshman Patrick McKee at 125 and unranked Dean Sherry's fall over Minnesota's seventh-ranked 174-pounder Devin Skatzka.
Check that match out here: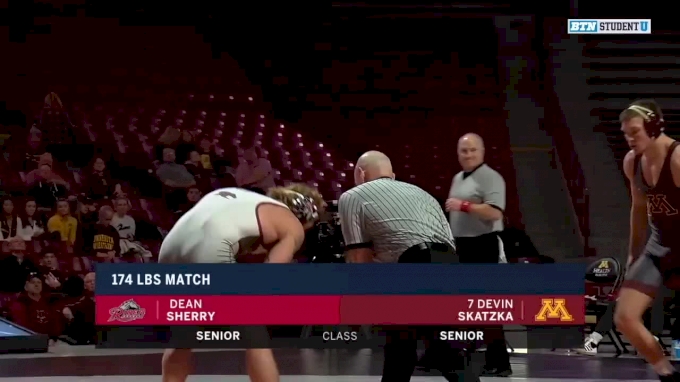 Unlock this video, live events, and more with a subscription!
Get Started
Already a subscriber? Log In
The final upset on this list actually happened first when unranked Illinois took six of 10 matches from #12 Missouri. The biggest on-paper upset in this dual for the Illini was #18 Joey Gunther's 4-2 sudden victory win over #8 Connor Flynn. Other than that, Illinois got the job done by winning more tossup matches than Missouri.
---
Penn State's Lineup Puzzle
During Penn State's media day, coach Cael Sanderson explained that the team could have roster battles at 125 and 149. We may have a bit clearer picture of those battles after this weekend's Black Knight Invitational.
At 125, Brode Teske, Brandon Meredith, and Devin Schnupp all entered the tournament. Meredith eliminated Schnupp from the tournament, and Teske out placed them all taking third. Meredith finished fifth. Both Teske and Meredith fell at the hands of Drew Hildebrandt, but Teske had a win over Michigan's Jack Medley who defeated Meredith earlier in the tournament. Teske and Meredith did not wrestle one another.
The 149 roster battle seems to be between Luke Gardner and Jarod Verkleeren. These two met in the finals of the Black Knight invite where Verkleeren won a tight one-takedown match.
The other potential lineup question for Penn State coming out of this weekend is the health of Kyle Conel. After winning his opening match 2-1, Conel lost his quarterfinal to Central Michigan's Aaron Bolo 5-3 and then defaulted out of the consolation side of the bracket due to the injury. Conel has struggled with injuries throughout his career, and it's unclear the extent of this one. Hopefully we see a healthy Conel back on the mat for Penn State soon.
---
Iowa's Debut Lineup
Even though the Hawkeyes won all 10 bouts in their dual against Chattanooga, Iowa's weekend also presented more lineup questions than answers. At 133, Paul Glynn took the start in the dual while Gavin Teasdale wrestled in the Luther College Open where he took a 6-3 loss to Kristian Rumph of Wartburg who is ranked sixth in our NCAA D-III rankings.
Meanwhile, at 141, Austin DeSanto looked dominant in the dual. Iowa's ninth-ranked 141 pounder Max Murin, like Teasdale, wrestled in the Luther College Open. He wrestled one match before injury defaulting from the tournament. It is unclear if this particular medical forfeit was part of the plan or if Murin sustained a more severe injury.
It is also worth noting that Iowa's 12th-ranked 184-pounder Cash Wilcke was not in the lineup. Instead, Nelson Brands got the nod and knocked off #17 Matthew Waddell. While the plan seems to be Wilcke as the starter for the Hawks, Nelson Brands could have made the decision tougher on the coaching staff with that win.
Here's Nelson Brands' upset win over Waddell: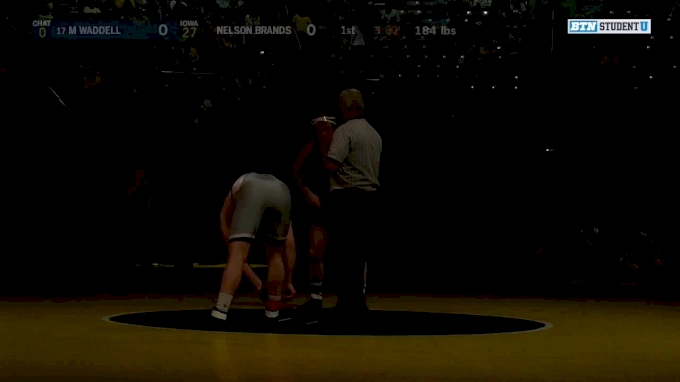 Unlock this video, live events, and more with a subscription!
Get Started
Already a subscriber? Log In
---
College Studs at the Bill Farrell
One of the NCAA storylines this season is the status of college athletes actively trying to make the 2020 Olympic Team. A few stars had solid outings at the Bill Farrell Memorial over the weekend.
At 57kg, we saw the intriguing Nick Suriano vs Seth Gross matchup we had hoped for. The field was so loaded that this was a quarterfinal matchup. The match came down to the very last second, and Seth Gross won in a thriller. Gross went on to dominate the rest of the field to qualify for the Olympic Trials, and Suriano wrestled back for third place. If you haven't watched that match already, check it out.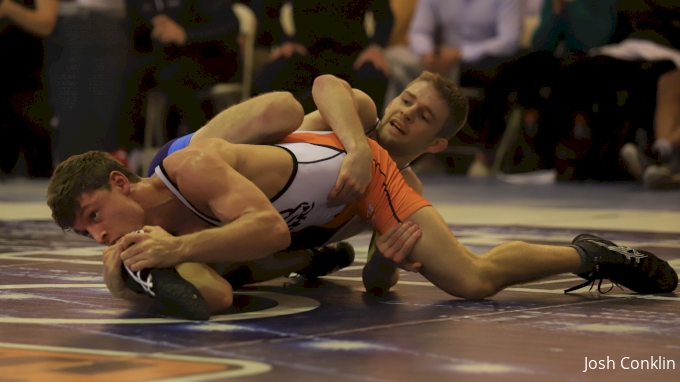 Unlock this video, live events, and more with a subscription!
Get Started
Already a subscriber? Log In
Gable Steveson also qualified for the Olympic Trials by winning the 125kg bracket. His finals win came against veteran Dom Bradley. Steveson's status for the NCAA season is still undetermined.
Junior World gold medalist and NCAA champion Mekhi Lewis finished fourth at the Bill Farrell, dropping a match to Nazar Kulchytskyy. His quarterfinal loss was a rematch of the NCAA finals against Vincenzo Joseph. Lewis had the NCAA finals win, but Joseph evened the series here.
Mekhi Lewis is taking an Olympic redshirt for the Hokies while Vincenzo Joseph plans to compete in both the NCAA season and the freestyle season.
Here's their match from this weekend: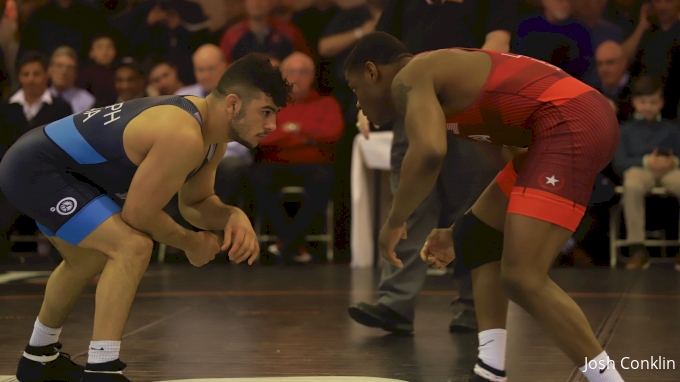 Unlock this video, live events, and more with a subscription!
Get Started
Already a subscriber? Log In
One other NCAA athlete who placed at the Bill Farrell was West Virginia Olympic redshirt Matt Schmitt. He earned fourth place honors going 3-2 on the day. His wins were exciting, and Schmitt showed a lot of promise. Check out his impressive win over Dalton Duffield.