Unlock this article, live events, and more with a subscription!
Get Started
Already a subscriber? Log In
While you can check out all the Bill Farrell results and final brackets here, there are just a few matches that have me thinking either, "Wait this match actually happened," or, "Whoa, this guy won?"
The Bill Farrell has huge importance for Olympic hopefuls because it's an Olympic Trials qualifier for Team USA if you win it. That is what led to such loaded brackets as everyone looks to avoid making the trip to Fort Worth for the U.S. Olympic Trials Qualifier which promises to be a bigger bloodbath than this was, if you can imagine.
Here are the eight results'matches I found the most interesting.
Round two of this rivalry goes to Cenzo. Despite the match starting with Mekhi skying Cenzo on a single, the Nittany Lion star found his way to three offensive points plus a failed challenge to make it a 4-1 win. Not having to plant Mekhi as you would in folkstyle is helpful for Cenzo, who could get to a single and just take him out of bounds for a stepout. This was very different from their NCAA final a few months back.
The PSU vs PSU hypotheticals have been fun online debates since Ed Ruth and David Taylor dominated NCAAs. We got our answer for now with Nolf winning with little issue against Cenzo.
Everything was going according to plan for Nick. A close, controlled match has Suriano win written all over it. Gross forcing the issue and making Suriano take the single-leg bait was astounding. The late two was super clutch.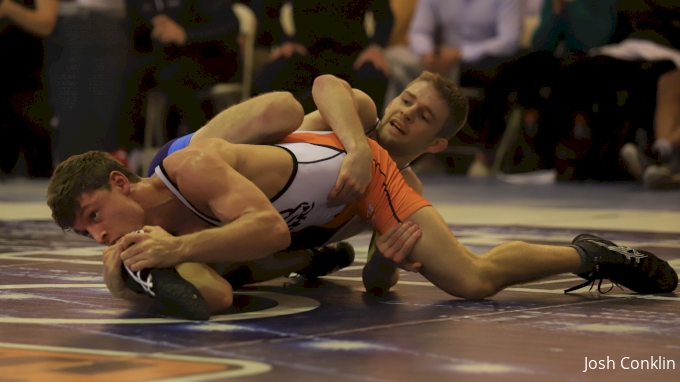 Unlock this video, live events, and more with a subscription!
Get Started
Already a subscriber? Log In
I am sure Joey McKenna is happy to have the Dean Heil monkey off his back. Heil beat McKenna twice last year in freestyle and had been a thorn in his side in folkstyle as well. McKenna had his single and high c working and working well.
There probably aren't many wrestling fans or coaches who would predict this, but Nahshon has had some consistency issues in his freestyle career and this is his first time down at 57 since 2017 (then again Seth Gross last made this weight in 2012!).
How much speed and athleticism can you fit in one match? This had plenty, but Suriano had all the answers here. Watching the entire tournament, it's clear to me the finals were wrestled in the quarters at 57.
To freestyle dorks, Nazar has long been a popular watch. He has a ton of stuff in his arsenal (check the filth with 1:41 to go in the second of this match) He had it on display against Mekhi, who many thought had a great shot at winning this tournament. While I'm still bullish on Mekhi's upside, I think he's some time away from challenging the elite at this weight domestically (JB, Dake, IMAR).
This one really had the full Seth Gross experience. We saw aggressive leg attacks and finishes, wild counters and a high pace. This kind of domination over NATO is further evidence that Gross is on the shortlist of guys who can make the Olympic team at one of USA's deepest weight.