2019 Bill Farrell Memorial International Open
The Bill Farrell Set The Tone For Greco's Olympic Season
The Bill Farrell Set The Tone For Greco's Olympic Season
The 2019 Bill Farrell Memorial was a good event for the U.S. Greco-Roman program needed, but it also raised more questions.
Nov 16, 2019
by Andrew Spey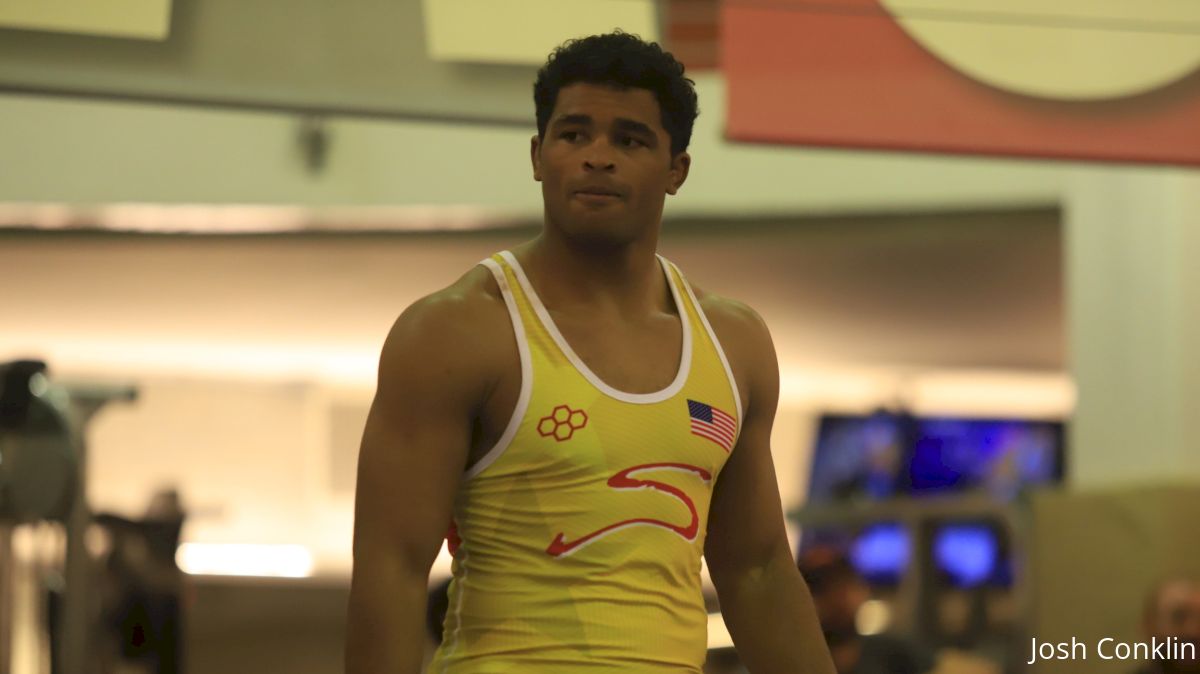 Unlock this article, live events, and more with a subscription!
Get Started
Already a subscriber? Log In
By Tim Hands of Five Point Move — Was the 2019 Bill Farrell Memorial the tone-setting first tournament the U.S. Greco-Roman program needed?
Yes.
But it also came and went leaving more questions to be asked than answered.
Several competitors who appeared on the entry list but wound up staying home (or in one case, overseas) played a role in why the puzzle is still incomplete. And the participation of more foreigners than expected also helped to muddy the waters when it comes to qualification for the Olympic Trials.
Then again, "incomplete" isn't a bad thing in November. Given the massive amount of weight class fluctuation involving a handful of high-profile athletes, the picture leading into the U.S. Nationals next month -- and the Trials in April -- is as clear as it is going to get for now.
---
60 Kilograms
Ryan Mango and Max Nowry -- Army/WCAP "Ninja Squad" teammates who also appeared on the 2019 World Team together -- both acquitted themselves well in the lightest Olympic weight. Mango went 3-0 with three tech falls to make the final, while Nowry advanced after grinding out a trio of tough victories over Brady Koontz (TMWC), Matt Schmitt (WV), and "Wildman Sam" Sammy Jones (NYAC/OTS), respectively. In the final, rather than engage in what would have likely been an intense barnburner, the pair played a quick game of "Rock, Paper, Scissors" to decide the outcome (literally). Mango won, everyone laughed, but then the focus zeroed in on Jones.
Since Mango and Nowry both entered the tournament qualified for the Olympic Trials by virtue of having competed in the 2019 Worlds, that meant the next highest-placing medal-winner from the U.S. punched his ticket. At 60 kilos, that was Jones, who really did put together an outstanding performance on Friday. The National Team member finished 4-1, with the close loss to Nowry representing his only bout that went the distance. All four of Jones' wins ended either via tech or pin. He was at his aggressive, risk-taking best throughout the day in a tough event where many athletes were walking on eggshells. A very deserving qualifier for the proceedings at State College in April.
---
67 Kilograms
Drama resided in the draw at 67 kilograms. All eyes were on 2006 world champion Joe Warren (NYAC), rightfully, and the recently-turned 43-year-old showed plenty of zeal in his opening-round defeat of Sharifzoda Azizbeki (TJK). But that just meant a matchup with multi-time Trials finalist Alex Sancho (Army/WCAP), the top seed, in the next round. It didn't last too long. Sancho got a takedown, hit a straddle lift, and exposed Warren one more time to end the bout via tech.
After Warren, Sancho then tore through Daniel Coles (CAN) and Nolan Baker (UA, more on him in a second) in a similar manner. The final was a little different. Japan's Hayanobu Shimzo tested Sancho more than the others. But the end result was a 5-1 decision for the American, who, for the most part, easily punched his ticket to the Trials.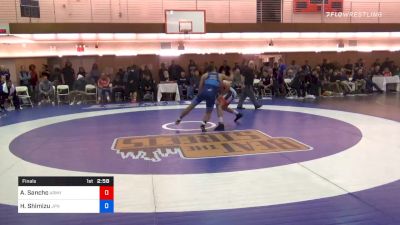 Unlock this video, live events, and more with a subscription!
Get Started
Already a subscriber? Log In
Baker -- who still needs to qualify by placing in the top five at the Nationals (or top two at the Last Chance) -- enjoyed the most impressive showing out of any U.S. athlete who remains on the outside looking in. It's actually not even close.
Similar to his performance at the Challenge Tournament this past May, Baker trucked a string of high-quality opponents from the headlock position and all four of these wins arrive via fall. We're talking Benji Peak (Sunkist/OTS), Michael Hooker (Army/WCAP), Mostafa Mohamed (EGY), and Calvin Germinaro (Minnesota Storm, and who also had some glimmering moments of his own). There's no question about it -- Baker is far and away one of the most exciting and frighteningly effective athletes in the country.
---
77 Kilograms
The U.S. program's deepest field included the likes of 2017 World Team member Mason Manville (NLWC), '18 Junior World silver Andrew Berreyesa (NYAC/FLWC), three-time U23 World Teamer Jesse Porter (NYAC/OTS), Corey Hope (NYAC), and '19 Final X runner-up Alex Mossing (Air Force). Porter had the biggest win of them all, a first-round shellacking of '16 Olympic champ Davor Stefanek (SRB) that deserved more attention. It's no one's fault. A win like that usually does because Porter's stablemate, '19 Open runner-up Spencer Woods went out and stole the show.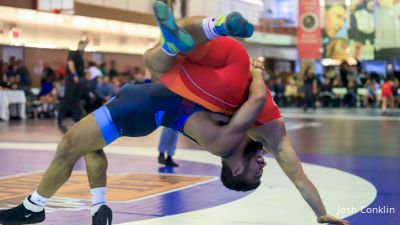 Unlock this video, live events, and more with a subscription!
Get Started
Already a subscriber? Log In
Woods started off with a surprise tech of Mossing that elevated everyone's eyebrows. Next came a tight win over fellow NMU'er Tommy Brackett. But then it all became even more real when Woods was able to edge Hope 2-1. In the semis, Woods took advantage of two exchanges to drum up four points and a 5-0 lead over Porter, which eventually turned into the victory that clinched Woods' appearance in the Trials.
Egypt's Hassan Ahmed Mohamed turned Woods back in the final 5-1, but that is besides the point. The native Alaskan, who last month earned his first Senior international gold in Sweden, survived an exceptionally stacked field to get the job done. And, there are ramifications for all involved because of it. 77 at the Nationals now has no choice but to be a bloodbath.
---
87 Kilograms
Alan Vera's (NYAC/Florida Jets) eligibility as a potential U.S. Olympic Trials entrant is still, apparently, up in the air, but the threat he offers isn't. After tech'ing Austin Craig (UA) and a game Carter Nielsen (Minnesota Storm/OTS), Vera emerged from a tense battle with 2009 World bronze Aleksandr Kikinov (BLR) with top honors. They had been down this road before; at the '16 Farrell, Kikinov downed Vera to earn gold.
So, with Vera's status still in question and the already-qualified Joe Rau being forced to miss the tournament due to injury, the day belonged to Chandler Rogers (UA), who completely blitzed Satoki Mukai of Japan in the third-place bout. Rogers, now a full-time athlete, has all the tools at his disposal. With his heightened degree of commitment and roundabout four months and change with which to work, would it be so crazy to see Rogers catch fire at the Trials? Nope, certainly not.
---
97 Kilograms
G'Angelo Hancock (Sunkist) likes New York, likes the environment, and after some post-Nur-Sultan training abroad, wanted to find out if he could net his second Farrell gold. He did so, as most would have pegged, although Khymba Johnson (NYAC/OTS) was able to hang in there until the bitter end. Hancock's final came against Ahmad Hassan, a suitably skilled and tough Egyptian, but that's not enough right now. Hancock is a different kind of athlete, and found little difficulty countering and flopping Hassan around en-route to a dominant first-period pin.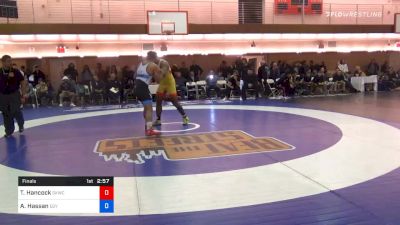 Unlock this video, live events, and more with a subscription!
Get Started
Already a subscriber? Log In
With Hancock (like Mango, Nowry, Rau, and Adam Coon) already locked in for April, it was National Team member and Final X runner-up Lucas Sheridan (Army/WCAP) who had the most to gain. Sheridan was clipped by Taichi Oka (JPN) in the quarters and rebounded with wins over Orry Elor (NYAC) and Johnson to set up a rematch with Oka for third. Unfortunately for Sheridan, the outcome didn't change. Oka picked up two in the first period and Sheridan notched a passive point in the second, ultimately falling 2-1. Sheridan is seen as a given to qualify for the Trials, naturally, but he would have liked to get it out of the way whilst also grabbing a little taste of revenge.
---
130 Kilograms
For 2018 World silver Adam Coon (NYAC/Cliff Keen), this early part of the season is all about piling up some match time. Hence, his participation in this tournament and some other activities throughout the month (see below). Coon got his wish -- he had four bouts on Friday and wrecked house in three of them. '16 National champ Toby Erickson (Army/WCAP) put forth perhaps his best effort against Coon to date and actually took control in spaces, that is until Coon regained command in the second period before prevailing 6-3.
In the finals, Coon completely obliterated Jacob Mitchell (Army/WCAP) for a quick tech thanks in large part to his gutwrench. When the former Michigan star locked around Mitchell (twice), it was hard to miss the effect. Mitchell's face wore an expression of agony, and he took a few forceful breaths as Coon rolled his way to victory just over two minutes into the first period.
But because Mitchell found his way to the final, he is officially qualified for the Olympic Trials. It will now be up to Erickson and every other US heavyweight on the bubble to get themselves to Fort Worth in December for the next opportunity to check this objective off the list.
---
Notes:
Sancho became a three-time Bill Farrell Memorial champ on Friday (2014, '18).

Hancock and Coon were the only prior Bill Farrell Memorial champs from Friday to win for a second time. Hancock's first Farrell gold came in '16, Coon's, '15.

Nowry -- methodology aside -- is now a three-time runner-up in New York. In '11 and '12, he took second at the then-New York Athletic Club International Open.

Mango, Nowry, Sancho, Coon, and a host of other U.S. Seniors departed on Saturday for a two-week training camp in Tbilisi, Georgia, which will be followed by the Haparanda Cup in Haparanda, Sweden.