Brock Mauller & The Wrestlers Who Could Snap The MAC National Title Drought
Brock Mauller & The Wrestlers Who Could Snap The MAC National Title Drought
Missouri's Brock Mauller could push to break the national title drought in the MAC. Who else is on the list?
Nov 15, 2019
by Mark Spezia
Unlock this article, live events, and more with a subscription!
Get Started
Already a subscriber? Log In
The Mid-American Conference has been without an NCAA Champion since Missouri's J'den Cox won the last of his three titles in 2017.
One of the best hopes to end that drought — three-time All-American Jaydin Eierman — has announced he is transferring from Missouri to Iowa.
That does not mean the conference's chances to produce a national champion have transferred with him.
While no MAC wrestler is currently ranked first in any weight class, these three likely represent the best shot for the conference to represented atop a podium in Minneapolis come March.
1. BROCK MAULLER | MISSOURI
The sophomore's response after being suddenly pressed into service was one of the great stories of the last wrestling season.
Mauller, a four-time Missouri state champion, planned to redshirt his first year with the Tigers. In early December, everything was going according to that plan as Mauller honed his skills in a practice room featuring several All-Americans and quickly built a 15-1 record wrestling unattached in open tournaments at 149 pounds.
Then, the Tigers lost starting 149-pounder — All-American Grant Leeth — for the season with a torn labrum and rotator cuff injury. Mauller did not hesitate to forfeit his redshirt status when asked to step in.
Mauller lost just two of his next 30 matches and completed an unbeaten MAC record with a conference title. He was later named the MAC's Freshman of the Year.
Mauller then went 4-3 at the NCAA Tournament, placing sixth for All-American honors. His losses were by a combined seven points. He finished 32-5 and sixth in the final national rankings. Only six freshmen were ranked higher in any weight class.
Mauller has picked right up where he left off with a 6-0 start this season. Leeth, meanwhile, has moved down to 141 pounds and returned to action for the first time since his season-ending injury 11 months ago Thursday, picking up a 10-2 win in Missouri's 19-14 loss to Illinois.
Mauller is currently ranked second behind North Carolina's Austin O'Connor, but the gap between the two appears narrow. O'Connor won their only meeting, 4-3, during last year's NCAA Championships before eventually placing third.
Mauller defeated third-ranked Max Thomsen (Northern Iowa) three times last season and split four meetings with No. 4 Jarrett Degen (Iowa State). He also defeated No. 13 Cole Martin (Wisconsin).
Mauller's two other losses last season were to Princeton's Matthew Kolodzik, who is redshirting this season to prepare for the 2020 Olympic Trials.
Mauller will not get another crack at O'Connor, 19th in the latest Pound-for-Pound rankings, Thomsen or Degen prior to the NCAA Championships, but should face No. 5 Brock Zacherl (Clarion) at the MAC Championships. He could also face No. 8 Boo Lewallen of Oklahoma State when the Cowboys host the Tigers Feb. 2.
2. LARRY EARLY | OLD DOMINION
Currently ranked No. 4 at 157 pounds, the senior has been steadily improving throughout his career, progressing from NCAA qualifier as a sophomore to All-American last year when he finished eighth at the NCAA Championships.
Off to a 3-0 start this season, Early will not have to wait long for a chance to move up in rankings and make a statement. Barring any unforeseen lineup shuffling, he will tangle with top-ranked Hayden Hidlay when Old Dominion travels to ninth-ranked North Carolina State Friday for a dual. Hidlay is also 15th in the latest Pound-for-Pound rankings.
The two have met twice before with Early taking a 4-2 decision in their last meeting about a year ago when the Wolfpack edged the Monarchs, 16-15. The victory avenged a 16-5 loss to Hidlay the previous season.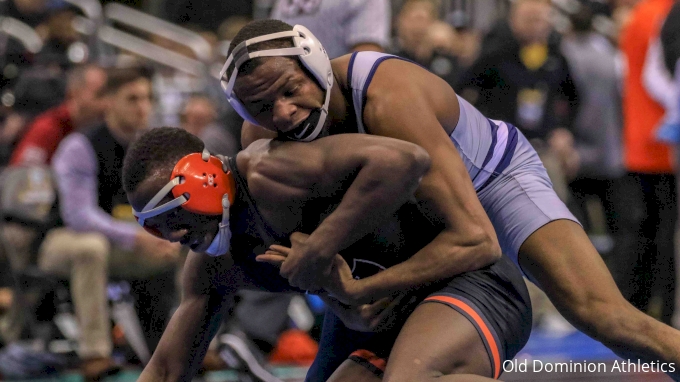 Early, a senior, has plenty of NCAA experience under his belt.
Hidlay, a junior who was fourth at last year's NCAA Championships, has suffered only five career losses.
Early will not face No. 2 Kaleb Young (Iowa) or No. 3 Ryan Deakin (Northwestern) during the regular season, but Deakin dominated their two meetings last season by a combined 11-1 margin. Early has never wrestled Young.
After Friday, Early's next chance to test himself against a current top-ten foe comes Jan. 19 when Old Dominion hosts Rider, one of seven new Mid-American Conference teams this season. Rider 157-pounder Jesse Dellavecchia, an NCAA qualifier last season, is ranked No. 8. It will be their first meeting.
Early could also take on No. 13 Brian LaPrade of Virginia Tech, an NCAA qualifier last year, at the Nov. 23 Navy Classic. They have split their two career meetings.
Early has a 66-27 career record, including 25-7 last season when he reached the MAC title match at 157 pounds before dropping a 3-1 decision to Missouri's Jarrett Jacques (currently ranked No. 14).
The Illinois state champion, who ranked in the top 10 nationally as a senior, transferred from Minnesota following the 2015-16 season and became Old Dominion's starter at 157 midway through the following season.
3. MATT STENCEL, CENTRAL MICHIGAN
It will be difficult for anyone to knock off No. 1-ranked Anthony Cassar of Penn State, also fourth in the latest Pound-for-Pound rankings.
However, with 24 pins in his last 39 victories, Stencel always stands the equivalent of a puncher's chance in boxing.
Ranked No. 7, the junior has never faced anyone currently ranked in the top four, but could tangle with Cassar at Sunday's Black Knight Invitational.
Stencel is off to an 8-1 start with five pins, including a win over No. 22 Cary Miller of Appalachian State.
Michigan's Mason Parris (ranked No. 6) handed Stencel his lone loss of the season at Michigan State Open earlier this month, but the pair have split their four meetings. Their rivalry could be renewed at Black Night and when Central Michigan travels to Michigan on Nov. 24.
Stencel lost his only career match against No. 5 Tanner Hall (Arizona State), but decisioned No. 8 Trent Hillger (Wisconsin) for seventh place at last season's NCAA Championships. Stencel is also 1-1 lifetime against No. 9 Demetrius Thomas (Pittsburgh) and has beaten No. 12 Anthony Cassioppi (Iowa), and No. 15 A.J. Nevills (Fresno State). Stencel lost his only meeting with No. 10 Jere Heino (Campbell).
Stencel could face Hillger and Cassioppi at the Dec. 29-30 Midlands Tournament.
The two-time Ohio state champion and Super 32 runner-up is also chasing history this season and could become the MAC's ninth three-time champion.
Stencel boasts a 67-24 record, including 39-7 since the start of last season.
---
Mark Spezia is a freelance writer based in Lapeer, Michigan. He has written for ESPNW, Flohockey, Flint, Michigan-based My City Magazine, the Detroit Free Press, Hour Detroit Magazine and Troy, Michigan-based Oakland Press. He previously worked for the Flint Journal, Lapeer (Michigan) County Press and Daily Mining Gazette in Houghton, Michiga