2019 Rutgers vs Fresno State | NCAA Wrestling
Ahead Of Rutgers Dual, Fresno State Eyes Resurgence & Attendance Record
Ahead Of Rutgers Dual, Fresno State Eyes Resurgence & Attendance Record
Ahead of a dual against Rutgers, Fresno State is eyeing an attendance record and an even bigger goal of galvanizing the Central Valley.
Nov 14, 2019
by Jeremy Luchau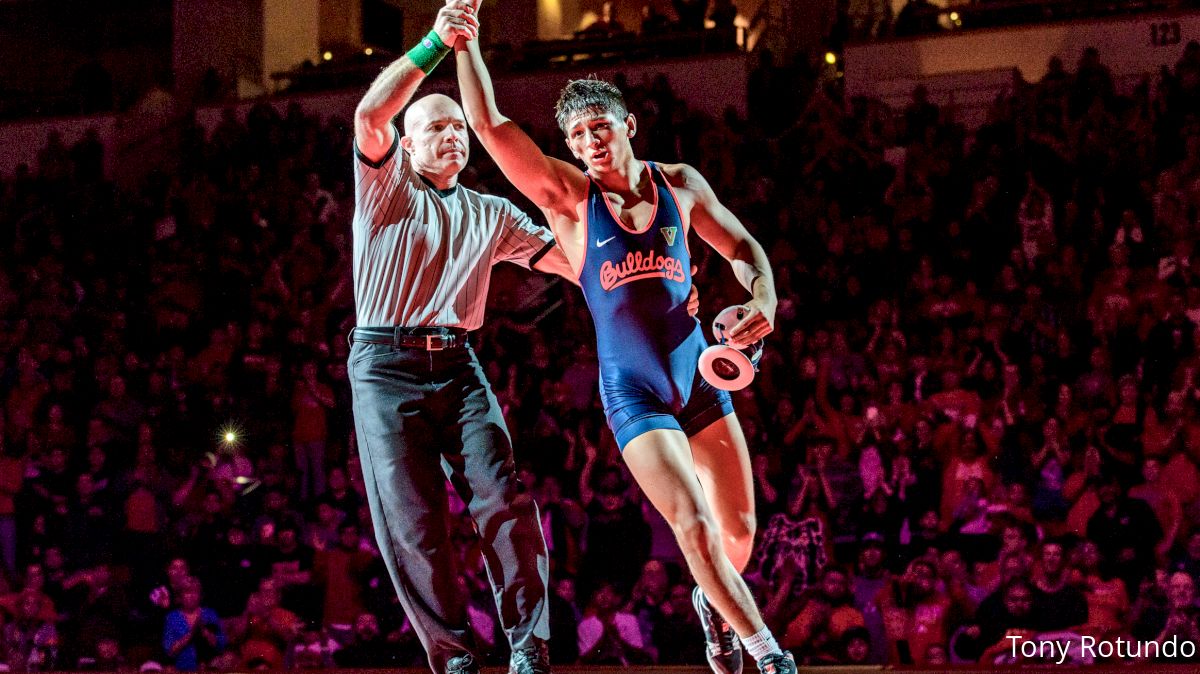 FRESNO – There's a 130-mile strip of highway 99 in California, traveling north from Bakersfield to Madera, that the locals have passionately called the Central Valley for decades.
Just about 10 miles off the 99 in Fresno sits Fresno State University, home of the Bulldogs' wrestling team. And in its third year of competition since being reinstated, the 'Dogs are making a run at a nearly 15-year old milestone.
There's been a lot of new first for the Bulldogs of late. Most recently in March, the first All-American of the new era, Josh Hokit.
Watch Fresno State vs Rutgers LIVE on Flo
Friday, November 15 | 10:00 PM ET

And now the elusive attendance record, which the Fresno State coaching staff has been eyeing and circled November 15 on their calendar. And it will be East Coast power Rutgers coming to town.
"I was not sure what to expect. I did know that people wanted this program back and it took many years to get it back. So, when they decided to reinstate it, we have to understand we must support it," head coach Troy Steiner said of his expectations for their program-returning dual with Illinois in 2017. That dual is third all-time in attendance with 6,840.
No. 1 all-time is a 2004 showdown with Iowa State that drew 9,750 to the Savemart Center, followed by a 2005 meeting with Iowa (6,863).
"I wanted 10,000 people at that first dual. We have a Valley that is loaded with wrestling and it is important to many people here. If we truly want a team that can hunt for NCAA trophies year in and year out, we have to support it any way we can. We the people of this Valley will make this program," Steiner said.
More appealing than just the 10,000 mark will also be a victory, as in all three top-attending duals the Bulldogs fell short on the scoreboard: 33-10 to Illinois, 30-7 to Iowa, and 26-15 to Iowa State.
The Iowa State dual will always stand the test of time for California wrestling fans, as then-149-pound star and local hero Casey Olson downed Illinois' Trent Paulson 8-7 in overtime.
"For wrestling at the time, it was a big deal. We were used to wrestling in a much smaller arena (North Gym) and we would go back East and wrestle schools like Iowa, Penn State . . . and they had these huge crowds," Olson said. "Wrestling is a sport, especially in California, that hasn't always received the attention it deserved, and our support staff did a great job turning that dual into a big event."
Ironically, in attendance at both the Iowa and Iowa State matches was Jacob Wright, whose father was a diehard Iowa fan and coached at nearby Hanford High at the time.
Wright is a redshirt sophomore that has recently earned co-wrestler of the week honors for the Big 12.
"I remember I was mesmerized. I was there to root Iowa because my dad brainwashed me into being a Hawkeye fan. I was excited to see college wrestling. It was my first time seeing something that big, and exciting to see that many people care about wrestling," Wright recalls.
Wright admittedly didn't imagine at the time that one day he would be wrestling at the Savemart Center and helping anchor a resurging Bulldogs' program.
"I don't think it clicked for me then. I knew I wanted to wrestle and at that level, but I wasn't thinking about Fresno State," Wright said. "My junior year when the program was coming back and I knew I was going to sign there, I immediately flashed back… this is something special."
Wright's father Michael Wright, now a high school wrestling coach for Dinuba High School just down the road, also remembers those early years for his sons.
"It was a great atmosphere you had Iowa coming in, it was so iconic. They were at their best and winning national championships. I'm from Iowa and have always been a fan, and still am today when not wrestling Fresno," Michael Wright said. "For boys to see that there was nothing better."
Over 10 nationally ranked wrestlers will take the mat Friday night and the Bulldogs will feature possibly seven starters with ties to the Central Valley — something that many feel has helped with the resurrection.
"We are going to keep bringing in homegrown talent in the lineup. That's what we wanted to build the program with. That's what's going to help draw those attendance numbers you can see it. You are going to get 300 people from Selma, 300 from Dinuba, another 300 from Lemoore and all these small communities are coming together to support us," Fresno State assistant coach Israel Silva said.
"We have the local support. We make ourselves accessible. We go to local tournaments. We watch these kids at youth tournaments. We are showing our faces. And it all comes from Troy being down-to-earth and not being above anybody. Troy has said this is the Valley's team."
And coach Silva has taken note. Silva has been the boots-on-the-ground catalyst for helping to turn out the school's top recruiting class on decades.
"This is by far one of the more successful sports in Central Valley, and maybe that's due to the agriculture, but also it's because we've had such successful high school teams, which has bred fans," Michael Wright said. "Ten thousand fans is a lofty goal. I think we are going to do it, might not be this dual, but as the team gets better and you start to see more of these local stars compete. These local guys are going to make it happen."
Jacob Wright seems to agree.
"It almost feels like we are a local all-star team. I look back at old pictures of dual teams a lot of those guys are on our team right now," the 157-pounder said. "I think with guys like Jace (Luchau) and Matthew (Olguin) start to break into the lineup we are going to get more popular and attendance isn't going to be a problem. I don't think 10,000 is going to be a question soon."
And the eighth-ranked recruiting class in the country will have to help spark the Bulldogs Friday night, as Ryan Reyes looks to have a stronghold on the 197-pound weight.
The true freshman did his youth wrestling within 10 miles of Fresno State and competed three seasons at Clovis West before transferring to Gilroy his senior season. He also teamed with Olguin and Luchau on a 12-and-under national championship team as a youngster.
It's safe to say that the roots run deep in the Central Valley.
"First thing about coming to Fresno, was mainly the trust I have in Troy, but two I've always had an interest in Fresno and Fresno State because of demographics. I feel like I can make an impact here, I relate to them and the coaches and the kids here can also relate to my journey," Silva said.
"It is an area that fits the wrestling mentality. People of this Valley are willing to work and do not expect things to be given to them. Wrestling is part of the fabric of this culture," Steiner added. "But we have to look to bigger things and shoot for bigger things, because if we are doing all the right things to succeed. Why don't we deserve it? So many times we build our opponents up, instead of giving ourselves a reason to succeed. We have everything we need to succeed, but we must expect it."
And the expectations from even some of the loyalist of fans loom large. \
"I love what coach Steiner is doing. He's amazing. I love the staff and they've done a lot of good things. When the program came back, I wish I could have been around more, but I have two young ones," Olson said. "I love how they're going to local communities pulling in guys like Jace (Luchau) and Matthew (Olguin); they will build the numbers because they're bringing in numbers. We've all been watching these kids grow from freshman year and some longer through their senior and now they're coming here to Fresno State. Now we are all a lot more excited."