NCAA Division III Complete Week 1 Results & Recap
NCAA Division III Complete Week 1 Results & Recap
Here's everything that went down in Division III wrestling in Week 1.
Nov 8, 2019
by Anthony Bonaventura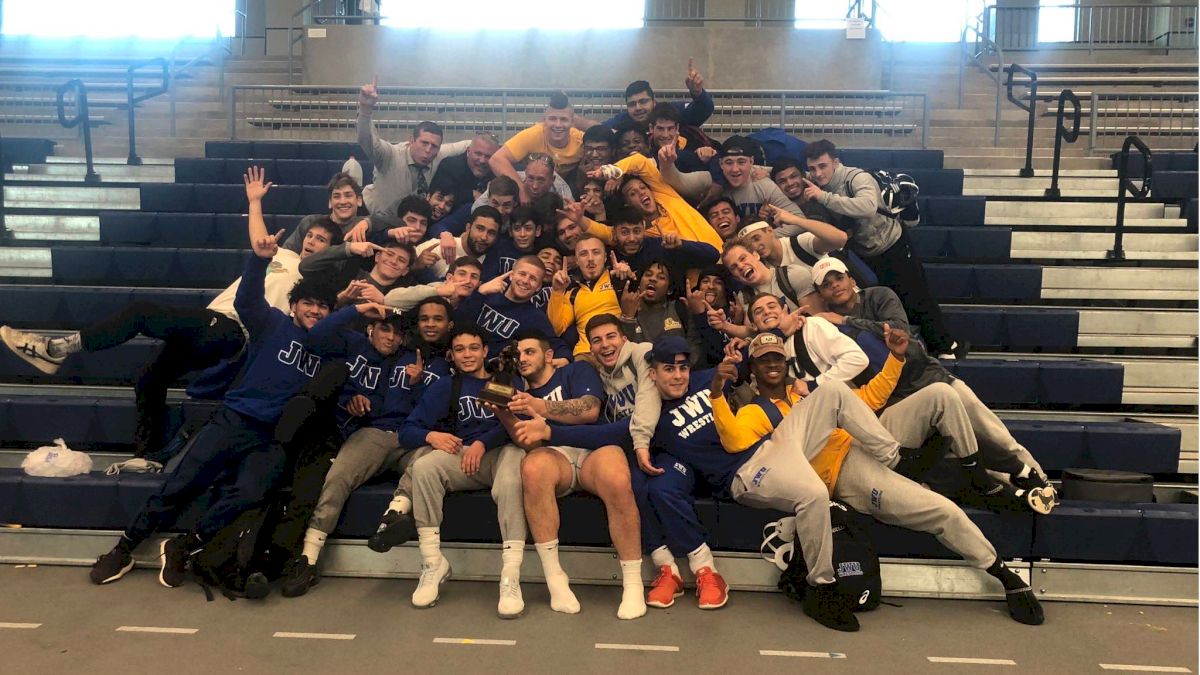 Unlock this article, live events, and more with a subscription!
Get Started
Already a subscriber? Log In
Week 1 of the 2019 Division III NCAA season was a wild one! There were a handful of tournaments and dual meets that took place to officially kick off the season.
We saw some programs compete in their first-ever collegiate competition, ranked guys getting knocked off, true freshman with signature wins, and programs giving their first glimpse of potential lineups for the season.
Here are few top headlines from the weekend.
J-Who? JWU wins Ithaca Invitational thanks to 10 placers and 3 champs
Johnson and Wales University is coming off a third-place NCAA finish in 2019 but graduated seven of their 10 starters. The Wildcats had three individuals ranked in the top 10 at their respective weights but did not accumulate enough points to receive a preseason team ranking for the first time in awhile. JWU's team performance is a good indicator that they don't plan on rebuilding — they're reloading with a great recruiting class, transfers, and some solid individuals who are finally able to crack the lineup.
JWU accumulated 147 team points to out-place Baldwin Wallace University and host school Ithaca College; New York University and Castleton University rounded out the top five in the team scores. This two-day tournament was incredibly deep at multiple weight classes and saw a lot of top guys getting knocked off.
141 was the toughest weight class in the tournament as it featured #2 Ben Brisman, #1 (at 133) Charlie Nash, and #5 (at 133) Ian Tolotti. Shockingly, Ben Brisman and Charlie Nash ended up wrestling in the consolation finals this past Saturday with Nash coming out on top in Sudden Victory I 5-4. It was an all-JWU affair in the finals, with Gabriel McDaniel taking the bracket over Jordan Robinson 3-0. Both Wildcat wrestlers recorded signature wins: McDaniel knocked off #2 Brisman in the semifinals 5-3 and Robinson took out Nash 6-4 plus Tolotti in the quarterfinals 7-2.
Freshman Hayden Brown at 133 had himself a tournament as well; he was the second champ for JWU after taking out 2018 NCAA qualifier Tito Colom in the finals. He went 5-0 to start his college career. #3 Da'Mani Burns recorded three falls and bested #2 seed Evan Fidelibus in the finals 7-6 to win the 149 title. Fidelibus spent three years at Rider University and was an EWL finalist before transferring to New England College this fall; he will be a factor at 149 this season.
#4-ranked Zeckary Lehman dominated and won the 197 title with five bonus-point wins with four wins coming by fall. A top-10 matchup did not happen in the finals as #10 Tom Wrzesien was upset by Mitchell LaFlam in the semifinals and Wresian settled for fifth place. #2 Drew Kasper made a huge statement as he took the 285 title over #7 Michael DiNardo by major decision. #1 John Boyle at 184 had a little hiccup to start his senior campaign as he dropped his round of 16 match to true freshman Lucas Salmon of Baldwin Wallace.
#1 Boyle was able to avenge this loss on the backside and won six straight matches to take third; the returning NCAA champ got back to his form that was on display last March. #8 (at 149) Stanley Bleich won M.O.W. thanks to a 6-0 weekend and winning the 157 title in dominant fashion. SUNY-Oswego seems to have a good problem at 165; true freshman Charlie Grygas upset #3 (at 157) Kaidon Winters in the quarterfinals and made it to finals where he met his teammate Christian Gramuglia. Gramuglia took the bracket after recording a first period fall over Grygas. Ithaca College had a nice showing as well with three individual champs: Logan Ninos at 125, Jordan Wallace at 174, Chibueze Chukwuezi at 184. All three wrestlers went 5-0 and will be strong pieces in Ithaca's 2019-20 lineup.
Full Ithaca Invitational results
Messiah and Mount Union dominate to open up the year
Messiah College and Mount Union both won team titles to start their season. Messiah College hosted their own invitational with an eight-team field and seven of those programs being DIII; Liberty University was the only team not associated with DIII. Messiah took the team title with 116.5 points, Ursinus College finished in second with 81 points, and Liberty and Elizabethtown rounded out the top four.
The Falcons had seven finalists and four individual champs. Josiah Gehr looked good at his new weight class and took the 133 title behind three bonus-point wins. It was an all-Messiah final at 141 with Garrett Cornell winning over Dalton Daugherty by fall. Nick Barnhart was the third champ for the Falcons, as he went 4-0 on the weekend and needed to grit out a couple of wins in his last two matches to take the title. Messiah's fourth champ was Stephen Maloney who put together a nice debut at 157 — five wins, three of those wins coming by technical fall, and he also recorded a pin.
True freshman Terry Adams of Ursinus College had a nice start to his college career. Adams went 4-0 on the weekend and beat 2018 NCAA qualifier Sean Redington of Messiah in the finals with a last-second takedown. Johns Hopkins had back-to-back champs at 165 and 174, 2018 NCAA qualifier Dominick Reyes won the 165 championship, and Joe Paul took the 174 title. Wheaton's Issac Odell made the most of their cross-country trip and won the 184 title; he went 4-0 with four pins. NC State transfer Anthony Wuest looked good in his first tournament for McDaniel, as he cruised to 197 title after recording four falls.
Mount Union traveled to Michigan to compete in the Adrian Invitational. The Raiders had an impressive showing and outpaced host school Adrian by 10 points to take the title. Mount Union entered 24 wrestlers and placed 21 on the podium at the Adrian Invite. They pushed seven athletes into the finals and four walked away with titles. The Raiders champs were 125 Erikk Gerback, 133 Nolan Wochna, 157 Antwon Pugh, and 165 Michael McIntire. Host school Adrian College also pushed seven individuals into the finals and finished with three individual champs: #9 (at 184) Devon Pingel at 197, Noah Nieman at 149, and Isaiah Espinoza at 285. Second-year program Defiance College walked away with one individual champ, Alexander Smith, who took the title at 141. #3 Dylan Roth started his senior campaign in dominant fashion and went 4-0 on the weekend to claim the 184 bracket.
Full Messiah Invitational and Adrian Invitational results
Ryan Anderson makes his debut for Centenary College at the RAC
Anderson originally committed to Iowa State back in September 2018, when he was #12 on the Senior Big Board in 2019. The former Super 32 champ and two-time PA AAA state champ ended up not making it out to Ames; he is currently at Centenary College and is at 149. Centenary opened the season at Rutgers quad this past weekend and Anderson competed in all three matches against some stiff competition. Anderson dropped his first two matches to two-time DII national champion Chris Eddins from UPJ 7-0 and Gerard Angleo of Rutgers in tiebreaker-two 4-3; he received a forfeit against Long Island University. It will be interesting to see how the once highly touted recruit fairs in DIII this season.
Full Rutgers Duals (Centenary) results
Other DIII Results from Week I
-John Carroll/CWRU/Cleveland State Tri at CSU
-Brockport 50, Penn State-Behrend 0
-Roger Williams 35, Bridgewater State 9
-MacMurray Dr. Bob Kellogg Open
-Plymouth State Tri (Southern Maine, Rhode Island)
-University of the Ozarks 41, Lyon 10