Unlock this article, live events, and more with a subscription!
Get Started
Already a subscriber? Log In
Ohio State senior captain Luke Pletcher has spent most of his career near the top end of the rankings, finishing fourth at each of the past two NCAA Wrestling Championships. This season he finds himself in a new position as the top-ranked man in the country at 141 pounds after knocking off former No. 1 Dom Demas of Oklahoma at the Michigan State Open.
Watch Stanford at #3 Ohio State LIVE on Flo
Sunday November 10 | 7:00 PM Eastern
Pletcher came into the tournament ranked No. 3 in the country, but his win over the highest-returning placer from last year's NCAA Championships adjusted the pecking order in the class. It took an escape and a rideout in tiebreakers to get the win, and Pletcher said taking Demas into extra innings was a great learning experience.
"I kept the pace high for the most part — I was still attacking the whole time. He's pretty dangerous so you kind of have to factor that in," Pletcher said. "Overall, I think I respected him too much whenever I got to the legs. I got to his legs like three other times maybe, and just I felt a little overhook or he'd start to dig a hook and I'd just let go. I think I'm better in those situations than I give myself credit, and I just gave him too much respect in there. I feel like the next time I wrestle I can finish those shots."
Hear what Pletcher has to say about his weight class move here: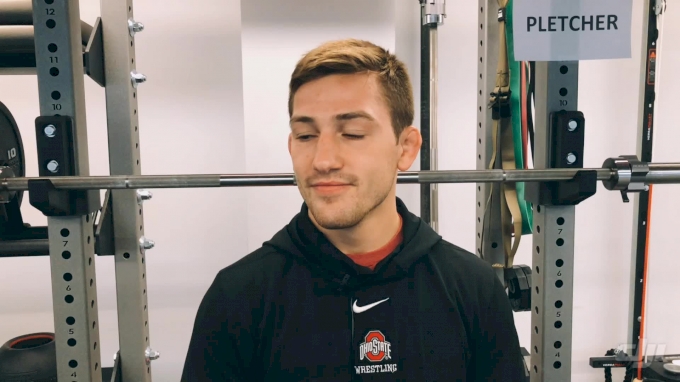 In addition to his new spot in the rankings, Pletcher earned Big Ten Wrestler of the Week honors for his efforts. While he appreciates the recognition, ultimately his sights are set a tad higher than winning early-season open tournaments.
"I'd rather be No. 1 at the end of the year than now," he said. "I'd exchange a national title for a Michigan State title any day of the week, so it really doesn't change anything: Keep getting better for March."
Pletcher's decision to move to 141 after spending the bulk of his Buckeye career at 133 sent ripples throughout the Ohio State roster, most notably pushing redshirt freshman Quinn Kinner down to 133 and potentially solidifying the decision to redshirt true freshman Jordan Decatur.
"I just felt a little bit at the end of the year last year… I just feel like I wrestle better when I'm not worrying about my weight. I just felt like I was getting better week to week and I didn't want to risk going down and losing whatever it might be. I just know that when I get down there it doesn't feel like my full self, so I'm loving [141]."
He's fully embraced the role of captain and mentor to a relatively young roster of hard-charging young Bucks.
"The one thing that has changed for me is just to make sure that there is never a time I feel like I can get down on myself," Pletcher said. "I have an obligation to push the guys I'm wrestling, so it helps me and it helps them, too, making sure that every go in practice is balls to the walls."
Pletcher faces No. 15 Real Woods of Stanford Sunday night in Ohio State's home opener and debut dual in the new Covelli Arena, live on Flo at 7 PM Eastern.
---
Andy Vance is a Columbus-based journalist who covers the Ohio State University wrestling program for Eleven Warriors, the largest independent sports site on the internet for Ohio State news, analysis, and community. He is co-host of the site's Eleven Dubcast podcast. Follow him on Twitter @AndyVance