2019 Journeymen Collegiate Classic
The 6 Deepest Weight Classes At The Journeymen Collegiate Classic
The 6 Deepest Weight Classes At The Journeymen Collegiate Classic
Check out the deepest weight classes at this year's Journeymen Collegiate Classic.
Nov 8, 2019
by David Bray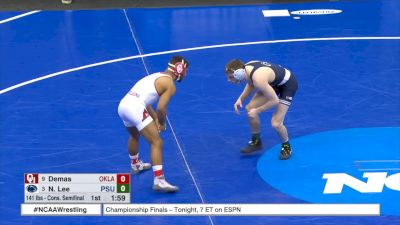 Unlock this video, live events, and more with a subscription!
Get Started
Already a subscriber? Log In
The Journeymen Collegiate Classic has become a staple of early-season college wrestling. Check out the hammers who will be wrestling this Sunday along with some of the most exciting potential matchups.
Watch The Journeymen Collegiate Classic LIVE on FloWrestling
Sunday, Nov 10 | 9:00 AM ET
Before we look at all of the pools, take a look at some of the most exciting action on tap for this year's Journeymen Collegiate Classic.
---
141 - Demas, Red, Aragona
In the first 141 pool, we have a guaranteed matchup between #7 Chad Red of Nebraska and true freshman Jojo Aragona. Red had a slow start last season but finished strong with an eighth-place performance at NCAAs for his second All-American finish in two years. Aragona has yet to be tested, but he looked solid last weekend in three Rutgers duals. Red is seasoned, and he can scramble. Aragona is an ultra-confident youngster with solid positioning beyond his years. This one should be fun.
The winner of this side of the pool gets the winner of the other side, which in all likelihood will be Dom Demas, the highest returning finisher at 141 from last year's NCAA tournament. Neither Red nor Aragona has wrestled the high-flying Demas, but both could test him.
If this group goes chalk, it will be 1) Demas 2) Red 3) Aragona, but don't be surprised if any of these guys winds up on top. They're all that good. It's also worth noting that last November, Chad Red took four losses while in the same month, Demas had two of his six total losses on the year.
---
157 - Is Jacori Teemer Ready for Josh Humphreys?
Jacori Teemer has been an exciting prospect for a long time. His redshirt season only fanned the flames for the excitement around this young Sun Devil. Teemer's two losses on the year came to All-Americans Matt Kolodzik and Pat Lugo, and he had wins over super talents Brayton Lee and Sammy Sasso. So what will we get out of Teemer this weekend?
He'll have a tough test in Lehigh's Josh Humphreys. Although Humphreys is coming off a loss to Quincy Monday last weekend, he is incredibly solid. I'm circling this match as a potential final that would tell us a lot about both guys.
Check out Teemer's wild match with Sammy Sasso from last year's Midlands Championships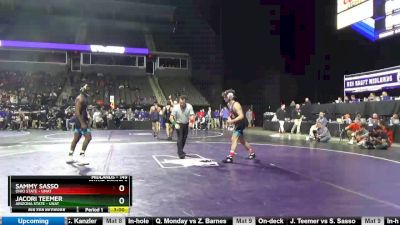 Unlock this video, live events, and more with a subscription!
Get Started
Already a subscriber? Log In
---
165 - #5 White, #6 Shields, #7 Romero
Nebraska's Isaiah White, Arizona State's Josh Shields, and Utah Valley's Demetrius Romero help to make up the core of one of the toughest weight classes in the NCAA this season. And they will all be in New York this Sunday.
Romero and Shields are on the same half of the pool, so we know we'll see that match. Romero's leg attacks are lethal, and he can score in the blink of an eye. Shields is incredibly consistent, routinely winning matches against high-caliber opponents due partly to his ability to score from any position.
The winner of Romero vs Shields is likely to take on Isaiah White. White owns a win over each of these guys. He beat Shields for fifth at last year's NCAA Championships and knocked Romero off in the first round of 2018 NCAAs. He is certainly the favorite on Sunday, but he'll have his work cut out for him.
Check out White's win over Shields at last year's NCAAs.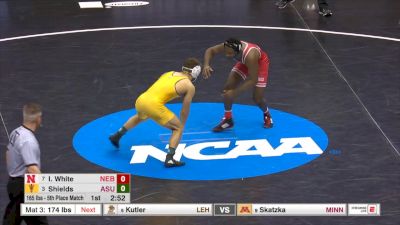 Unlock this video, live events, and more with a subscription!
Get Started
Already a subscriber? Log In
---
174 - #2 Kutler and #7 Labriola plus Anthony Valencia at a New Weight
Lehigh's Jordan Kutler and Nebraska's Mike Labriola are two of the best 174-pounders in the land, and they've never wrestled. If each navigates his half of the bracket this weekend, they could hit in the finals. Labriola is a high volume shooter while Kutler is uncompromising positionally. This one should be fun.
In a separate pool of four, Anthony Valencia will have tough tests at his new weight class in #11 Kimball Bastian of Utah Valley and Oklahoma's always entertaining Anthony Mantanona.
---
184 - Hodge Watch: #1 Zahid, #8 Venz, #12 Hazel, #25 Orndorff
One of the biggest stories of the weekend will be how two-time NCAA champ Zahid Valencia looks up at 184. He should have two ranked opponents on Sunday. First he'll have Tanner Orndorff of Utah Valley. Orndorff is also new to 184, but he's coming down to the weight while Zahid is coming up. Zahid is the favorite here, but it will be interesting to see him against a very large and skilled 184.
On the other side of the pool, Nebraska's Taylor Venz and Lock Haven's Corey Hazel are set to square off. Venz is favored in this match, and if he wins, he'll offer another nice test for Valencia. This bracket has some of the greatest depth of the whole tournament.
---
285 - #3 Jordan Wood & #4 Tanner Hall
Hall and Wood have been staples at heavyweight for a long time. While Lehigh's Wood is the higher ranked wrestler, Hall, the ASU heavyweight, owns two wins over Woods and will look to maintain control of this rivalry. If Tanner Hall can maintain control of this rivalry, that could mean big things for his season and for the ASU Sun Devils. Any time the #3 and #4 guys in the country hit, it's a big story.
---
The complete pools have not yet been released, but when they are, we'll link them right here.