Unlock this article, live events, and more with a subscription!
Get Started
Already a subscriber? Log In
Will we finally get some answers about the Hawkeyes' lineup this week?
Like the vast majority of college teams, Iowa has their wrestlers face each other in an organized setting before the season starts. The Hawks released the matchups for their "preseason intrasquad matches" today, and we immediately had some questions.
#Hawkeyes preseason matchups announced for Thursday and Friday @dannygable Wrestling Complex. https://t.co/x52iOrvwvV#FightForIowa pic.twitter.com/dMUqsGnx65

— Iowa Hawkeye Wrestling (@Hawks_Wrestling) November 5, 2019
1) Is Gavin Teasdale a Potential Starter at 133?
I think the answer to this was yes whether he got a preseason match or not. Teasdale, listed as 133 on the roster, is facing fellow 133 Paul Glynn in the second match on Thursday. Until further notice, though, DeSanto is their 133lb starter, which brings us to our next question.
2) Is Austin DeSanto Moving Up to 141?
This is a far, far murkier question. He's listed as a 133 on the official roster, and head coach Tom Brands said the following at Media Day:
"He has to take some steps — you know, there's a national champion coming back, Seth Gross, so he's going to have to get better at the bottom."
So the assumption is he's a 133-pounder. There are no weights listed for the matches, but his opponent on Friday is Aaron Meyer, a 141-pounder. It's possible DeSanto moves up, but at this point it's just conjecture without concrete evidence.
3) Why is Max Murin Not Listed?
Murin, a sophomore ranked #9 at 141, does not have a match. Perhaps that means he is their starter no matter what, perhaps that means he is nursing an injury, or perhaps that is related to our first two questions. Most likely, there it means little and there is no cause for concern. Either way, fans of the Black & Gold will not see him Thursday or Friday, but until it is said otherwise we are operating that he is the 141lb starter.
4) Where Does Abe Assad Stack Up?
The #29 prospect on the 2019 Big Board, Assad was the highest-ranked recruit in Iowa's incoming freshman class. The Fargo champ at 182, he'll face redshirt senior Cash Wilcke, who is currently ranked 11th at 184 and has twice made the bloodround at the national tournament. We'll know right away what to expect out of Assad during his first year in Iowa City.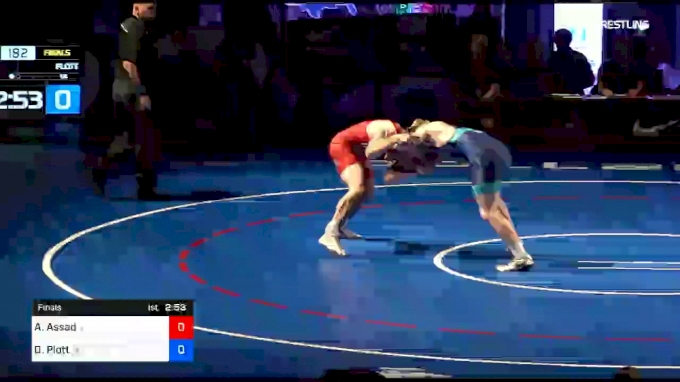 Unlock this video, live events, and more with a subscription!
Get Started
Already a subscriber? Log In
5) What Happens With Winner of Nelson Brands/Jeremiah Moody?
The first thing that comes to mind is that that person gets the inside track for any spot starts at 174. With Michael Kemerer coming off an injury that caused him to miss an entire season, it's entirely possible and reasonable he may be on a pitch count this year. If so, they'll need someone to take some of those starts in duals. Moody and Brands are both listed at 165, but may be the best options if the coaching staff gives Kemdawg a day off every once in a while.
Iowa Preseason Intrasquad Matchups
Thursday, Nov. 7 @ 3:30 p.m.
Aaron Cashman vs Spencer Lee
Paul Glynn vs Gavin Teasdale
Carter Happel vs Justin Stickley
Zach Axmear vs Pat Lugo
Cobe Siebrecht vs Vince Turk
Michael Kemerer vs Jeremiah Moody
Sam Cook vs Connor Corbin
Zach Glazier vs Jacob Warner
Tony Cassioppi vs Aaron Costello
Friday, Nov. 8 @ 3:30 p.m.
Austin DeSanto vs Aaron Meyer
Winner of #4 vs Winner of #5
Zach Axmear vs Kaleb Young
Joe Kelly vs Alex Marinelli
Nelson Brands vs Jeremiah Moody
Abe Assad vs Cash Wilcke
Jacob Warner vs Winner of #7