Last week we kicked off the NCAA season and learned a few things about this year's landscape. This week should be even better. We'll get a glimpse of seven #1-ranked wrestlers and 12 ranked teams right here on FloWrestling.
---
Friday Night Duals
Not sure what do do with your Friday night? Here's an idea: Pick up pizza from your favorite gourmet pizzeria (Casey's General Store, perhaps), and fire up your split-screen for a couple of duals. Wisconsin takes on Edinboro and North Carolina heads to Michigan. Both duals start at 6 PM Central.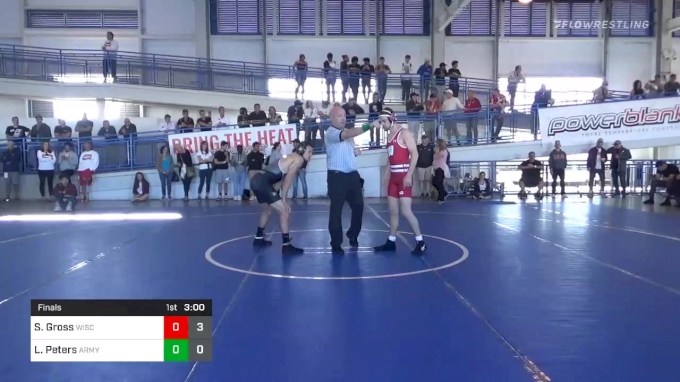 Unlock this video, live events, and more with a subscription!
Get Started
Already a subscriber? Log In
Any Wisconsin event this year is also a Seth Gross Hodge watch. The 2018 NCAA champ has won his first three matches by bonus points with two major decisions and a fall. While Wisconsin will be heavily favored, Edinboro is historically a hard-nosed team that prides itself on winning despite the odds.
The North Carolina vs Michigan match should be full of toss-up matches which could make for an exciting team score. At 133, we could see the varsity debut of Michigan's freshman Joey Silva against the scrappy Jaime Hernandez. It will also be interesting to see if heavyweight Mason Parris continues the reign of terror he began this weekend at the MSU Open by racking up three bonus-point wins and a 9-2 decision over Matt Stencel (the guy who eliminated him in the round of 12 at the 2019 NCAA Championship).
---
Saturday: #1 Zahid Headlines Northeast Duals + Mountaineer Invitational
Saturday morning brings the promise of a bunch of good, early-season action. The Journeyman Northeast Duals will feature a number of solid teams from around the country. This will be our first chance to see NCAA champion Zahid Valencia up at 184 as he'll lead #4 Arizona State against Purdue and #21 Virginia.
Check out all of the matchups and mat assignments in this graphic from our friends at Journeymen Wrestling.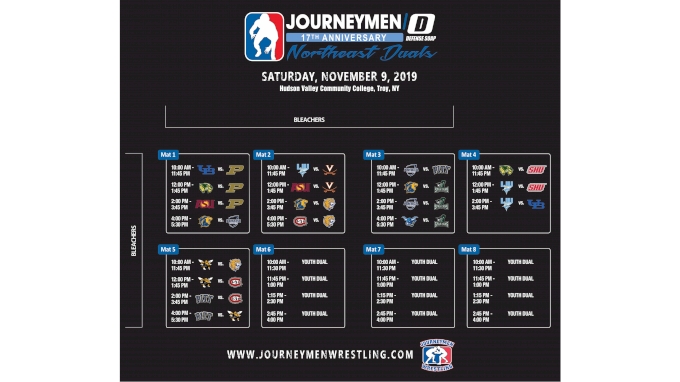 While the Northeast Duals are going on, we will also have the Mountaineer Invitational which features a whole lot more D1 action including Air Force, hosts Appalachian State, Central Michigan, Duke, Gardner-Webb, Kent State, Oregon State, and West Virginia.
---
6 Number 1's Live on Sunday + Journeymen Collegiate Classic + Northern Colorado Open
Wrestling on Sunday will start with the Journeymen Collegiate Classic. Frank Popolizio's tournament uses condensed pools in favor of traditional brackets, and while we don't know Sunday's matchups yet, you can be sure to see some solid action. This year's teams include #4 Arizona State, Bloomsburg, Brown, The Citadel, Davidson, George Mason, Hofstra, Indiana, #13 Lehigh, Lock Haven, Long Island, #8 Nebraska, #19 Old Dominion, #20 Oklahoma, Pitt-Johnstown, Rutgers, and Utah Valley.
You might think all of that action would be enough for one weekend, but we still have two live duals, one for each of last year's top two teams.
---
#1 Penn State and #3 Ohio State Host Duals
At 1 PM Central, we'll have #1 Penn State in their dual against Navy. The #1 Nittany Lions, including NCAA champs Vincenzo Joseph, Mark Hall, and Anthony Cassar, are must-watch wrestling every time they take the mat. Nomad offers six reasons to watch this particular dual in an article this week.
In our 6 PM nightcap, Ohio State christens the Covelli Center with a dual against Stanford. The Buckeyes have two #1's in 197-pounder Kollin Moore, and 141-pounder Luke Pletcher. Pletcher is this year's newest #1 after he knocked off the previous top dog, Dom Demas, at the MSU Open last weekend.
This dual also features ranked matchups at 125, 141, 149, 165, and 197 which should make to a strong finish to a solid weekend and a great opening dual in the Covelli Center.