2019 Southeast Open
Over 25 Ranked Wrestlers At The Southeast Open This Weekend!
Over 25 Ranked Wrestlers At The Southeast Open This Weekend!
These are the top reasons to tune in on Sunday for the Southeast Open.
Oct 31, 2019
by David Bray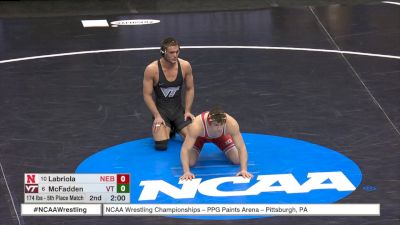 Unlock this video, live events, and more with a subscription!
Get Started
Already a subscriber? Log In
The Southeast Open should offer some insight into the NCAA season as 11 D1 teams — including #7 Missouri, #20 North Carolina, and hosts #18 Virginia Tech — square off on opening weekend. Here are some questions we hope to have answered this weekend as over 25 ranked wrestlers head to Hokie territory.
Watch the Southeast Open LIVE on FloWrestling
Sunday Nov 3 | 9:00 AM ET
The field at the Southeast Open seems to get a little deeper each year. The list of ranked teams and wrestlers who may compete this weekend sets the stage for some fascinating early season drama.
Here are five questions to consider:
1) Does David McFadden Look Ready to Win It All?
Virginia Tech senior David McFadden returns to 165 after finishing fifth in the NCAA last season at 174. McFadden's starts the season ranked fourth in the country, but he has wins over #2 Alex Marinelli and #3 Evan Wick. In fact, the only wrestler in the field with a win over McFadden is two time NCAA Champion Vincenzo Joseph whose loss in last season's NCAA final was against McFadden's teammate Mekhi Lewis. McFadden could face a couple of ranked foes in UNC's 18th-ranked Joshua McClure and Campbell's 24th-ranked Quentin Perez.
For a quick refresher of what McFadden looked like the last time he was at 165, check out his last match at the weight against Alex Marinelli: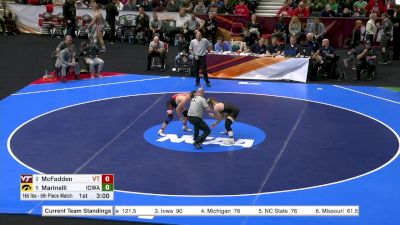 Unlock this video, live events, and more with a subscription!
Get Started
Already a subscriber? Log In
---
2) How Effective Will Grant Leeth be at 141?
Grant Leeth's season ended abruptly last year due to a shoulder injury. It's been a while since we've seen Leeth compete, but his sixth-place performance at 149 in the 2018 NCAA Championships makes him an immediate contender at 141 this year as long as he can handle the weight cut. Leeth was known for his power at 149. The prospect of that power at a lower weight is compelling. Hopefully we'll get some insight into Leeth's effectiveness this weekend.
Listen to Leeth's thoughts after his All-American performance in 2018: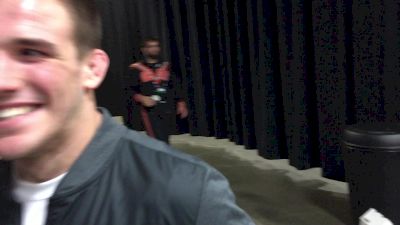 ---
3) Is Missouri a Trophy Team?
The Missouri Tigers have finished in the top 10 for five years in a row, and they're currently ranked #7 in the land. This year looks like it may be a two-team race for the top spot at the NCAA Championships, but any of the 10 next-best teams could push for third or fourth. Missouri's two returning All-Americans are #5 Grant Leeth at 141 #2 Brock Mauller at 149. Most people expect those two to have nice seasons, but the Tigers' trophy hunt will require productivity from the rest of their lineup. This weekend will offer a nice first impression of a few Tigers who could be on the All-American bubble in March including the #10 157-pounder Jarrett Jacques, the #8 174-pounder Connor Flynn, and the #8 285-pounder Zach Elam. Each could face ranked foes this weekend.
---
4) Is Virginia Tech the Best Team in the ACC?
The improvement in quality of the ACC over the past decade has been an encouraging sign for wrestling fans. Five of the six teams in the conference had at least one All-American last year. The one exception was Pitt, who had three wrestlers who were a match away. ACC wrestling is solid, and the team race is usually tight. This year is no exception. Virginia Tech and NC State were tied for first in our preseason ACC rankings. Much like Missouri, Virginia Tech will need productivity out of guys who have yet to prove themselves at the NCAA tournament. A few Hokies who might fit the bill and should be wrestling this weekend are the #14 133-pounder Collin Gerardi, the #17 ranked 141-pounder Mitch Moore, the #23 149-pounder Brent Moore, the #17 157-pounder BC LaPrade, and the #9 184-pounder Hunter Bolen.
---
5) Where Does Campbell Fit in the National Landscape?
The Campbell Camels have been getting better every year since Cary Kolat took over the program in 2014. It is now no surprise to see a slew of Campbell wrestlers in the Southern Conference finals or at the NCAA tournament. Campbell even had its first Kolat era All-American in Nathan Kraisser in 2017, but the Camels have yet to establish themselves as a team that can put guys on the podium each year. Heading into the Southeast Open, Campbell has two wrestlers ranked in podium position in the #8 133-pounder Noah Gonser and the #17 285-pounder Jere Heino. Four other ranked wrestlers round out a nice starting lineup for Cary Kolat. It will be interesting to see how this team performs against a solid field this weekend.
Check out 141-pounder Josh Heil's impressive win over All-American Max Thomsen at the 2018 Southern Scuffle:
Unlock this video, live events, and more with a subscription!
Get Started
Already a subscriber? Log In
---
This year's Southeast Open should help to answer some of these questions, but the list of ranked wrestlers alone is exciting. Here are all the ranked wrestlers who are likely to be in attendance:
125
#22 Joey Melendez, North Carolina
#25 Fabian Gutierrez, Chattanooga
133
#8 Noah Gonser, Campbell
#14 Collin Gerardi, Virginia Tech
141
#5 Grant Leeth, Missouri
#16 Josh Heil, Campbell
#17 Mitch Moore, Virginia Tech
#22 Zach Sherman, North Carolina
149
#2 Brock Mauller, Missouri
#19 Mason Smith, Campbell
#23 Brent Moore, Virginia Tech
157
#10 Jarrett Jacques, Missouri
#17 BC LaPrade, Virginia Tech
165
#4 David McFadden, Virginia Tech
#16 Nick Kiussis, West Virginia
#18 Joshua McClure, North Carolina
#24 Quentin Perez, Campbell
174
#8 Connor Flynn, Missouri
#14 Devin Kane, North Carolina
184
#9 Hunter Bolen, Virginia Tech
#14 Dyan Wisman, Missouri
#23 Andrew Morgan, Campbell
197
#19 Noah Adams, West Virginia
#20 Wyatt Koelling, Missouri
285
#7 Jere Heino, Campbell
#8 Zach Elam, Missouri