Unlock this article, live events, and more with a subscription!
Get Started
Already a subscriber? Log In
Reading the entry list is one thing. Looking through the brackets is another. With over half the nation's 240 ranked wrestlers, the path to a Super 32 belt is as difficult as ever. But the depth doesn't end with just the ranked. Those on the bubble are knocking off guys left and right. Here we'll list all the ranked wrestlers who fell to unranked foes.
Round of 256
106 - In literally the first bout of the day, PA State Champ and top seed Gary Steen fell to Oscar Alvarez, a state runner up from Washington. Alvarez lost the next round.
Round of 128
113 - 15th-ranked Eli Griffin (OK) fell to Weston Dalton (CO), who is #48 on the FR Big Board.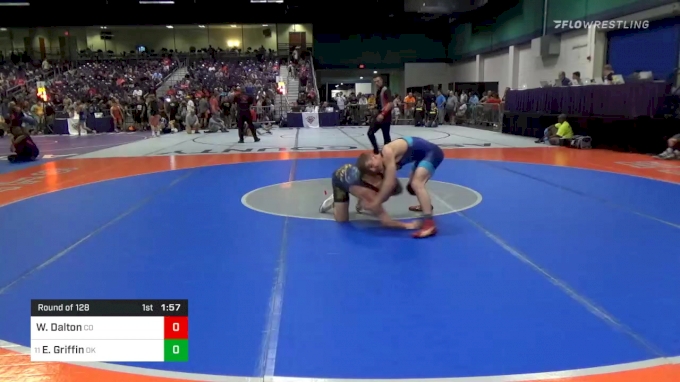 Unlock this video, live events, and more with a subscription!
Get Started
Already a subscriber? Log In
145 - Tough sledding for the ranked guys at 145 this round. #15-Chase Warden, #16-Austin Boone, and #18-Luke Odom all lost. Warden lost to MN state placer Landon Johnson; Boone to Jack Janda (NJ); and returning S32 placer Odom, who bumped to 152, lost 1-0 to PA's AJ Corrado.
Round of 64
106 - Fargo Runner-Up Michell Neiner (WA) lost to Virginia's Mason Barrett.
120 - Fargo Champ Drake Ayala (IA) broke his hand and had to default.
132 - #5-Frankie Tal-Shahar (FL) lost 1-0 to Ethan Turner (OH). Ohio's Matt Williams upended #13-Reid Ballantyne (MN). Tagen Jameson (TX) took out 8th-ranked Nathan Pulliam.
160 - 14th-ranked Luke Nichter (PA) lost to Brevin Casella of Massachusetts.
Round of 32
106 - PA freshmen #36, Ty Kasak beat 6th-ranked Mason Gehloff (MN). Kentucky's Spencer Moore pinned #16-Caden Horwath (MN) in OT. #15-Kai Owen (FL) fell to NJ's Evan Magoulian.
113 - National Prep finalist Erik Roggie (VA) beat #16-Kelly Dunnigan (VA), a returning placer.
120 - Andrew Chambel (MI) beat #6-Zeke Seltzer.
126 - Ethan Oakley (NC) beat Cali placer #16-Jayden Gomez.
132 - Danny Pucino (IL) beat Missouri's Fargo AA #10-Trey Crawford.
145 - Cali's Jaden Le beat #7-Cael Berg (MN). In a battle of two Sophomore Big Boarders, Erik Gibson (PA) beat #13-Nick Vafiadis (VA), 8-5.
152 - Arizona's Alfonso Martinez beat NC State commit, #15-Donald Cates (NC).
160 - Ohio's Hadyn Danals outlasted Cali State Champ #14-Rocco Contino, 4-3 in OT.
195 - Simley's Bennett Tabor (MN) edged #20-Mike Misita (NJ).
Round of 16
106 - Dylan Gilcher (MI) beat Minnesota's #8-Jore Volk.
126 - Ohio's Antoine Allen beat 3x NYS finalist, #20-Zach Redding.
182 - Wrestling at his first major since injuring his arm, Carson Manville defaulted.
195 - In the most shocking upset of the day, #2-Seth Shumate was taken out by PA's Luke Montgomery.
Jack Darrah (MO) beat #13-Guillermo Escobedo (CA), 2-1 in tiebreaks.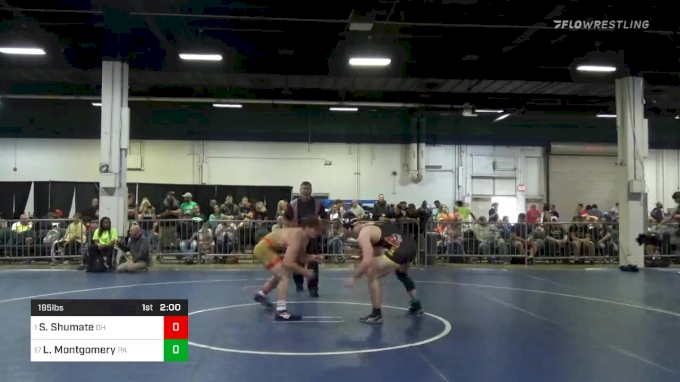 Unlock this video, live events, and more with a subscription!
Get Started
Already a subscriber? Log In