The 2019-20 NCAA DIII Team Race Preview
The 2019-20 NCAA DIII Team Race Preview
A breakdown of the upcoming 2019-20 NCAA DIII wrestling team race.
Oct 21, 2019
by Anthony Bonaventura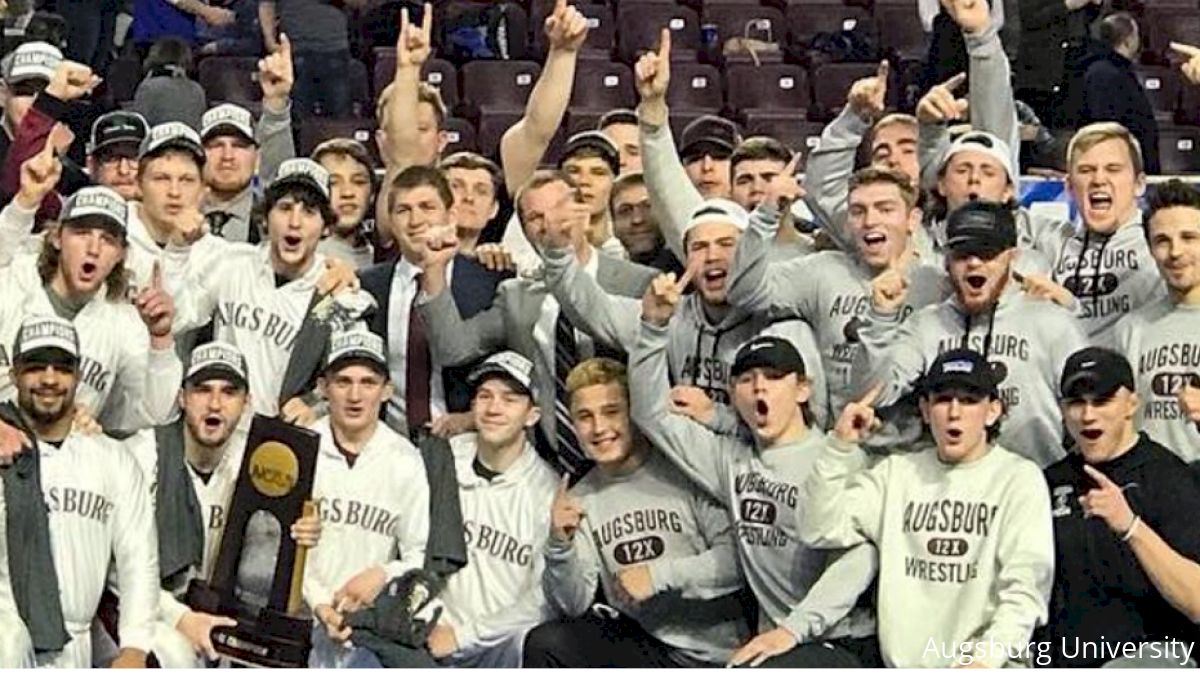 Unlock this article, live events, and more with a subscription!
Get Started
Already a subscriber? Log In
Battle of the Burgs… and everyone else
Augsburg University and Wartburg College have had a stranglehold on Division III wrestling for the last 25 years. The two national powerhouses have been on an incredible run and have set a high standard for the rest of the DIII field. The last time one of these programs did not finish on top of the DIII wrestling world was 1994, when Ithaca edged Wartburg by 2.5 points. Augsburg kept the streak alive last season when they put together an impressive team performance in Roanoke, Virginia, to claim the 2019 team title. The Auggies ended Wartburg's run in dominant fashion thanks to four individuals claiming national titles and an additional three claiming All-American status.
Augsburg will be the clear favorite to repeat in 2020 with most of their team points returning. The only two wrestlers the Auggies lost from their 2019 national team lineup are 2018 133-pound national finalist Sam Bennyhoff and 2019 149-pound All-American Alex Wilson. Augsburg will be led by Victor Gliva (125), NCAA champ David Flynn (141), two-time NCAA champ Ryan Epps (157), two-time NCAA champ Lucas Jeske (165), All-American Tanner Vassar (174), NCAA qualifier Solomon Nielsen (184), and NCAA champ Lance Benick (197).
Augsburg will be heavy favorites, but Wartburg will be looking for redemption in 2020 after they failed to take home a team trophy for the first time since 2001. The Knights finished in sixth place at the 2019 NCAA Championships and lose three-time All-American, 2018 NCAA champion Cross Cannone to graduation.
Wartburg does return some serious firepower to their lineup, 2018 NCAA champ Brock Rathbun, 2019 All-American Brady Fritz, 2019 All-American Kyle Briggs, and 2017 All-American Owen McClave who transferred in from the Coast Guard Academy. The Knights also return a couple of wrestlers with NCAA experience who will be looking for their first All-American finish in 2020: Brady Kyner (125) and Kristian Rumph (149).
Below are a few other programs that will be looking to challenge Augsburg and Wartburg for the team title in 2020.
Loras College
Head coach T.J. Miller, associate head coach Trevor Kittleson, and the rest of the Loras coaching staff have done an incredible job bringing the Duhawks back into the national spotlight. Loras College finished as the NCAA runner-up last season and posted a 13-2 dual meet record with their only losses coming to Augsburg and Wartburg.
The Duhawks pushed seven wrestlers to the NCAA tournament and five individuals secured All-American status. 141-pounder Clint Lembeck led the way with a third-place finish, 157-pounder Brandon Murray finished in fourth place, and 165-pounder Eddie Smith followed suit with a fourth-place finish to secure some big points at NCAAs. Jacob Krakow (174) and Guy Patron Jr. (197) round out the All-Americans; all five return to the lineup this season with their eyes set on dethroning the mighty Burgs of DIII.
Patron will look to make it back to the big stage and finish his career on top of the podium; the senior is a three-time All-American and 2018 national finalist. The Duhawks also picked up two transfers that will look to have an immediate impact on an already-impressive lineup; Heavyweight Wyatt Wriedt (Nebraska) and 165-pounder Travis Willers (Iowa Central CC – NJCAA runner-up).
Mount Union University
Head coach Josh Malave and the Mount Union coaching staff were so close to bringing home a team trophy in 2019. The Raiders had a great NCAA tournament and pushed three individuals to the national finals. 133-pounder Jordin James followed in his brother's footsteps and brought home an individual national title to Alliance, Ohio.
Mount Union needed just one more win on the big stage to secure a top-four finish and fell a little short. 157-pounder Antwon Pugh lost in the most bizarre match you will ever see as a college wrestling fan and 174-pounder Jairod James lost a thriller to Darden Schurg (Wabash) in sudden victory.
The good news for Raider fans is Jordin James and Antwon Pugh are back along with 149-pound All-American Luke Hernandez. These three, along with some other varsity lineup returnees, will make Mount Union a tough out and primed to secure that elusive team trophy.
University of Wisconsin-Whitewater
UWW returns the fourth-most NCAA points from 2019 and they're ready to make the climb back to the top four. The Warhawks took a dip in their team finishes after taking home three consecutive team trophies from 2013-2015 (third, second, fourth) but finished in seventh place in 2019.
UWW is led by 2019 125-pound national finalist Michael Tortorice and 2019 197-pound third-place finisher Riley Kauzlaric. The Warhawks also return 2019 NCAA qualifiers Hazen Rice (141) and Jarrit Shinhoster (174) who will be looking to reach the podium in 2020. UWW will need to replace All-Americans Nicholas Bonomo (165) and Nick Stencel (184) but will be in the contention for a team trophy in March.
Wabash College
The Little Giants finished in ninth place in 2019 thanks to 174-pound national champ Darden Schurg, All-American Kyle Hatch (165), and All-American Carlos Champagne (125). Schurg will be looking to repeat in 2020 while Hatch and Champagne will be looking to climb the podium. Additionally, 2018 149-pound third-place finisher Austin Bethel will look to be back in the lineup this season. Bethel is dangerous and proved his pinning capability in 2018 when he secured three falls in Cleveland; Wabash was missing those bonus points in 2019.
Wabash also returns NCAA qualifiers Owen Dowster (133) and Jared Timberman (157) to help bolster a solid Wabash lineup. The Little Giants will look to bring most of their lineup to NCAAs in 2020 and bring home some hardware from Cedar Rapids.
Other Teams in the Hunt
Ithaca College, Johnson & Wales University, The College of New Jersey, Stevens Institute of Technology, Rochester Institute of Technology, Wisconsin- La Crosse, Baldwin Wallace & Coe College.