Unlock this article, live events, and more with a subscription!
Get Started
Already a subscriber? Log In
Russia has hoisted the men's freestyle team trophy at 11 of the last 15 World Championships. They've also unofficially won the last five Olympics in the men's freestyle category. They travel to Nur-Sultan, Kazakhstan, as the heavy favorites to make it 12 of the last 16 World Championship team titles.
Current International Rankings
Schedule conflicts between the Euro Games and Russian Nationals caused head coach Dhzambulat Tedeev to conduct an unconventional team trials process, even for Russian standards. Only Olympic weights competed at Euro Games, so all RusNats winners at non-Olympic weight made the World Team.
Each Olympic weight, however, was handled differently, without any pre-established process. There is quite a lot about such methods that are worthy of criticism; on the other hand, it is also hard to argue that Russia did end up with the strongest possible team.
Whatever your opinion of Russia's selection process, Nur-Sultan is the first opportunity to qualify a weight for the 2020 Tokyo Olympic Games, which means the stakes are higher than they've been since Rio.
---
57 Kilograms: #1 Zaur Uguev
The first of five Russians hailing from the Republic of Dagestan, Uguev is also one of three returning Russian gold medalists from 2018's World Championships in Budapest.
Uguev suffered a 3-2 defeat at the hands of Azerbaijan Amiraslanov in the semis of the 2019 Euro Games and had to settle for bronze. That was Uguev's first international loss since he dropped the 2018 European Championship finals match to Amiraslanov's compatriot, Edisherashvili. Uguev proved himself the man for the job, however, by dismantling Aryian Tyutrin 10-0 in a special wrestle-off for the lead-off spot.
57kg is always a difficult bracket to predict, with talented new blood entering the ranks every year. Nonetheless, the marginally blemished Uguev remains the favorite to repeat.
Tedeev's Expectation: Gold. Anything less than some color medal would be calamitous.
---
61 Kilograms: #1 Magomedrasul Idrisov
As the winner of the two most important tournaments to take place on Russian soil — the Ivan Yariguin and RusNats — Idrisov's stumble in the Ali Aliev final to fellow Russian Zelimkhan Abakarov could be overlooked when Tedeev was picking the team (especially when Abakarov went 0-2 at the World Cup), as could Idrisov's 11-9 loss at the European Championships to Recep Topal of Turkey, and his 9-8 defeat at the hands of India's Gongane in the 65kg finals of the Sassari.
Despite winning a Russian title at 61kg last year, Idrisov was sent to the U23 World Championship, where he won gold. The Dagestani will now need to prove himself in Nur-Sultan, as the leash is short for Russians who don't bring home yellow medals. As such, this could be Idrisov's first and last world championship.
Tedeev's Expectation: Gold. Russia is deep enough at 61kg where anything less would result in Idrisov getting buried on the Russian ladder.
Idrisov wins 2019 RusNats over Ferzaliev:
---
65 Kilograms: #5 Gadzhimurad Rashidov
Rashidov has been one of Russia brightest yet most frustrating young stars. He won two gold medals at the Cadet World Championships in 2011 and 2012. After a year-long break, Rashidov then won two consecutive bronze medals at the Junior World Championships in 2014 and 2015. Following another gap year, the Dagestani dynamo peeled off another pair of world championship medals, now up at the senior level, this time of the silver variety.
Will Rashidov finally be able to break through and ascend the top of the senior-level podium for the first time? As it is with all his teammates, the pressure will be ratcheted it up in 2019. Rashidov lost to fellow Russian Akhmed Chakev in the semifinals of the 2019 Ivan Yariguin, yet was awarded the world team spot after Chakaev faltered at the Euro Games, losing to Vladimer Khinchegashvili of Georgia (a harsh sentence for Chakaev, considering Khinche is a world and Olympic champion).
Rashidov has the talent to be one of the greats. He has the tactical patience of a monument but can attack with sledgehammer strength and matrix speed. He'll have the additional motivation of avenging two consecutive finals world championship finals loses.
Tedeev's Expectations: Gold. 65kg is insanely deep, but this is Russia, and gold is the proverbial and literal standard.
Rashidov's buzzer-beater victory over Zain Retherford at the 2019 Yariguin: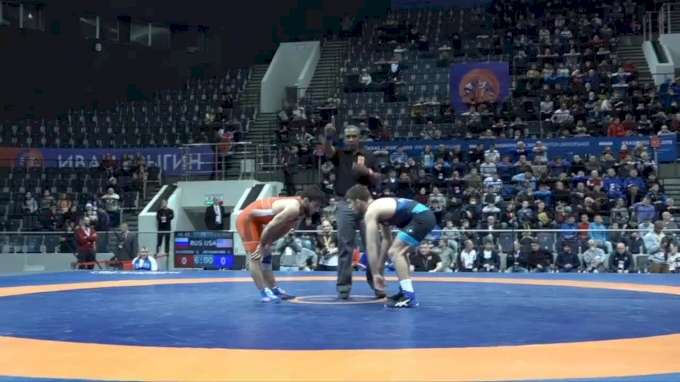 Unlock this video, live events, and more with a subscription!
Get Started
Already a subscriber? Log In
---
70 Kilograms: #1 David Baev
The first of four Ossetians on the Russian squad checks in at 70 kilos. Sidebar: Every Russian World Teamer is from the North Caucuses, and all but one is from either Dagestan or Ossetia.
David Baev (aka [but not really] Dave Bave), dropped a 6-5 loss to countryman Cherman Valiev at the Ali Aliev in May, and before that was felled twice by Russians at the Yariguin in January. But the young Baev redeemed himself at Russian Nationals, and for that, he earned a spot on the Russian World Team. David heads to Nur-Sultan as the favorite to bring home gold.
Tedeev's Expectations: Gold. Baev is young and has taken his lumps, but considering he beat #2 and #3 in the world at Russian Nationals, the expectation is justified.
Baev over Green at 2019 Yariguin: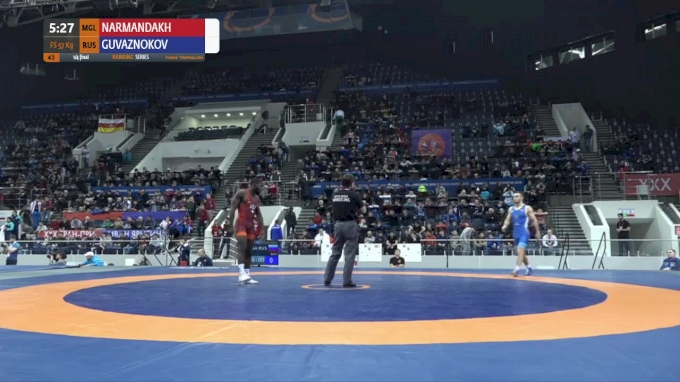 Unlock this video, live events, and more with a subscription!
Get Started
Already a subscriber? Log In
---
74 Kilograms: #1 Zaurbek Sidakov
The culprit of America's collective 2018 heartbreak returns to the World Championships as the slight favorite to repeat. Sidakov needed 7.1 of the 8.4 seconds left in his quarterfinal match with Jordan Burroughs in Budapest to steal the victory. The 2015 Junior World bronze medalist then beat Frank Chamizo of Italy and Avtandil Kentchadze of Georgia to make his first senior world medal a golden one.
After that fateful tournament in Hungary, the young Ossetian won the prestigious Ivan Yariguin, went 2-0 at the World Cup in March, and won the Euro Games in June. All that wasn't quite enough to guarantee himself the starting 74kg job, however, as Sidakov had to win a special wrestle-off with 74kg Russian Nationals champion, the resilient Magomed Kurbanaliev.
Sidakov prevailed against his Dagestani rival and heads to Kazakhstan with the third seed based on UWW ranking points. Since Burroughs is the #2 seed, we could very well witness a rematch of their epic clash in the semis of the 2019 World Championship.
Tedeev's Expectations: Gold, naturally. But given Sidakov's youth and track record, a silver or bronze medal would likely not be the end of the world either.
---
79 Kilograms: #5 Gadzhi Nabiev
When 2018 Euro champ and world bonze Akhmed Gadzhimagomedov was forced to miss the second half of this year due to injuries, it fell on his fellow Dagestani Gadzhi Nabiev to step up at 79kg for the Russian Federation.
Nabiev won Russian Nationals and the Ziolkowski, but he has yet to notch any wins over the elite contenders of the weight class. Yet he's nonetheless been a consistent international medalist over the last two years and figures to be in the mix in Nur-Sultan.
Tedeev's Expectations: Fifth. Nabiev will have to score an upset or two to make it on the podium.
---
86 Kilograms: #2 Artur Naifonov
Last year, Dauren Kurugliev narrowly edged Naifonov at Russian Nationals and earned the right to represent Russia in Budapest. This year, Kurugliev was busy winning a Euro Games gold while Naifonov was claiming his first national trophy. The world team spot was thus decided in Poland last August. Naifonov claimed the Ziolkowski title while Kurugliev fell to Baranowski of Poland in the semis. This cost Kurugliev a shot at a wrestle-off with Naifonov, as Dauren's fifth-place finish at 2018's Worlds meant Tedeev would cut him no slack.
Russia likely sees Naifonov as the future of this weight class, as it was only in 2017 that Artur won a Junior World gold at 84kg, notably over Zahid Valencia in the finals. Naifonov hasn't been impeccable on the senior circuit, but he's shown enough to nab the 2019 Russian world team nod, and has an opportunity to be fast-tracked to the 2020 Olympic team should he qualify the weight in Nur-Sultan.
Tedeev's Expectations: Bronze. With David Taylor convalescing, Hassan Yazdani becomes the favorite and the pressure for at least a bronze for Naifonov increases. A failure to qualify the weight for Tokyo would be a bitter disappointment.
Naifonov over 2017 world bronze Valiev at 2019 RusNats:
---
92 Kilograms: #4 Alikhan Zhabrailov
2018 Russian Nationals 92kg champion Batyrbek Tsakulov could only muster a seventh-place finish at Budapest and has produced lackluster results in the interim. That left room for Zhabrailov to claim a spot on the 2019 team, the only Chechen to do so.
Zhabrailov cemented his place in the lineup by winning the 92kg title at Russian Nationals. His only losses this year were to Sharifov of Azerbaijan, fellow Russian Magomed Kurbanov, and Mongolia's Baasansogt Ulziisaikhan. Smoothing over those losses are the facts that Sharifov and Ulziizaikhan will be up at 97kg in Nur-Sultan, and that Zhabrailov avenged his loss to Kurbanov at RusNats.
J'den Cox has the #1 seed and Alireza Karimi of Iran has the #2, so Zhabrailov will only have to go through one of the top two wrestlers in the weight class to earn a medal, which is good news for him, and frankly everyone else in the bracket.
Tedeev's Expectations: Bronze. There is no Olympic qualification to be had, so it's bronze or bust for Zhabrailov.
---
97 Kilograms: #1 Abdulrashid Sadulaev
I shouldn't have to spend much time talking about the Dagestani Destroyer. If you're reading this preview, then there is a vanishingly small chance you are unfamiliar with Sadulaev.
But if you need a refresher, Sadulaev has lost precisely one time since he entered the Ivan Yariguin of January 2014. That was to Kyle Snyder in the 2017 World Championship finals. The hero of Tsurib village has won over 100 senior-level matches since then. He's also accumulated three world gold medals, one world silver, and Olympic gold. Following his pinfall of Snyder in 1:10 in the 2018 World finals he has been considered the consensus pound-for-pound #1 freestyle wrestler in the world.
Absulrashid Sadulaev is very good at wrestling and you should be very excited about every opportunity you have to watch him compete.
Tedeev's Expectations: Gold. Did you see how jazzed the Russian team was in Budapest? They are going to all be majorly bummed out if Sadulaev doesn't win again.
Making Tsurib proud!
---
125 Kilograms: #7 Alan Khugaev
Russia's first choice for heavyweight, three-time world champion Bilyal Makhov, shockingly came out of a two-year sabbatical to wrestle in the Ziolkowski in August. Makhov made it to the finals before bowing out of the competition and did not make himself available for selection to the world team.
Russia's second choice to anchor their freestyle lineup, Euro Games champ Anzor Khizriev, had to withdraw from consideration due to injuries. That left 2019 Russian National champion Alan Khugaev as the next man up.
The Ossetian had a decent if unspectacular 2019, placing third in the three international tournaments he entered. Though still in the top 10, Khugaev is still the lowest-ranked Russian world team member, at a mere #7.
Tedeev's Expectations: Fifth. With the likes of Petriashvili and Akguel in the bracket, qualifying heavyweight for Tokyo will be crucial for Team Russia, especially with Makhov and Khizriev's long term viability in question.
Team Expectations: Gold. As if there was any doubt, Russia expects to leave Kazakhstan with a team title. Anything less in a year with Olympic qualifying spots on the line will require some masterful excuse crafting from Tedeev.