Every Final X Result Of 2019
Every Final X Result Of 2019
Every result from the 2019 season of FInal X, all in one place.
Sep 4, 2019
by Andrew Spey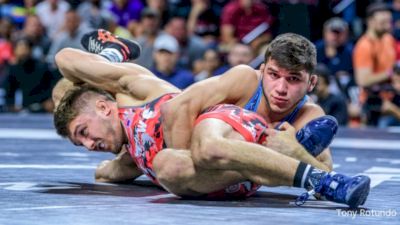 Unlock this video, live events, and more with a subscription!
Get Started
Already a subscriber? Log In
Our 2019 senior world team was chosen over the course of four different Final X events this summer. Below are the results from all 30 wrestle-offs, compiled in one place.
Men's Freestyle
57 Kilograms - Daton Fix
Daton Fix (Titan Mercury) VPO1 Thomas Gilman (Titan Mercury), 9-1
Thomas Gilman (Titan Mercury) VPO1 Daton Fix (Titan Mercury), 3-2
Daton Fix (Titan Mercury) VPO1 Thomas Gilman (Titan Mercury), 6-3
61 Kilograms - Tyler Graff
Joe Colon (Titan Mercury) VPO1 Tyler Graff (Titan Mercury), 6-4
Tyler Graff (Titan Mercury) VPO1 Joe Colon (Titan Mercury), 9-2
Tyler Graff (Titan Mercury) VSU1 Joe Colon (Titan Mercury), 12-2 1:34
65 Kilograms - Zain Retherford
Zain Retherford (Nittany Lion WC) VPO1 Yianni Diakomihalis (Titan Mercury), 10-4
Zain Retherford (Nittany Lion WC) VPO1 Yianni Diakomihalis (Titan Mercury), 6-6 (VACATED)
Zain Retherford (Nittany Lion WC) VPO1 Yianni Diakomihalis (Titan Mercury), 2-1
70 Kilograms - James Green
James Green (Sunkist Kids) VSU Ryan Deakin (Titan Mercury), 11-0 0:18
James Green (Sunkist Kids) VPO1 Ryan Deakin (Titan Mercury), 4-3
74 Kilograms - Jordan Burroughs
Jordan Burroughs (Sunkist Kids) VPO1 Isaiah Martinez (Titan Mercury), 5-4
Isaiah Martinez (Titan Mercury) VPO1 Jordan Burroughs (Sunkist Kids), 6-5
Jordan Burroughs (Sunkist Kids) VPO1 Isaiah Martinez (Titan Mercury), 7-1
79 Kilograms - Kyle Dake
Kyle Dake (Titan Mercury) VPO1 Alex Dieringer (Titan Mercury), 3-2
Kyle Dake (Titan Mercury) VPO1 Alex Dieringer (Titan Mercury), 4-2

86 Kilograms - Pat Downey
No contest
92 Kilograms - J'den Cox
97 Kilograms - Kyle Snyder
Kyle Snyder (Titan Mercury) VPO Kyven Gadson (Sunkist Kids), 4-0
Kyle Snyder (Titan Mercury) VSU1 Kyven Gadson (Sunkist Kids), 12-1 1:10
125 Kilograms - Nick Gwiazdowski
---
Women's Freestyle
50 Kilograms - Whitney Conder
53 Kilograms - Sarah Hildebrandt
Sarah Hildebrandt (New York AC) VPO Katherine Shai (Titan Mercury), 8-0
55 Kilograms - Jacarra Winchester
Jacarra Winchester (Titan Mercury) VPO1 Dominique Parrish (Sunkist Kids), 8-3
57 Kilograms - Jenna Burkert
59 Kilograms - Alli Ragan
Alli Ragan (Sunkist Kids) VSU Lauren Louive (New York AC), 10-0 1:22
62 Kilograms - Kayla Miracle
Kayla Miracle (Sunkist Kids) VPO Mallory Velte (Titan Mercury), 4-0
65 Kilograms - Forrest Molinari
68 Kilograms - Tamyra Mensah-Stock
Tamyra Mensah-Stock (Titan Mercury) VFA Alex Glaude (Titan Mercury), 4:50
72 Kilograms - Victoria Francis
76 Kilograms - Adeline Gray
Adeline Gray (New York AC) VSU Precious Bell (Titan Mercury), 10-0 1:36
---
Greco-Roman
Max Nowry (U.S. Army WCAP) VPO Brady Koontz (Ohio RTC), 3-0
63 Kilograms - Ryan Mango
Ryan Mango (U.S. Army WCAP) VPO1 Xavier Johnson (U.S. Marine Corps), 6-5
60 Kilograms - Ildar Hafizov
Ildar Hafizov (U.S. Army WCAP) VFA Leslie Fuenffinger (U.S. Army WCAP), 9-0 1:51
Raymond Bunker (U.S. Marine Corps) VPO Alex Mossing (Air Force RTC), 7-0
77 Kilograms - Pat Smith
82 Kilograms - John Stefanowicz
87 Kilograms - Joe Rau
130 Kilograms - Adam Coon
Adam Coon (New York AC) VPO1 Cohlton Schultz (Sunkist Kids), 5-1