2019 Final X Wrestle-Off: Yianni vs Zain
Every Exchange In The Zain/Yianni Final X Wrestle-Off
Every Exchange In The Zain/Yianni Final X Wrestle-Off
Breaking down every exchange in the special wrestle-off between Yianni and Zain, analyzing the keys that determined the match on Labor Day.
Sep 3, 2019
by Wrestling Nomad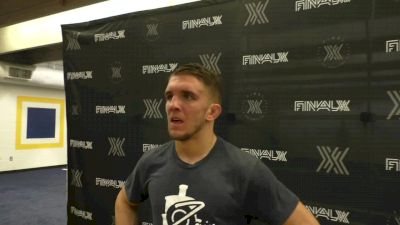 Unlock this video, live events, and more with a subscription!
Get Started
Already a subscriber? Log In
Unlock this article, live events, and more with a subscription!
Get Started
Already a subscriber? Log In
That's it, it's over. The long summer of Final X has come to an end, and our world team is complete.
Zain Retherford won the 65kg spot after taking his special wrestle-off 2-1 over Yianni yesterday, completing a difficult process that was stymied by arbitration.
Mike Mal did an excellent job breaking down their four previous matches and addressing how that could affect Monday's match. So why not breakdown the actual match we saw to determine the world team spot?
Let's split this up by period.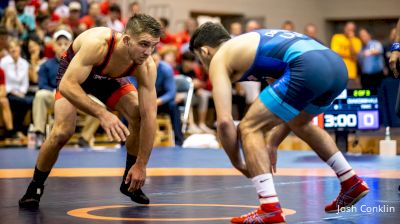 Unlock this video, live events, and more with a subscription!
Get Started
Already a subscriber? Log In
1st Period
2:59 - Yianni elbow control shot
2:49 - stalemate
2:31-2:27 level changes by both, resulting in sprawls
2:20 - Yianni elbow control attempt
2:09 - stalemate
2:00 - Zain hit for passive
1:42 - Zain low double
1:27 - PSU challenge after no points awarded in scramble, Yianni's point on lost challenge
1:24 - Yianni swing single attempt, right step
1:18 - Yianni swing single attempt, left side in on leg, two for Zain off crotch lock
0:47 - exchange blown dead
0:29 - Yianni inside reach shot with right hand on Zain's right leg
0:25 - Zain foot sweep attempt
0:16 - Yianni right inside step shot, lefty swing single attempt, closed out the period
The first minute sets up the rest of the match well. In the first sixty seconds, Yianni makes two attempts at scoring off elbow control, while each attempt a level change that has the other sprawling. It ends with Zain getting hit for passivity.
The second minute is the most important of the match. At the 1:42 mark, Zain gets in deep on a low double, splitting the legs and getting a hold of both heels, similar to how he scored at the U.S. Open. Yianni goes right into a chest wrap, and the exchange was blown dead at the 1:27 mark. The Nittany Lion corner challenged that this should be two for them and lost, so Yianni scored his only point of the match.
Shortly after that stoppage, Yianni shot on Zain's left leg, which Zain promptly pulled back and lifted up. A few seconds later, Yianni shot an inside reach single on Zain's right leg, which he turned into a sweep single. In what would be the deepest he got on Zain all match, he gave up the deciding points on a crotch lock, though we didn't know it at the time.
In retrospect, I thought the Cornell corner should have thrown the brick. While there was still 75% of the match left, a successful challenge would have given Yianni the lead. Also, had he lost he would have needed a takedown just like he needed as the score stood anyway. What actually happened is that the two would squirm around in a far ankle scramble until it was stalemated at the 47 second mark.
It is at this point it become obvious Retherford has a beat on Yianni's leg attacks. With 29 seconds left in the period, Yianni once again shoots his inside reach on Zain's right leg. This may not be groundbreaking, but Zain did three things well: 1) keep space to mitiage Yianni's penetration, 2) circle left since Yianni's primary attacks come when he's shooting with his right hand and wants Zain's right leg, and 3) elbow control defense, keeping hold of Yianni's right elbow while he shoots and guiding it away from his leg. Remember those three notes for the second period.
After this Zain tried a foot sweep to keep Yianni honest. One final shot by Yianni at the 17 second mark closes out the period, as Zain once again gets his leg back, squares up and sprawls.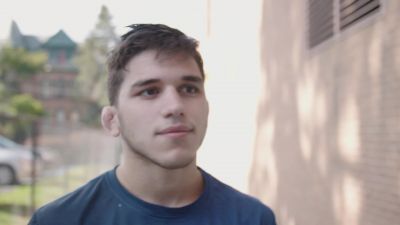 Unlock this video, live events, and more with a subscription!
Get Started
Already a subscriber? Log In
2nd period
2:51 - Yianni shot on Zain's right leg
2:50 - Zain sprawl to drag on re-attack
2:17 - Two offered for Yianni, white paddled
2:06 - exchange blown dead
1:48 - Yianni inside reach, outside step
1:28 - Yianni shot attempt from space
1:24 - right inside step reach attempt
1:10 - right inside step reach attempt
1:09 - Zain re-attack to Yianni's right leg
0:43 - situation blown dead
0:39 - Yianni shot attempt
0:28 - Yianni shot attempt
0:24 - Yianni reach attempt
0:22 - Yianni again, Zain re-attack
0:06 - stalemate
0:04 - final shot
Heading into the second, Yianni led in offensive attempts (6 or 7) over Zain (2-4), but the Nittany Lion led on the scoreboard and each had one serious chance at creating points. Right away, Zain did something that he'd done in previous matches: using a drag on Yianni's left arm to attack his left leg.
It was a re-attack off of Yianni's shot nine seconds into the second, and after a modified run the pipe in which Zain kept the leg in between his own, something he had never done before in any of their previous four matches. After attempting to turn that into a double leg, Yianni whizzered and bellied out at the last second. Yianni eventually worked his way into a crackdown with two being offered, but that was white paddled.
It was finally stalemated at the 2:06 mark and the score remained 2-1. Right after, the official whistled and admonished Zain for hands to the face, though it appears he was not given an attention. At this point, four minutes in, Yianni's best chances at scoring came off Zain's attacks (the chest wrap and crackdown), although I think he could have been offered two in the exchange where Zain scored in the first period.
In the next minute, Yianni shot four times. The last one resulted in a re-attack to Yianni's right leg. That firstly proved that Zain can shoot to both legs, and second showed that this series bucks the wisdom on these two in the sense that Yianni is typically known as the more dangerous counter wrestler.
Although he didn't score, Zain tried to come out the back (which was one of Yianni's main way of scoring in the series), and killed 26 seconds on the clock. It was sprint time for Yianni, and he fired off four attacks in about 20 seconds.
Zain was hit for attention with 25 to go, and even if that first one earlier in the period was an attention as well, Yianni still would have trailed on criteria. Right after this Zain pressured forward on a Yianni secondary attempt and milked the clock down to six seconds off a single, and time likely would have expired but they stopped it since Yianni was just about kicking Zain, the point a Caution+1 was offered but white paddled.
Conclusions
Yianni matches are extremely difficult to ref, and not just freestyle (see his NCAA finals match). He puts himself in potentially compromising positions, leaving open the possibility of non-controlled exposures.
Zain's baseline defense might be his best trait, and extremely important given how he typically gives up points.
Yianni wasn't able to get under Zain and come out the back, which had been his best finish, in large part because of item 2: separation, circling left, and defensive elbow control.
Depending on how you define attacks, Yianni took 2-3 as many offensive attempts, but Zain was in on approximately five scoring chances, while Yianni only had two.
Anyone can be gameplanned for. Yianni is often characterized as being able to score in many different ways, but it's predicated on getting to certain positions.