2019 Final X Wrestle-Off: Yianni vs Zain
The Legendary Careers Of Zain and Yianni
The Legendary Careers Of Zain and Yianni
While their stories are still being written, Zain Retherford and Yianni Diakomihalis have dazzled us for years.
Aug 28, 2019
by Willie Saylor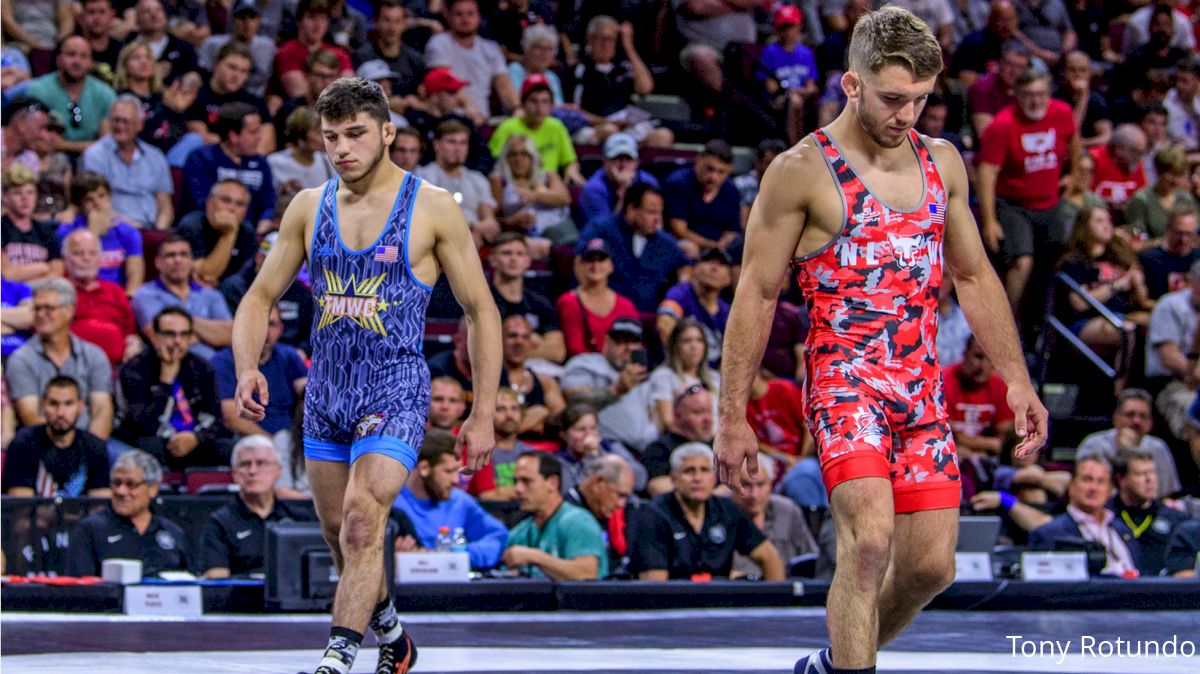 Unlock this article, live events, and more with a subscription!
Get Started
Already a subscriber? Log In
The favorite sons for two of the nation's traditional best wrestling states will collide on Monday to settle, once and for all, who the American representative will be at 65kg at the World Championships in 2019.
And the anticipation is palpable.
Watch Yianni vs Zain Wrestle-off Live on Flo
Monday September 2nd | 3:00 PM Eastern
The site of the contest — Wilkes University — sold out 2,000 tickets in about an hour. That's more spectators than your average college dual meet. And that's despite the fact that possibly the bout could last just six minutes (or less).
So why, pray tell, is this single matchup garnering attention and fanfare that approaches the entire card of Final X State College (2800 tickets sold), just last year?
Is it the story? After a riveting two matches in which there was continuous action punctuated with an ending that left everyone scratching their heads, the result went to arbitration which ultimately ruled the second bout null and void.
Is it the fan bases? Penn State and Cornell have been two of the top performers in college the last couple of decades.
Could it be their style? Zain is a relentless attacker that almost always produces action. Yianni is a free-wheeling, mix-it-up Houdini.
While all the above undoubtedly play a factor, I believe there's also another reason why wrestling nation is as locked in to this bout as any single other in freestyle history.
We know their stories.
Each requires just one name. Zain. Yianni. And we all know who we're talking about.
Zain and Yianni grew up in the emerging era of big-time national tournaments and full-time wrestling coverage. It certainly helps that the had/are having legendary college careers — Zain with three titles and a Hodge, Yianni already 2-for-2. But knew them long before that.
Zain and Yianni were prodigies, they've wrestled everywhere, and they practically grew up on Flo. Zain was quite literally on the forefront of state titles becoming a cute little stepping stone on the path to international success. A year after Cadet Worlds was reinstated, Zain struck gold.
And I'll always cite, three years later (2015), when Yianni won a Cadet World title and with his popularity on full tilt, as the moment that woke up American youngsters to let them know they can win World medals not just in eight or so years, but now.
Before their big match, let's take a stroll down Memory Lane and remind ourselves just how long, and how often, these two have been a part of the American wrestling consciousness.
State Tournaments:
Zain in Hershey: 1st in 2010 @103; 2nd in 2011 @112; DNC in 2012; 1st @138 in 2013
*Zain transferred from Line Mountain to Benton and was ineligible for the 2011-12 season.
Yianni in Albany: 1st @99 in 2013; 1st @106 in 2014; 1st @120 in 2015; 1st @138 in 2016; DNC in 2017
*Yianni was injured and did not compete at the state championships in 2017
Super 32
Zain at Super 32:
2009 - 7th @ 103lbs: Zeke Moisey (PA) dec. Zain Retherford (PA) 5-0
*Lost to Freddie Rodriguez in the quarters and George DiCamillo in the consolations.
2010 - 2nd @ 112lbs: Anthony Ashnault, NJ dec. Zain Retherford, PA, 8-3.
2011 - 3rd @ 126lbs: Zain Retherford, PA dec. Randy Cruz, PA, 7-0
* Lost to Ashnault in the semis.
2012 - 1st @ 138lbs: Zain Retherford, PA dec. Neal Molloy, IN, 5-0.
Yianni at Super 32:
2012 - Did Not Compete: Nick Suriano over Spencer Lee in the finals.
2013 - 1st @ 106lbs: Yianni Diakomihalis, NY dec. Gage Curry, PA, 3-0.
2014 - 1st @ 120lbs: Yianni Diakomihalis (Hilton, N.Y.) dec. Daton Fix (Sand Springs, Okla.), 5-0
2015 - 1st @ 132: Yianni Diakomihalis (Hilton, N.Y.) pinned Colby Smith (Holt, Mich.), 1:34
Fargo
Zain at Fargo:
2011 - 5th @ 126lbs: Zain Retherford (Pennsylvania) over Garrett Sutton (Illinois) (Dec 1-0,6-0)
*Lost to Edgar Bright and Anthony Ashnault
2012 - 1st @ 132lbs: Zain Retherford (Pennsylvania) over Zane Richards (Illinois) (Dec 1-1,1-1)
Yianni at Fargo:
2014 - 2nd @ 120lbs: Dylan Duncan, IL over Yianni Diakomihalis, NY, 12-4
Cadets
Zain at Cadets: 2012 and the second year they held Cadet Worlds after a 12-year layoff. This was in an era of vertical pairing and three-minute periods where Zain won a salty Trials bracket in beating Anthony Ashnault 1-1, 2-1 to get to the finals. He also beat Dean Heil and Grant Leeth along the way. In the finals he faced Bryce Brill, an up-and-comer that was fourth at the Trials the year before and who would go on to win Fargo by teching Ashnault 6-0, 6-0. Zain won that bout 2-3, 4-1, 2-1.
At the World Championships that year, Zain beat Supian Murmagomedov (RUS) in the finals. It was the only medal earned in freestyle for the U.S. that year.
Yianni at Cadets: Yianni beat his buddy Vito Arujau in the 2015 Cadet Trials finals before going on to win Worlds where he beat Jintaro Motoyama (JPN) in the finals. The next year he beat Will Lewan in the semis and Jamie Hernandez in the finals. Yianni earned his second straight Cadet Gold with a win over Stefan Tonu (MDA) in the finals. Lewan would win Cadet Gold the next year (2017) at Worlds at 69kg.
Juniors
Zain at Juniors: Zain never made a Junior World Team but came as close as one could. He made the JR Trials finals all three years he was eligible. He lost in 2013 to Jason Tsirtsis who placed seventh at Worlds. And the next two years he lost to Aaron Pico who took silver and bronze in '14 and '15.
Yianni at Juniors: In 2016, the year Yianni won his second Cadet World Gold, he wrestled at Junior Nationals in Vegas with the objective of making the team at both age levels. He took third, losing to Eierman early and then beating him for third. He flew to Dallas for the Trials and was on site but got sick and did not compete.
In 2017 Yianni lost to Ryan Deakin at the JR Open and did not compete at Trials.
In 2018 Yianni was injured.
Heading to College
Zain in the Rankings: I had Zain ranked #2 in the country in the Class of 2013 behind Bo Jordan. Ben Whitford, Joey Dance, and J'den Cox were #'s 3-5. Penn State's recruiting class was ranked sixth that year.
Yianni in the Rankings: Yianni was #3 on the 2017 Big Board behind Daton Fix and Spencer Lee. His Cornell recruiting class was #1 as it also featured Vito Arujau who was #4 overall. Mikey Labriola was #5.
In College
Zain at PSU: From the moment he was inserted into the starting lineup, Zain was a force. He never lost a dual meet bout, including, in his true freshman year, beating two-time defending NCAA Champion Logan Stieber, who was #1 P4P at the time. He took fifth that year at 141 before taking a redshirt season, moving up to 149, and rattling off three straight undefeated campaigns to earn three NCAA titles with a final record of 128-3. He is one of only four wrestlers to win multiple Hodge Trophies.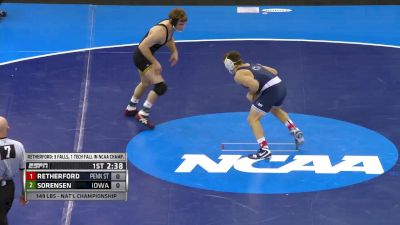 Unlock this video, live events, and more with a subscription!
Get Started
Already a subscriber? Log In
Yianni at Cornell: Also having wrestled as a true freshman, Yianni is two years into his college career with a perfect record in his two trips to NCAA's. He's 66-1 with the lone loss coming to Jaydin Eierman via a big move late in the match in late December his freshman year.
For his first title, Yianni beat both returning finalists from the year before - Dean Heil in the quarters on a late takedown and Bryce Meredith in the finals. In the semi's he beat Eierman 6-4 in OT.
Unlock this video, live events, and more with a subscription!
Get Started
Already a subscriber? Log In
Seniors
Zain at Seniors: Zain's SR debut wasn't too earth-moving. It was a fifth-place finish at the 2015 Schultz while in redshirt. He lost to J.O. 6-2 and to a Ukrainian. But it was his Olympic Trials three months later that turned heads. In an absolutely loaded bracket, Zain beat James Green, Jason Chamberlain, Reece Humphrey, Jayson Ness, and Jimmy Kennedy to take third in his first-ever SR Trials.
The next year Zain lost to Oliver in U.S. Open semis and took third before winning the SR Trials in June. He then won the Grand Prix of Spain before going 1-1 at Worlds.
Zain returned to action in January taking eighth at Yarygin and then turned in a 4-0 performance at the World Cup in March. He reached the finals of the U.S. Open where he lost to Yianni.
To get another crack at the World Team spot, Zain had to beat Jordan Oliver, who he was 0-for against in his career. But he took him out two matches to 0.
The rematch was on. At Final X Zain won the first match as well as the second match, but only kind of, which is why we're here.
Yianni at Seniors: As much as Zain's 2016 Olympic Trials impressed us to the point where you had to consider him a contender for the 65kg for quite a while, the uncertainty and layoff coupled his performance this year has everyone saying 'it's simply a matter of time' before he's winning World medals.
Yianni returned to freestyle competition in April at the U.S. Open and promptly beat 2016 Olympian Frank Molinaro, top-seeded Jordan Oliver, and Zain. The tournament win put him in Final X and while he awaited an opponent (to be determined at the Trials), Yianni out-wizarded the #1-ranked wrestler in the world in Bajrang at Beat the Streets.
Zain won the Trials setting the stage for a compelling best-of-three series where Zain won the first match and then kinda the second match, too, but not really, which is why we're here...
..because this happened: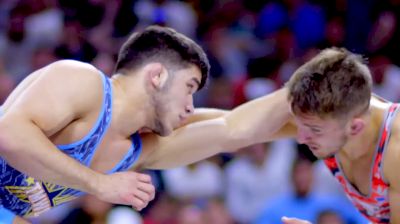 Unlock this video, live events, and more with a subscription!
Get Started
Already a subscriber? Log In
So here we are. Yianni and Zain. Zain and Yianni. Yianni holds a 2-1 edge over Zain this year, officially. But Zain holds a one-match leg up in this series which will resume on Monday, September 2 in Wilkes-Barre, PA.
Yianni must win two in a row. Zain just needs one. They've given us so many great memories over the years, and probably will continue to. But only one will go to Nur-Sultan this year.


The Timeline
2010 Zain: Wins first state title. Loses to Ashnault in S32 finals.
2010 Yianni: Learns cursive.
2011 Zain: Fifth in Fargo, third at S32. Transfers to Benton and is ineligible for state title.
2011 Yianni: Slow dances for the first time in junior high.
2012 Zain: Wins Akron, Cadet gold, Fargo, Ironman, and Powerade.
2012 Yianni: Quits paper route to focus full-time on wrestling.
2013 Zain: Wins another state title. Beats Collica and Whitford to make JR Trials finals where he loses to Tsirtsis.
2013 Yianni: Wins first state title as 99lb 8th grader. Wins S32 prior to sophomore year.
2014 Zain: Beats two-time NCAA champ Stieber in dual. Loses to him in Big Ten finals. Takes fifth at NCAA's. Loses in JR Trials finals to Aaron Pico.
2014 Yianni: Beats Rudy Yates in FloNational finals. In his only Fargo appearance, reaches the finals where he loses to Dylan Duncan. Beats Daton Fix in S32 finals.
2015 Zain: Redshirts the 2014-2015 season. Loses to Pico again in JR Trials finals. Smashes watermelon.
2015 Yianni: Loses to Daton in FloNats finals. Beats Vito in best-of-three to make first Cadet World Team. Wins Cadet gold. Caps three-year undefeated run at S32. Lost to Luke Pletcher at Who's #1.
2016 Zain: Undefeated season punctuated with final's major over Sorenson. Beats three former World Team Members to take third at the Olympic Trials.
2016 Yianni: Takes third at JR Open, splitting matches with Eierman. Goes back-to-back at Cadet Worlds.
2017 Zain: Another undefeated season garners first Hodge Trophy award. Wins SR Trials, goes 1-1 at Worlds.
2017 Yianni: Injury prevents him from competing at his final state tournament. Takes third at JR Open, losing to Ryan Deakin.
2018 Zain: Finishes off one of the finest college careers ever with three undefeated seasons and two Hodge Trophies.
2018 Yianni: True freshman year produces a one-loss season and an NCAA title where he beats both returning finalists.
2019 Zain: Goes 4-0 at World Cup. Loses to Yianni in U.S. Open finals. Beats J.O. 2-0 to win spot Trials. Wins first match over Yianni at Final X.
2019 Yianni: Second NCAA title in thrilling fashion. First undefeated season. 66-1 record over two years. Beats J.O. and Zain to win US Open. Beats World #1 Bajrang at Beat the Streets. Loses first match at Final X to Zain. Beats Zain at Yasar Dogu and wins title. Wins Ziolkowski.