2020 Redshirt Report: 165 Pounds
2020 Redshirt Report: 165 Pounds
Our list of guys who missed all or most of last year but are expected to make an impact on the 2019-20 NCAA season.
Aug 4, 2019
by Andrew Spey
Unlock this article, live events, and more with a subscription!
Get Started
Already a subscriber? Log In
The start of a new NCAA wrestling season brings a new batch of competitors who shed their redshirts to become a new world man, ready to compete on the varsity squad after missing all of last season for one reason or another.
These wrestlers are rebels and runners, they're signals turning green. They're not concerned with yesterday, they know constant change is here today. Charging ahead into their respective lineups, below are the wrestlers we think will make an impact on the 2019-20 season after being out of action for the last one.
Redshirt reports for 125 through 157
Shane Griffith, Stanford, Freshman
Cardinal faithful are undoubtedly excited about seeing New Jersey native Shane Griffith in a Stanford singlet this fall. Griffith had perhaps the most impressive redshirt campaign of any 165-pounder, losing just twice in 26 bouts, with one of the losses being to two-time NCAA champion Vincenzo Joseph at the Southern Scuffle.
Griffith's savvy belies his relative inexperience, and can be counted on to make every match he's in a competitive one. Expect him to do more than merely compete next season, as a podium placement in March is definitely a possibility.
Watch Griffith's relentless work on top as he collects the pinfall over Old Dominion starter Luke Drugac at the Reno Tournament of Champions: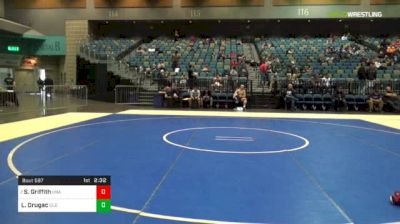 Unlock this video, live events, and more with a subscription!
Get Started
Already a subscriber? Log In
Danny Braunagel, Illinois, Freshman
Senior three-time NCAA qualifier Joey Gunther will have stout competition from his teammate Danny Braunagel for the starting 165-pound job. Alternatively, one of the two could bump up to 174. In either case, it will be tough to keep Fargo champ and junior world team trials runnerup Braunagel out of the Illini lineup.
Watch Braunagel pick up a freestyle win over Peyton Mocco at the U.S. Open: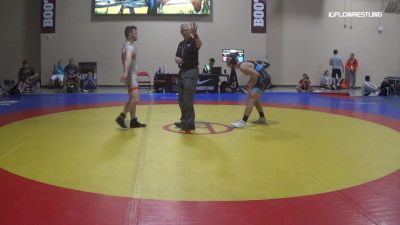 Unlock this video, live events, and more with a subscription!
Get Started
Already a subscriber? Log In
Peyton Mocco, Missouri, Freshman
Mocco's most impressive win last seen was probably his 9-8 victory over fellow redshirting true frosh David Carr down at 157-pounds. Mocco won the next two tournaments he entered at 165-pounds, though he did not face any other D1 opponents in either event.
It's too early to know what weights folks will enter in the fall, but with the graduation of four-time All-American Daniel Lewis from the Tiger lineup, expect to see Mocco and returning two-time NCAA qualifier Cooper Flynn in the Mizzou lineup at either 165 or 174.
Quentin Perez, Campbell, Senior
Perez had a productive senior redshirt season, racking up over two dozen wins. The two-time NCAA qualifier from Arlington, Texas has a good shot at becoming Campbell's second-ever All-American after Nathan Kraisser earned the first-ever NCAA medal for the Camels in 2017.
Watch Perez win the 174-pound championship at the 2019 National Collegiate Open: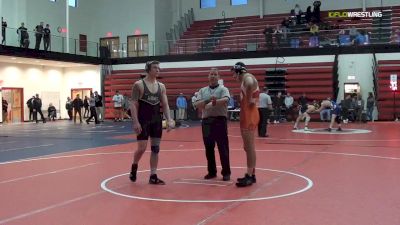 Unlock this video, live events, and more with a subscription!
Get Started
Already a subscriber? Log In
Emil Soehnlen, Purdue, Freshman
Soehnlen comes to Purdue by way of Massillon Perry High School in Ohio. He had a very solid redshirt season, compiling a 19-5 record. He'll likely slot into the 165-pound Boilermaker spot above fellow redshirt freshman Kendall Coleman at 157.
Phillip Conigliaro, Harvard, Freshman
A graduate of Belmont Hill, Conigliaro only had to travel a few miles to get to Cambridge to begin his collegiate career. Conigliaro placed third at the National Collegiate Open, and will be looked upon to lead a young Harvard squad attempting to improve on last season's 2-9 dual meet record.
Caleb Clymer, Lock Haven, Freshman
Expect Caleb "Mountain" Clymer to ascend to the varsity lineup at Lock Haven, where the PA native will be counted on to fill the imposing shoes of two-time All-American Chance Marsteller. That's a big ask of anyone, though there is cause to be optimistic, as Clymer racked up double-digit wins against D1 opponents last season.
Austin Matthews, Northern Colorado, Senior
Graduate transfer Austin Matthews will spend his final season of eligibility with the up-and-coming Northern Colorado Bears. A three-time NCAA qualifier, first at Clarion, then at Edinboro for the last two seasons, Matthews has a good shot at reaching the final eight for the first time in his career.
Joe Casey, Rider, Freshman
We could see round-of-16 finisher Jesse Dellavechia moving down to 157, leaving the 165-pound spot in the Bronc lineup available for Casey's taking. The Bound Brook, NJ product achieved a winning record while deferring eligibility last season.
Bernie Truax, Cal Poly, Freshman
The majority of the Mustang lineup will likely be underclassman, with SoCal native Bernie Truax being part of the Cal Poly youth movement. A third-place finisher in Cali States, Truax went 9-6 while redshirting last season.
William Formato, App State, Freshman
Formato stayed busy last season, competing in seven tournaments. The Georgia native went undefeated in his senior year of high school, and will be expected to hold down 165 for the Mountaineers this fall.
Rodrick Mosley, Gardner-Webb, Freshman
Mosley wrestled in tournaments at three different weight classes last season, but Bulldog fans should plan on watching Mosley compete at 165 in the fall.