Unlock this article, live events, and more with a subscription!
Get Started
Already a subscriber? Log In
Yianni Diakomihalis will wrestle Zain Retherford in the first round tomorrow morning at the Yasar Dogu.
Watch the 2019 Yasar Dogu Live on Flo
July 12-14 | 4:00 AM Eastern
Halfway across the world in Istanbul, Turkey is where will we get round four of the Yiannil/Zain series that ended so controversially at Final X: Rutgers. Brackets are also out for Alex Dieringer at 79kg and Nick Gwiazdowski at 125kg.
Below is a breakdown of their roads to the final, as well as a potential finals opponent. I have listed the seeding points at stake available to the wrestlers looking to improve their ranking before the world championships in Kazakhstan this September. Brackets and entries can be found here.
65kg: Yianni & Zain
Points at stake: 14
Round 4 pic.twitter.com/z38HDMif8V

— The Wrestling Nomad (@wrestlingnomad) July 11, 2019
Ok, this is really happening. Neither wrestler can earn a seed for worlds, and no decision has been made on their second match at Final X (though it is now being reviewed for arbitration), but we will definitely see these two wrestle for a fourth time. Yianni took round one by a 6-4 score in the U.S. Open finals, then Zain won both matches at Rutgers.
Can Zain duplicate the low ankle and double leg attacks he scored with last month? Has Yianni once again made adjustments to create points off Zain's shots, or he will attack more this time around?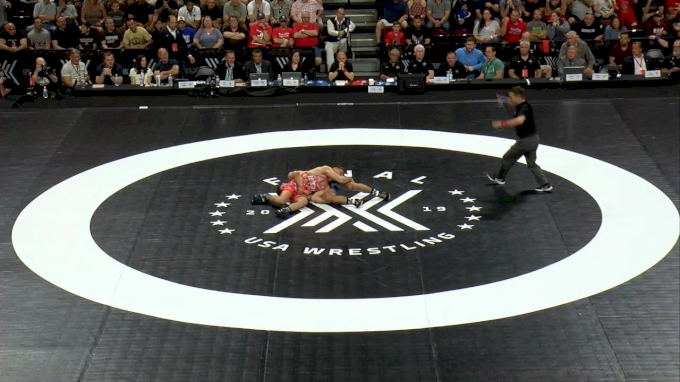 Unlock this video, live events, and more with a subscription!
Get Started
Already a subscriber? Log In
Speaking of controversial finishes, the winner gets Ismail Musukaev, now of Hungary. This is the same Musukaev that "lost" to Viktor Lebedev in the quarterfinals of Russian Nationals in 2016. That incident caused the entire Dagestan team to walk out on day one of the event, and none of their wrestlers competed again the rest of the tournament.
The finals should either be against Cengizhan Erdogan of Turkey or or Sonba Gongane of India. Erdogan used to be known as Opan Sat when he competed for Russia, where he won the European championships in 2013. He and Zain both wrestled at the Yarygin and World Cup earlier this year, but did not face each other. Gongane was runner-up at the U23 Asian championships and won the Sassari Ranking Series event.
79kg
Points at stake: 14
Ringer's bracket pic.twitter.com/ypap6A1WSC

— The Wrestling Nomad (@wrestlingnomad) July 11, 2019
Alex Dieringer is on the top seed of the bracket in the quarterfinals, and has a realistic chance of becoming the 2 seed in Kazakhstan. That would of course also be dependent upon him winning the world team spot over Kyle Dake on August 17 in Austin.
He starts off with Abubakr Abakarov (AZE), a rising star in his country. Abakarov was the Cadet world champ in 2016 and Junior world silver (to Mekhi Lewis) last year. He was the 79kg JR Euro champ this year and represented Azerbaijan at the world championships in Budapest, so he may be their guy going forward.
The semifinals should be against Bahman Teymouri of Iran, this year's Asian champ. Currently Teymouri has 20 seeding points, a few spots behind Ringer with 26.
Ideally, Fateh Benferdjallah of Algeria will go one and done so he does not pick up any more seeding points. I believe Muhammet Kotanoglu of Turkey will come out of the bottom side. Dieringer beat the Euro bronze medalist 11-0 at the Kolov.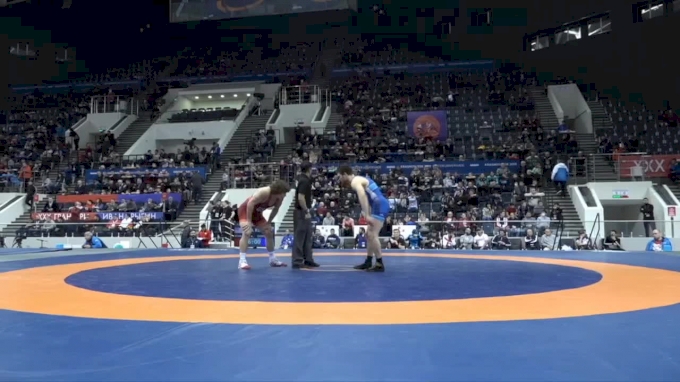 Unlock this video, live events, and more with a subscription!
Get Started
Already a subscriber? Log In
125kg
Points at stake: 14
Gwiz bracket pic.twitter.com/pOf2duelLz

— The Wrestling Nomad (@wrestlingnomad) July 11, 2019
Two-time world bronze medalist Nick Gwiazdowski can put himself in position to get seeded fourth at the world championships. He walks in with the fifth most seeding points (45), and Daniel Ligeti of Hungary is seventh (38), while Sumit Sumit of India is eighth (36).
Gwiz starts with a Turkish heavyweight more than a decade older than him. Fatih Cakiroglu was a 2004 Olympian and 2005 world military champion. A win there puts him in the semis against Sumit.
An Asian silver medalist in 2017 and bronze this year, Sumit fell to Gwiz in the bronze medal match last year in Budapest. He has been India's worlds rep each of the past three championships.
As for the finals, it will likely be three-time world/Olympic champion Taha Akgul of Turkey. Gwiz beat Ligeti at worlds in 2017 in the round of 16, and Yadollah Mohebbi of Iran in the quarters, but neither will probably beat Akgul. The only time those two have met, Akgul teched Gwiz in the world semis.