Unlock this article, live events, and more with a subscription!
Get Started
Already a subscriber? Log In
Brackets are out for day one of the Yasar Dogu Ranking Series event in Istanbul, Turkey. Tomorrow morning we'll see James Green compete at 70kg and Forrest Molinari at 65kg.
Watch the 2019 Yasar Dogu Live on Flo
July 11-14 | 4:00 AM Eastern
Below is a breakdown of their roads to the final, as well as a potential finals opponent. I have listed the seeding points at stake available to the wrestlers looking to improve their ranking before the world championships in September. Brackets and entries can be found here.
70kg: James Green
Points at stake: 16
Tomorrow's 70kg Yasar Dogu bracket for @WhoIsJamesG pic.twitter.com/4u7tdeaCCN

— The Wrestling Nomad (@wrestlingnomad) July 10, 2019
Green is unable to get a seed for the world championships. His opening round match is against Haydar Yavuz of Turkey, making his 2019 debut. Yavuz represented Turkey at last year's European championships, as well as being the rep for both U23 Euros and U23 worlds last year.
A win puts him in the quarters against either Timur Shanbayev (KAZ) or Mehmet Karaca (TUR). Shanbayev has no results of note and has come up two weight classes over the past few years. Karaca wrestled in the Kolov but did not face Green.
The semis should pit him against Mihael Georgiev, a mainstay on Bulagria's age level teams recently. He has represented them six times at Euros, winning U23 bronze this year, and five times at world championships, including last year in Budapest but he and Green did not meet.
In the finals, Green will have one of two wrestlers from Azerbaijan: Gitinomagomed Gadzhiyev or Murtazali Muslimov. Ideally, it would be Gadzhiyev, who Green teched in the first round of the 2016 world championships. Green has never wrestled Muslimov, who was bronze at last years's European championships. Fares Lakel of Algeria currently has the eighth most seeding points from the Ranking Series, but is unlikely to make it to the finals against Green.
65kg: Forrest Molinari
Points at stake: 14
Tomorrow's 65kg bracket for @mynameis_jungle pic.twitter.com/5YqtRikE4y

— The Wrestling Nomad (@wrestlingnomad) July 10, 2019
Molinari starts this tournament having the fourth most seeding points, and is the highest seeded athlete in the bracket. She should end up as the two seed after Friday's medal matches.
The Hawkeye WC athlete starts on the top side in the quarterfinals against Rimma Ryssayeva (KAZ), who does not have any international results of note.
Her semis opponent should be Aina Temirtassova of Kazakhstan. She was bronze at the Asian championships and took silver at the Sassari in May. The Kazakh was in the same bracket as Forrest at U23 worlds last year, but they did not face each other.
The bottom side looks to be a group of young wrestlers, with the favorite being Yuliana Yaneva of Bulgaria. Yaneva won Junior Euro medals in both 2017 and 2018, and was runner-up to Maya Nelson at Junior worlds in 2017. Nelson is who Molinari beat at Final X: Rutgers to make her second straight world team.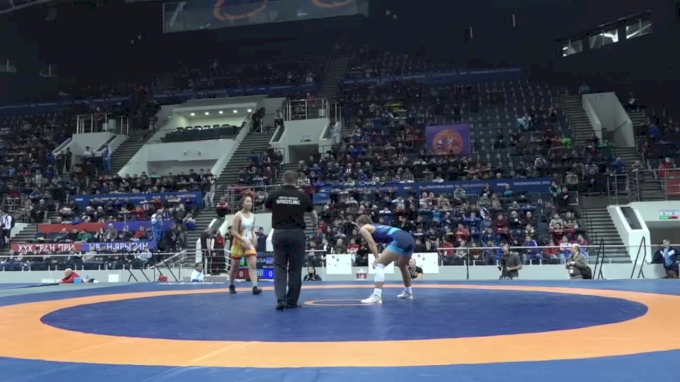 Unlock this video, live events, and more with a subscription!
Get Started
Already a subscriber? Log In