Unlock this article, live events, and more with a subscription!
Get Started
Already a subscriber? Log In
Fargo glory. In and of itself, winning Fargo is a prize all its own and puts you in legendary conversation. The list of wrestlers that have won and placed in Fargo make up a great portion of those who go on to success in college and on the international stage.
July 13-19 | 9AM Central
But there are certainly byproducts that go along with good Fargo performances these days. It puts you on the map, or further solidifies your place on it, ups your recruiting value and options, moves you up the rankings, and, for some of the highest ranked guys, an invitation to be center stage at Who's #1 for the chance to earn the top spot in the country.
Below I'll outline the very preliminary, but clearest pictures for guys currently ranked at or near the top. Keep in mind that nothing is final until the Golden Tickets are handed out. Several wrestlers over the years have come from mid-pack, placed high at Fargo, and wrestled their way into Who's #1. Last year that list included Eric Barnett, Keegan O'Toole, and Jace Luchau.
Also keep in mind that Who's #1 won't include every weight (we'll pick the best matchups) and that some weights might be a 4-man group if the situation calls for it.
For feedback email me at willie@flosports.tv
113: Richie Figueroa vs. ???
The Situation: Pound-for-pound member Richie Figueroa won't be in Fargo because he's headed back to the World Championships. But I confirmed that he's staying at 113 for next season and as such pretty much has the spot on lock. Who will be his opponent? Could it be his Cadet World teammate Stevo Poulin? Could it be someone who wins Fargo like Drake Ayala? They seem to be the most likely candidates at the moment.
120: Greg D, Jakason, + Who Moves Up?
The Situation: Robbie Howard will be at 126 next year. That's confirmed. But that info causes more uncertainty at 120 than it solves at 126.
#2-Greg Diakomihalis won WNO at 113 last year over Jakason Burks but hasn't wrestled much since losing to Figs in Super 32 finals and will be coming off a leg injury. Is he proven enough at 120 to get the nod?
#3-Jesse Ybarra, the Akron runner-up to Howard, is also moving up to 126 for the season. #4-Burks has the loss to Greg and #5-Nic Bouzakis has already made his way to 126.
The door may also be open for 113's that are moving up, namely Joey Cruz and Jordan Williams.
With so much uncertainty, the possibility of everything from a 4-man group to not having the weight contested at WNO isn't out of the question here.
126: It's Robbie's World
The Situation: 3x Akron Champ Robert Howard is a lock.
Who he wrestles is another matter. Bouzakis is up at 126 and won a Beast bracket with Eddie Ventresca and Trevor Mastrogiovanni in it, but he lost to Ybarra in Akron, who will also be moving to 126.
Right now it's Howard and most likely Mastro, provided he's 126 next year. He's been the most consistent and active and was the highest placing high schooler at Vegas Juniors.
I don't see any way a 126 at Fargo can get into this tier (though crazier things have happened).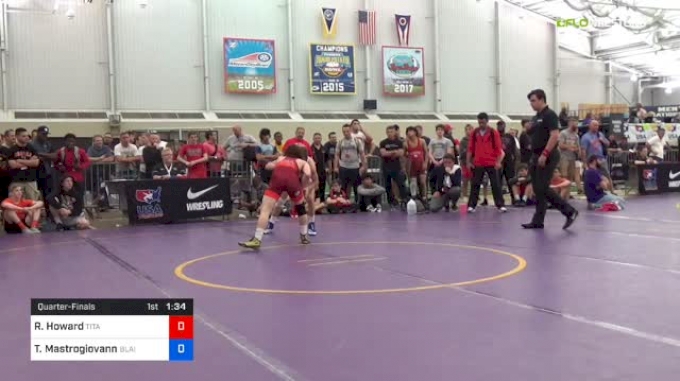 Create a free account to unlock this video!
Get Started
Already a subscriber? Log In
132: Akron Semi Could Be Repeated
The Situation: There are a lot of moving parts here but one scenario could be a rematch of one of the best bouts in Akron. Beau Bartlett is moving up to 138 which leaves us #2-Jesse Mendez who beat #3-Dom Serrano 7-7 with Serrano opening with a 4pter and Mendez later responding with a 5.
Mendez is the World Team rep and if he's a 132 next year he'd almost certainly be in. But I'd imagine we see him at 138 for the season.
Serrano should be 132 next year and to this point has certainly earned a shot. He's been a Champ at FloNats, Akron 3rd, and reached two Fargo finals already. But he'll have a gauntlet in this year's Fargo with seven other ranked wrestlers and plenty of more depth. Come through unscathed (or as the highest high school placer) and Serrano would be in a very good position.
Should Mendez move up (and I think he will), we'll have to see what weight Shayne Van Ness will be for the season. Should he also move up, Ryan Jack would be the next man up.
There's also a chance two Iowans - Cael Happel and Caleb Rathjen, currently ranked 8th and 9th - could wrestle their way in via Fargo.
138: Another In the Bartlett-Van Ness Rivalry?
The Situation: Bartlett is locked in. He's 138 for the season, has the most recent win over Van Ness, and placed at the Senior U.S. Open.
That leaves one slot. There are three guys in position. But I think all of them move up to 145. Josh Saunders and Sammy Hillegas are both at 138 for Fargo, but Hillegas is a freestyle rookie. Ryan Sokol is heading to the World Championships at the end of this month.
Should they all move up, we'd be looking another chapter of Bartlett-Van Ness or Bartlett vs. Mendez should he confirm a move to 138.
With #1-Saunders and #2-Hillegas in the field, the opportunity exists for a mid-ranked guy to wrestle his way in at Fargo. Bretli Reyna might be one, but I think he's a 145 next season. Josh Edmond is another.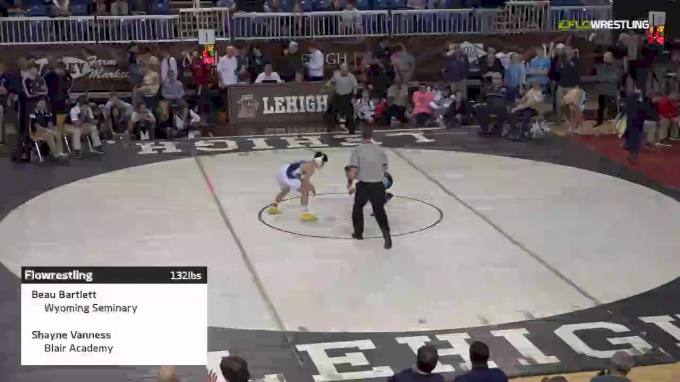 Unlock this video, live events, and more with a subscription!
Get Started
Already a subscriber? Log In
145: Three of the Top 5 in Fargo
The Situation: Jesse Vasquez hasn't wrestled much at all the last two years, he's not in Fargo and I'm not entirely sure what his situation is.
But three of three of the Top 5 are in Fargo. Victor Voinovich, who's currently #2, had an awesome JR Open, but took several losses last year and was a 152. #3-Peyton Hall isn't at Fargo, but #4-Brayden Roberts and #5-Ed Scott are. Roberts beat PA state champ Scott at NHSCA Duals.
Ultimately Who's #1 will depend almost entirely on Fargo. What happens at 138 (where the top ranked kids will likely move up)? And what happens at 145? And will Voinovich be 152 next year?
There's a lot to be decided and 145 is DEEP (13 total ranked), so there are certainly threats I'm not mentioning by name. But the short list pre-Fargo = Vasquez, Saunders/Hillegas, Sokol, and whomever wins (and stays at) 145.
152: Cloudy, With a Chance of Voinovich
The Situation: O'Toole won Fargo and wrestled at WNO last year. He's wrestling 152 in Fargo but has told us he'll be 160 next season.
As such, there's not many clear answers at the weight. There's not one wrestler at the weight who's really seized the primetime spot.
That leaves Voinovich, who wrestled 152 last season as a top option should he win Fargo (at 145). Or perhaps Jesse Vasquez depending on what weight he is. But again, he hasn't wrestled much outside of Super 32.
The next guys up would be Sonny Santiago, who was 3rd at Super 32 and Travis Mastrogiovanni, who was the runner-up in Akron.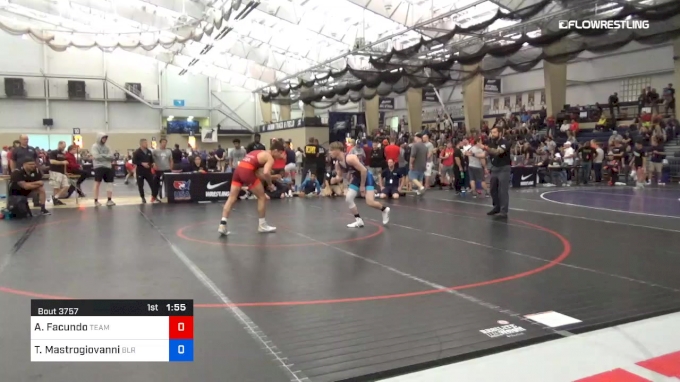 Unlock this video, live events, and more with a subscription!
Get Started
Already a subscriber? Log In
160: Dream Match Up #3
The Situation: If O'Toole repeats in Fargo (at 152) he's our guy at 160 as he's moving up for the season. The obvious matchup would be vs. 2x World Teamer Alex Facundo. But wait, it gets better.
I would imagine Facundo moves up. Insert Paddy Gallagher, who has been a monster. He beat Super 32 Champ Connor Brady in the Ohio state finals and gave Facundo a war in last year's Akron quarterfinals.
He'll be at Fargo to further cement his case. But #4-Luke Surber and #5-Cael Valencia also loom in that bracket. The highest placer would set up a Dream Match with O'Toole and also make for the next banger...
170: Dream Match Up #1a
The Situation: Facundo. He's a lock at whatever weight he goes for the season, and I think that will be 170.
Who does he wrestle? Dear lord, gimme Patrick Kennedy, which would pit the current #1 at 160 vs. the current #1 at 170.
Should Kennedy stumble (there's 13 ranked wrestlers in the field at 170 in Fargo), the next candidates for Facundo would be fellow World Team Member and Flo and Akron Champ Clayton Ulrey, PA big school state champ Gerrit Nijenhuis, or maybe someone like Surber should he move up.
Whatever the case, the options at 170 are all juicy.
182: Fargo Determines All
The Situation: 182 is absolutely loaded. The best weight of the week. Maybe the year. And maybe one of the best in the long history of Fargo. Four of the Top 5 that graduated in 2019 are in the field along with five guys currently ranked in the top six. By rankings, you can't conceivably do much better.
That makes it very clear. The top two high school performers will get the nod. With one caveat - should Kennedy win 170 and then declare 182 for the season, he'd get consideration as well.
195: The Dream Match Up
The Situation: Another simple one. Braxton Amos is wrestling in Fargo where he's won four titles already. If he wins freestyle again, WNO is him vs. AJ Ferrari in what would be one of the most anticipated bouts of the card.
Ferrari had surgery in the spring and still hasn't been cleared to wrestle live. He tells us if he is, he's in for WNO. If not, the weight will not be contested at WNO.
220: Not Likely
The Situation: With AJ Ferrari both hurt and pretty assuredly moving to 195, 220 is likely to not be contested at WNO this year.
285: Hutmacher = Football
The Situation: Nash Hutmacher committed to Nebraska for football and is the reigning #1 big man. #2-Hunter Catka is wrestling at Worlds. If Hutmacher stays #1 and can't wrestle at WNO because of football, it's not likely 285 is contested.