2019 Final X - Lincoln
Final X: Lincoln - Women's Freestyle Preview
Final X: Lincoln - Women's Freestyle Preview
Everything you need to know about the women's matchups at Final X: Lincoln.
Jun 14, 2019
by Andrew Spey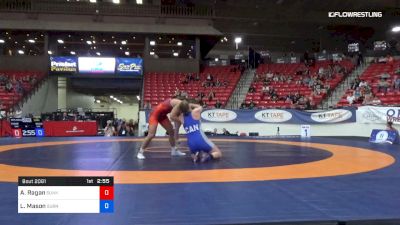 Unlock this article, live events, and more with a subscription!
Get Started
Already a subscriber? Log In
By Evan Knaff
The first half of our Women's World Team was decided this past weekend in Piscataway at Final X - Rutgers. To those five women, congratulations! But the fun doesn't stop there. No, we have another go around this weekend to crown another five champions, so let's look into who's competing for spots and how they got there.
Watch Final X: Lincoln Live on Flo
Sat. June 15 | 12PM & 6PM CT
53 kg - Sarah Hildebrandt v Katherine Shai
Sarah Hildebrandt is one of the biggest stars in US Women's wrestling. The 25 year old was named USA Wrestling's 2018 Women's Wrestler of the Year. Looking to make her third World Team, and has been sitting in Final X by virtue of her 2018 World silver medal. Hildebrandt's opponent is Katherine Shai, who qualified for Final X by winning the World Team Trials last month. Shai is no stranger to this stage of competition, having been a National Team member five times, and an Olympic alternate twice.
Shai is a strong advocate for Women's wrestling, and uses her successful blog, LuchaFit, to help educate other women and girls. With topics ranging from workouts and nutrition to mindset and empowerment, LuchaFit is a phenomenal resource for anyone, not just women involved in wrestling. Shai is an important figurehead in the growth of the sport, as a board member of the non-profit WRESTLE LIKE A GIRL.
In a matchup of two women with plenty of experience, the biggest winner will be the fans, as these two are sure to provide at least two great matches. However, Hildebrandt has proved that she can take on the best of the best, as last year she made the World team after beating 2016 Olympian Haley Augello two matches to none. This year, I expect more of the same: Hildebrandt winning the spot over a seasoned vet.
55 kg: Jacarra Winchester v Dominique Parrish
At 55 kilos, the reigning World Team member is back. Jacarra Winchester won the 2018 spot two matches to none over Becka Leathers at Final X - Lincoln. At the 2018 World Championships, Winchester was seconds away from a World medal. After a last-second takedown was challenged and overturned, Winchester dropped her semifinal match, and then lost her bronze medal bout to take fifth. She's back to improve on that finish and win a medal. But first, she must get through 2019 WCWA Wrestler of the Year, Dominique Parrish.
Parrish, now a three-time Senior National Team member, is looking to make her first Senior World team after making back to back to back U23 teams, placing fifth at U23 Worlds in 2018. She closed out her collegiate career this spring as a four-time All-American and two-time national champion.
These two have met before in a best of three series: in 2018, they wrestled in the finals of the World Team Trials, with Winchester winning two matches to none, both shutout tech falls. While they both competed at this year's Dave Schultz, where Jacarra won and Parrish took second, they did not meet. Winchester won at 59 kg, and Parrish was a finalist at 55 kg. They also did not meet at the Open this year, where Winchester was the 1 seed and Parrish the 2. While Jacarra ran through the bracket with tech fall after tech fall, Parrish was upset in the first round.
I expect Jacarra to continue her domestic run of dominance and win the World Team spot yet again. Parrish is a highly talented wrestler and a strong member of our National Team, but I don't believe she's on the same level as Jacarra yet.
59kg: Alli Ragan v Lauren Louive
Returning after winning last year's Final X, Alli Ragan is looking to make her seventh straight Senior World Team. Alli was forced to pull out of competing before Worlds due to an injury. At the last two World Championships she has actually competed in, Ragan has won two straight silver medals. She outscored her opponents 35-2 en route to a title at the Open earlier this year, earning her the auto-bid to Final X. Her opponent will be her Hawkeye WC teammate Lauren Louive.
Louive qualified for Final X via her title at the World Team Trials. She defeated another Hawkeye Wrestling Club member, Michaela Beck, two matches to one in the best of three finals. Louive is improving on her freestyle season from last year where she narrowly missed out on being on the National Team after losing in the true third match at Final X - Lehigh. This year she is two matches away from making the World Team.
Ragan has won medals at her last two World Championships, and I believe that she will make it three in a row this year. The matches between these two should be very exciting, as these talented women train together and know each other very well. The Hawkeye Wrestling Club seems to own the 59 kg weight class domestically, with 3 of the top 4 women on the National Team ladder belonging to the club (Ragan, Louive, & Beck).
62 kg: Mallory Velte v Kayla Miracle
In a rematch from Final X - State College, we have Velte and Miracle competing for the same spot they competed for a year ago. Last year, Velte beat Miracle in three matches to claim the World Team spot and then proceeded to win Bronze in Budapest. By virtue of said medal, Velte earned an automatic spot in Final X, where she now seeks her third consecutive World Team. Standing in her way is Miracle, presenting us with the latest iteration of one of the best rivalries in Women's freestyle.
Miracle has won the last three US Open's, as well as the last three U23 team trials. She boasts three age group World medals, with two Bronze medals at Junior Worlds and one Silver at Cadets. Velte's resume isn't quite as extensive, but she does boast something Miracle does not: multiple spots on the Senior World Team AND a Senior World Bronze. Maybe it's just because I like rivalries, but I consider these two to have one of the most solid rivalries in Women's freestyle based on the past year.
Quick rundown: During 2018, the pair split their four matches, two wins a piece. In the finals of the 2018 US Open, Miracle walked away with a 3-0 win over Velte to earn the bye to Final X. Velte won her way through the World Team Trials to earn a rematch. In State College, Miracle won match one, 4-2, but Velte came storming back, winning matches two and three, 4-2 and 7-1, to secure her spot on the team. Then at the Dan Kolov earlier this year, Miracle scored a win by pin over Velte in round one.
With Velte sitting in Final X this year, Miracle had to win her way through the Open and the WTT to make it back here for another rematch, which she of course did. Maybe call it recency bias, maybe call it putting too much value on past credentials, but I believe Miracle will break through this year and take out Velte to make the Senior Team to go along with her U23 spot.
76 kg: Adeline Gray v. Precious Bell
I'm not gonna beat around the bush, I'll give you my pick right here, right now: it's Adeline Gray. She is John Smith and Jordan Burroughs level of legendary in the sport, and it is a privilege to be able to watch her compete. I will not pick against Gray as long as she toes the line. That being said, I will now move into the rest of the preview.
Gray is a four-time World Champion, winning in 2012, 2014, 2015 and won it again last year in Budapest. She has won age group World titles many times, dating back to 2008 as a Junior. Her resume speaks for itself.
On the other hand, Bell is a relative newcomer. In 2018, she took 5th at WCWA Nationals and 7th at the US Open. This year, the 21-year-old improved on her WCWA finish and took 4th. Then she went and won the US Open as the five seed, beating Hannah Gladden by pin in the finals. She then followed it up with two straight wins in the WTT finals, again over Gladden, one by pin and one 9-0. As such, Bell absolutely earned her spot to challenge the reigning World Champion this weekend in Lincoln.
As previously mentioned, my pick is and always will be Adeline Gray, but I do expect Bell to be a fierce competitor and give Gray a good fight, and give the fans a great show.
And that's that! The second half of our Women's World Team is decided Saturday and we'll know who's heading to Nur-Sultan. The Ragan-Louive and Winchester-Parrish bouts will be in the earlier session, beginning at 12 pm CT, while the Velte-Miracle, Hildebrandt-Shai, & Gray-Bell bouts will kick off the evening session at 6 PM CT.