Unlock this article, live events, and more with a subscription!
Get Started
Already a subscriber? Log In
For whatever reason, 61 Kilograms in the USA is a bonkers weight class. Colon vs Graff at Final X: Lincoln is not likely to be an exception to that rule.
Watch Final X: Lincoln Live on Flo
Sat. June 15 | 12PM & 6PM CT
If you are not yet familiar with Joe Colon's style of wrestling, please remedy that situation immediately. It is extremely fan friendly, and you should be pumped for the opportunity to watch it again soon. But if you need an introduction or a refresher, Colon's battles with Nahshon Garrett at last year's U.S. Open and Final X is a great place to start.
That rivalry started with an insane 20-13 score in the Open finals. Do yourself a favor and spend the next 10 minutes of your life watching it.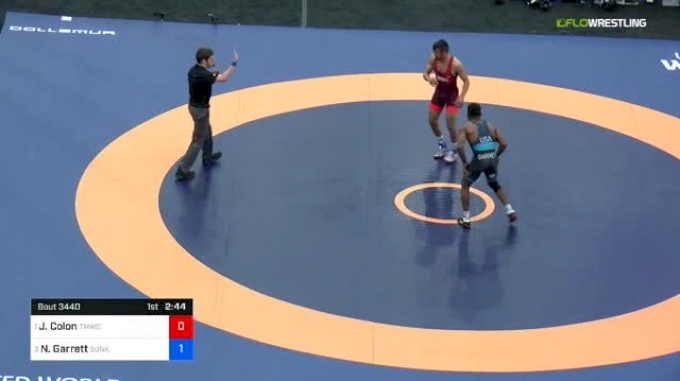 Unlock this video, live events, and more with a subscription!
Get Started
Already a subscriber? Log In
Colon prevailed in Vegas, but Garrett would get revenge in Bethlehem in a scintillating three-match series that saw a total of 24 points being scored in all the matches combined. Here's match 1, match 2, and match 3.
All killers. No filler.
Peruse the brackets of all the major domestic tournaments of the last couple years and witness the trend of wild, high scoring matches being over-represented in the 61 kg weight class. Credit to Colon, Garrett, Seth Gross, Nico Megaludis and many others for the quality viewing experiences.
Graff was in the mix in 2018 too, making the quarterfinals of the U.S. Open. At the World Team Trials Challenge Tournament, Tyler got stopped in the semifinals. Before that, Graff has established his international bona fides by winning no fewer than nine tournaments in six different countries (USA, Cuba, Brazil, Canada, France and Spain, for those keeping track at home).
In 2019, Graff didn't show up to Raleigh and the World Team Trials Challenge Tournament as the favorite to make Final X, but by the end of the event, he left no doubt that he earned his shot at Colon. Graff followed up a fourth-place finish at the 2019 Open by going on a tear in Raleigh. Consecutive wins over Earl Hall, Joey Palmer, and Nico Megaludis --the latter two wins avenged recent losses-- put Graff in the best two-of-three finals with Cody Brewer. This series would carry on the rich tradition of 61 kilogram matches being totally rad.
Graff won the first match by the ridiculous score of 22 to 16. The second match was another victory for Graff, this time via pinfall in the first two minutes of the match. Let's watch both matches now, because they both rule.
Match 1: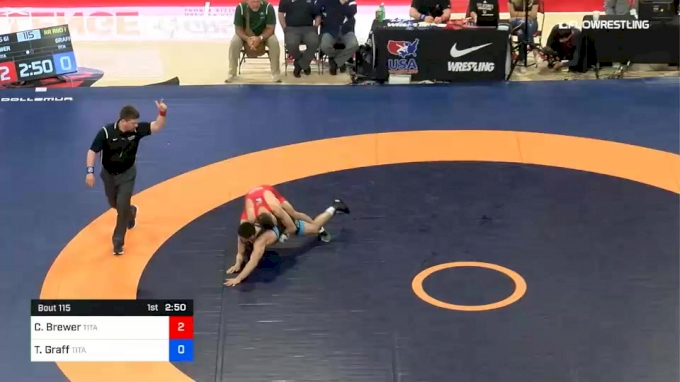 Unlock this video, live events, and more with a subscription!
Get Started
Already a subscriber? Log In
Match 2: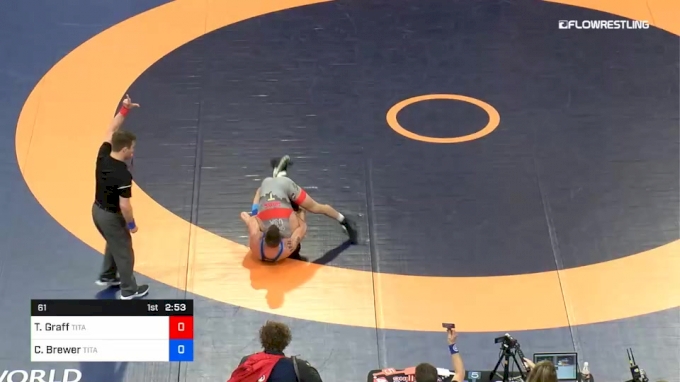 Unlock this video, live events, and more with a subscription!
Get Started
Already a subscriber? Log In
Besides a propensity for throwing football points up on the scoreboard, a Graff v Colon is intriguing for being one of the few matchups with the potential for being just as entertaining on the mat as it will be in neutral.
Both wrestlers have killer top games, with guts and laces galore. It's almost enough to make one yearn for the implementation of forced par there. Almost.
But with those match-ending techniques in their back pockets, takedowns will be all the more important. Even if we get low scoring bouts, the tension will be ratcheted up due to the potential both Graff and Colon have when they're on top. Giving up a takedown in the center of the mat could spell doom for either wrestler.
There's also the fact that this match is a shot at revenge for Colon for getting upset by Graff in the semifinals of the 2014 NCAA tournament. Colon entered the tournament as the number one seed, but it was Graff who won as the five seed, 6-4, before falling to Tony Ramos in tiebreakers in the finals match. Colon would wrestle back for third
2014 was the final year of eligibility for both Graff and Colon, and it was the highest on the podium either would climb. Graff is a four-time All-American (5th, 5th, 3rd, 2nd) while Colon has but the one All-American honor to his name. Although if we're talking credentials, we should probably mention the world bronze medal that Colon won in Budapest, which also punched his ticket to Lincoln.
Here's Colon, beating Bagher Yakhkeshi of Iran to score some shiny hardware for himself and Team USA.
Colon also avenged a loss he took to Yowlys Bonne of Cuba in the semifinals of the world championships when he beat the world champ in the first round of the 2019 Pan-Ams. Pretty good!
The proverbial fur will be flying in the Devaney Center in the fifth match of the second session. Don't sleep on this gnarly matchup!