2019 Final X
Kyle Dake And Alex Dieringer Will Wrestle Off On August 17 In Austin, Texas
Kyle Dake And Alex Dieringer Will Wrestle Off On August 17 In Austin, Texas
The special wrestle-off between Kyle Dake vs Alex Dieringer for the 79kg world team spot has been set for August 17th in August, Texas.
Jul 2, 2019
by Wrestling Nomad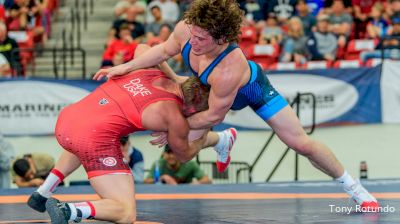 Confirmed: Kyle Dake and Alex Dieringer will wrestle for the 79kg world team spot in Austin, Texas on August 17.
USA Wrestling has announced that the Final X Special-Wrestle-off for the 79 kg position on the 2019 U.S. Senior World Team between 2018 World champion Kyle Dake (Ithaca, N.Y./Titan Mercury WC/Finger Lakes RTC) and 2019 World Team Trials Challenge Tournament champion Alex Dieringer (Stillwater, Okla./Titan Mercury WC/Cowboy RTC) will be held on Saturday, August 17 in Austin, Texas.
Currently, the time and venue for this Final X best-of-three series between Dake and Dieringer has not yet been finalized. This Final X series will be broadcast live by FloWrestling.
Dake, who qualified for Final X after winning a 2018 World medal, requested and received a delay of his championship series in Final X: Rutgers on June 8 due to injury. Dake was able to do this based upon the 2019 General World Team Trials Procedures. Dake met all of the requirements needed to receive a delay.
Dieringer had qualified for Final X by winning the title at the 2019 World Team Trials Challenge in Raleigh, N.C., May 17-19.
The date and city for this Final X Special Wrestle-off were set by USA Wrestling's Freestyle Sport Committee.
Dake won the gold medal in his first Senior World Championships last year in Budapest, Hungary. Dieringer has not yet qualified for a Senior World Team.
Dake was a four-time NCAA champion for Cornell, while Dieringer won three NCAA titles for Oklahoma State.
The winner of this Final X Special Wrestle-off will represent the United States at the 2019 World Wrestling Championships in Nur-Sultan, Kazakhstan, September 14-22.