Unlock this article, live events, and more with a subscription!
Get Started
Already a subscriber? Log In
Jordan Burroughs has evolved through several eras of wrestling, from the three-period ball draw, to cumulative scoring, and now same day, two day weigh-ins. With that has come an evolution in his style of wrestling.
Like Burroughs, the premise of this article went through several different iterations. The original concept was the importance of stepouts to him, and then it started morphing into a story about his single leg, but what it comes to now is his ability to transition from single to double and back again.
Watch Final X: Lincoln Live on Flo
Sat. June 15 | 12PM & 6PM CT
For this analysis I reviewed 10 matches of consequence from JB: Final X against Isaiah Martinez, last year's world championships, and the Dan Kolov ranking series event in March. There were eight opponents in total, because he wrestled Isaiah Martinez twice at Final X and Frank Chamizo once each at the latter two events.
What makes him so difficult to stop is his ability to pick, mid shot, if he wants to go single or double. It also helps that Jordan knee pounds and shoots from on the mat better than maybe anyone in the world.
Take, for example, his first score of match one against Imar, when Martinez shoots right off the whistle after a restart. Burroughs steps back and then shoots a single with his right arm while his left arm and both knees are on the mat. He ends up getting a step point, one of four he got during that match to win 4-1. Yes, he won on all stepouts.
The third point of that match is something he'll do often as well: taking a half shot, waiting till the guy comes up and shooting again. He uses a variation of this to score his fourth point against Bekzod Abdurakhmonov in the finals of the Kolov, the stepout that would ultimately be the difference in the match.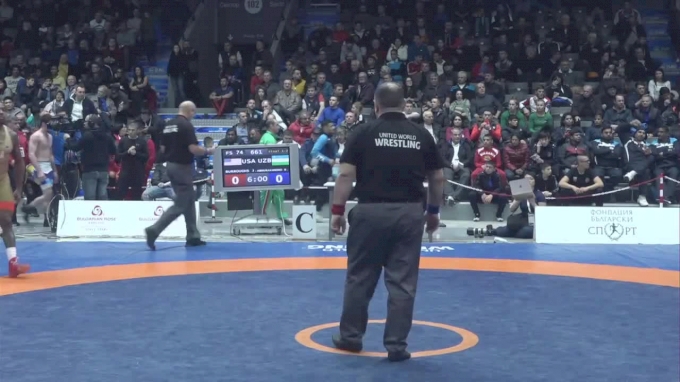 Unlock this video, live events, and more with a subscription!
Get Started
Already a subscriber? Log In
When looking at the breakdown in points from these 10 important matches, it is almost an even split in number of times scored by takedown verse stepout. Now obviously a takedown is worth twice as much, but JB scored 17 takedowns and forced 16 stepouts.
In general, few wrestlers use the zone as well as Burrooughs, from all aspects. He scores stepouts when he can't finish takedowns. He avoid stepouts when the match is close. He tries to keep takedowns to a limit and give up stepouts instead. He'll get guys moving on the edge and finish when they're trying to fight the stepout. It's a huge part of his game.
Getting back to his single/double back and forth, you can look at his second point of match one against Imar. Beyond that, his first match at worlds against Moustafa Hosseinkhani, he picked up a takedown late in the first period by switching off from a double to a single.
Jordan Burroughs is the king for a reason. He's fended off Kyle Dake and Andrew Howe three times each, as well as David Taylor and Isaiah Martinez. On Saturday, he'll have to beat Martinez once again in order to make his ninth straight world or Olympic team.
It will be fascinating to see if Imar and his coaches have made the necessary adjustments to combat the varied ways Burroughs attacks legs. Once at worlds, it's going to be the key to a record breaking fifth world title (plus his Olympic gold). The Jordan Burroughs you'll see on the 15th is not the same one we saw in 2011, and that's a good thing.