Unlock this article, live events, and more with a subscription!
Get Started
Already a subscriber? Log In
Zain Retherford will wrestle in Piscataway, NJ this Saturday in Final X under circumstances he rarely finds himself: as the underdog.
Watch Final X: Rutgers Live on Flo
Sat. June 8 | 12:00 PM & 6 PM Eastern
Yianni Diakomiahlis ensured Zain's underdog status when he defeated in the finals of the U.S. Open. Though trailing in the final minute of the match, Yianni capped off a legendary Open performance countering one of Retherford's shots and scoring the go-ahead takedown. Yianni ultimately won 6-4. The match was one of the highlights of a tremendous tournament in Vegas, and we should all treat ourselves by rewatching it right now.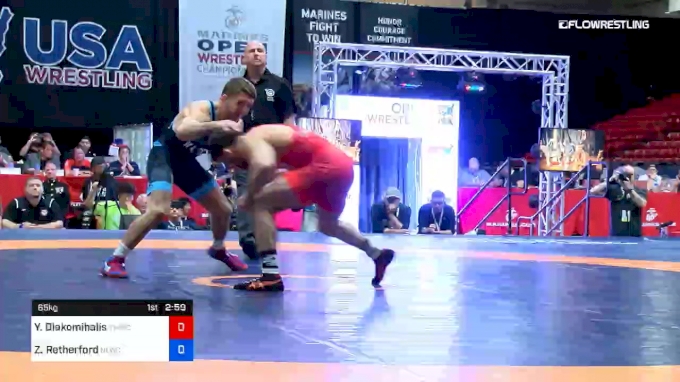 Unlock this video, live events, and more with a subscription!
Get Started
Already a subscriber? Log In
As the Open champ in a weight class with no returning medalist, Yianni earned a bid to Final X. And while anyone is entitled to believe that Zain will win the rematch, an objective odds maker would use that most recent result as the rationale to make Diakomihalis the favorite at Rutgers.
There is a reason why Zain as an underdog is such an anomaly. For that explanation, we shall review the Zain Train's extraordinary career.
Penn State
A 126-3 record, 53 falls, 3 NCAA titles and 2 Hodge Trophies. That's pretty good.
The numbers speak for themselves, but it's worth adding more details to appreciate just how special Zain's college career was.
As a true freshman, Zain would pick up a win over Logan Stieber during the Buckeye's senior season. Stieber, a four-time NCAA champ who scored more points at the NCAA tournament than everyone but Cael Sanderson, would get revenge, however, when he handed Retherford his first collegiate loss in the finals of the 2014 Big Ten Tournament.
Retherford would lose again to Stieber in the semifinals of the 2014 NCAA tournament, and then once more to Mitchell Port in tiebreakers of the consolation semis. That would be the last NCAA match Zain would ever lose.
After taking a redshirt during the 2014-15 season, the Zain Train would peel off three consecutive undefeated seasons, recording an obscene 87% bonus rate. It was one of the most impressive three-year stints in NCAA history.
Let's now all enjoy highlights of Zain's final NCAA match, when he won his third title over Lock Haven's Ronnie Perry in 2018.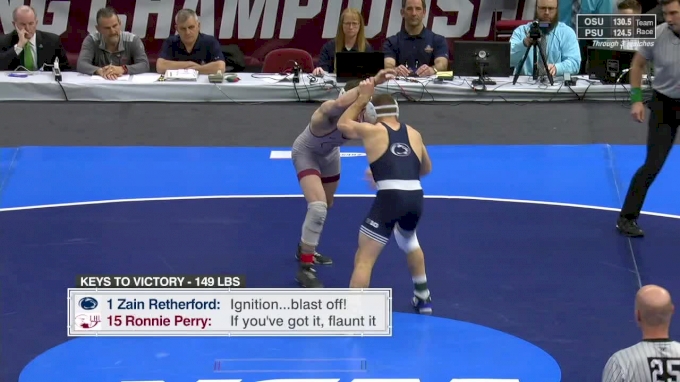 Unlock this video, live events, and more with a subscription!
Get Started
Already a subscriber? Log In
Freestyle
In folkstyle, Zain is pretty much unbeatable. He doesn't very often in freestyle either. Zain showed off his international prowess when he won the 2012 Cadet World Champion at 63 Kilograms. That was before college when Zain was one of the most highly sought after recruits in the country.
Once at Penn State, Zain wrestled in a few major events, notably placing third at the 2016 Olympic Team Trials. It was in 2017, after Zain won his second NCAA title, that his freestyle results began to match his folkstyle accolades.
Retherford charged through a loaded 65 KG bracket at the U.S. Open, getting to the semifinals for a much-anticipated match with Oklahoma State superstar Jordan Oliver. Zain was in on a shot with 15 seconds left in the match, leading by a point, when JO hit a high flyer. Zain was sent spinning on his head like a top, though he did not expose his back. Oliver was awarded two points for a correct throw, giving him a one-point lead, which held on to win, though not without controversy.
You can watch that infamous match below.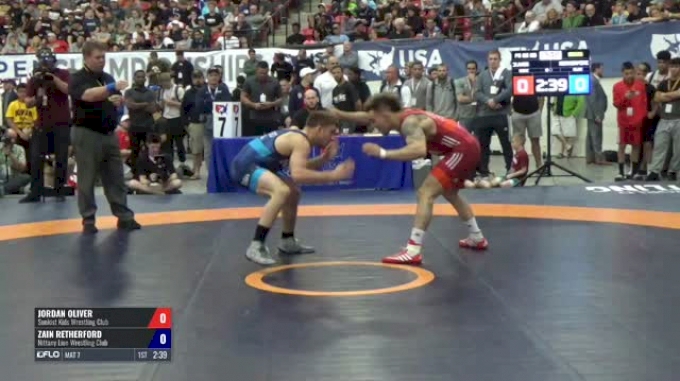 Unlock this video, live events, and more with a subscription!
Get Started
Already a subscriber? Log In
Oliver was forced to miss the rest of the freestyle season, and most of the next season, due to testing positive for a banned substance, leaving the door open for Zain to go on another run at the World Team Trials. Retherford beat Nick Dardanes and Jaydin Eierman on his way to the best two-out-of-three finals with Frank Molinaro. That series would not disappoint.
Molinaro won the first match 7-6, but Zain came back to win the next two, 6-0 and then 7-4. That earned Retherford a spot on the 2017 World Team at 65 KG.
Zain would travel to Paris where he would beat Edinboro All-American David Habat in the first round before running into Adam Batirov, a Bahrani wrestler by way of Dagestan. Retherford was felled by Batirov 6-4.
Zain had Batirov in quodpod defense as the final seconds with the score tied and Batirov leading by criteria. Unfortunately, Batirov did not hit the mat until just after time expired. A lost challenge by Retherford's corner made it a two-point margin of defeat. Retherford's tournament then came to an end after an exhausted Batirov lost his next match to Alan Gogayev of Russia 2-1.
The next year, Batirov would finish as runner-up in the 70 KG weight class at the 2018 World Championships.
Zain did not wrestle internationally again until 2019, where he dropped a tight 4-3 match to two-time world silver medalist Gadzhimurad Rashidov at the prestigious Ivan Yariguin. Zain also went 4-0 at the 2019 World Cup.
2019 was also Zain's return to domestic freestyle competition. Retherford entered the 2019 U.S. Open, where he would win four matches in a row by 10-0 tech fall before hitting the semis. There he would beat Jaydin Eierman once again by the score of 11-3 before his famous finals match with Yianni.
As Zain's performance at the subsequent World Team Trials Challenge Tournament proved, Zain doesn't lose much, and he even more rarely is he the underdog.
So how will Zain handle being not being the favorite in his rematch with Yianni? We're guessing he will be up for the challenge. Both Yianni and Zain love to wrestle. But to win this epic series, Zain will have to turn the unfamiliar, to the funfamiliar.