2019 Cadet and U23 World Team Trials
The Complete Cadet Greco-Roman World Team Trials Breakdown
The Complete Cadet Greco-Roman World Team Trials Breakdown
Tim Hands of 5 Point Move breaks down all ten weight classes at the Cadet World Team Trials in Akron, OH.
May 29, 2019
by Timmy Hands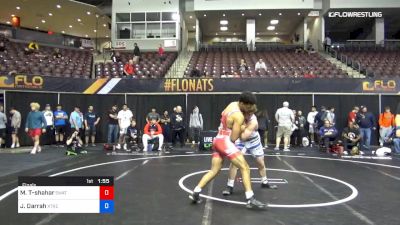 Unlock this article, live events, and more with a subscription!
Get Started
Already a subscriber? Log In
Tim Hands of 5 Point Move breaks down all ten weight classes at the Cadet World Team Trials in Akron, OH.
As could and should be expected annually, there is a LOT of turnover when it comes to the Cadets at this coming weekend's World Team Trials in Akron, Ohio. Not one returning champ is currently listed to compete, although there are a few potent holdovers from a year ago. In addition, several promising athletes who have performed well at the Fargo Nationals are joining the party, allowing 2019's running of the tournament to boast an extremely deep field across the majority of the brackets.
Watch U23 & UWW Cadet Trials Live on Flo
May 31 - June 2 | 9:30 AM Eastern
From a Greco-only standpoint, the Cadet World Team Trials have taken on a heightened degree of importance. The US program at large is continually attempting to rebuild its Senior base. In order for that to occur with any semblance of success, an intense focus on development is necessary. This concept became a key priority throughout the current quad, and the result has been more opportunities for youth wrestlers to travel and train overseas. And wouldn't you know it, but a good bunch of them will be mixing it up in Akron.
But just like it is each year when Fargo rolls around, it's not all about the kids who can brag about passport stamps. America is a bountiful place stocked with incredibly skilled three-style wrestlers capable of catapulting themselves to the front of the line in whichever discipline they choose, whether they've flown across the Atlantic or not. In Akron, we want them to choose Greco and passionately compete for the chance to win a World medal.
Registration can be found in FloArena. Brackets will be there after weigh-ins on Friday morning.
45 Kilograms
The top-three placewinners at 88 lbs from the 2018 Fargo Cadet Nationals are all involved -- champ Kaden Ramos (Jet), runner-up (and FloNats champ) Daniel Sheen (Izzy Style), and bronze Christopher Martino (HND). If you caught Ramos' next-level movement last July, then you understand what a fearsome customer he is, though it's a safe bet Sheen is going to have something up his sleeve this time around. Wisconsin's Damien Wutke has added some relevant "legit" experience to his game, as well, but no one better sleep on 2018 Fargo 5th and PINnacle rep Jore Volk, who just might steal the show, especially if he gets on top.
Watch Sheen win FloNationals in the video below: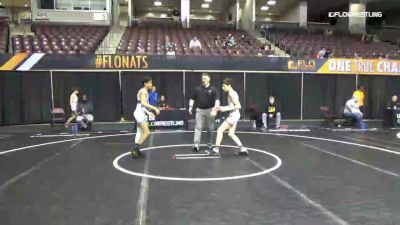 Unlock this video, live events, and more with a subscription!
Get Started
Already a subscriber? Log In
48 Kilograms
Caleb Coyle's (MWC) introduction to UWW Cadets occurred in Akron last year and he was bounced early in the tournament. He didn't experience the same slate of issues in Fargo, where he ended up taking an impressive fourth. Right behind Coyle was Sefton Douglass (Jet), and he's going to be someone to watch out for, simply because he is not afraid to attack the body -- which matters in a tournament like this where risk is often rewarded. Coloradan Jonathan Gurule (Betterman Elite) is learning quickly, while Joe Fernau (Izzy Style) showed at the Western Regionals a solid foundation of snaps and throws that can escort him to victory lane.
51 Kilograms
It's fair to assume that all eyes will be on the lanky frame of 2018 Fargo champ Kendyl Mobley (INWTC), the opportunistic Washingtonian who is also one of the most well-rounded lightweight wrestlers in the entire tournament. But he's got a lot of company. Nate Rubino (MWC) has developed quickly thanks to some overseas experience, and both Sam Smith (Combat) and Jeremy Bockert (AK) came on strong last summer. It's a multi-horse race at 51 you'd like to think, though that narrative could be tossed out the window by the quarters.
55 Kilograms
Sheldon Seymour (WA) won Fargo in '18 and took second at FloNats last month, so he's the natural headliner in what is an especially stacked field. Fellow Fargo All-Americans Joey Cape (IRTC, runner-up in '18), Angelo Lozado (Jefferson Saints), and Dante Rigal (World Wide) are also on board. The real mean machine of the bracket might be Conor Knopick (MWC). Third at the Fargodome last summer, Knopick has been groomed more for international competition and that is where most peg his future. Any combination of these animals battling it out in the semis would mean that this weight class should be in good shape come the Worlds later this summer.
Watch Seymour punch his ticket to the FloNats finals in the video below: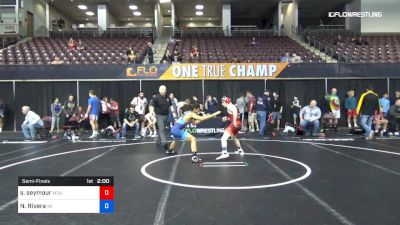 Unlock this video, live events, and more with a subscription!
Get Started
Already a subscriber? Log In
60 Kilograms
60 kilograms welcomes in a 44-man bracket, but the quantity is not nearly as important as the quality. Like Knopick, returning Fargo champs Parker Decker (Spartan) and Haiden Drury (Takedown Express) are coveted prospects by the US program due to their respective degrees of experience (and talent) at age-group. Right before he won FloNats, Drury earned a medal overseas at the Austrian Open, a head-nod-worthy accomplishment for a high schooler. Keegan Slyter (KCRTC), Luke Ciampa (Eclipse), and Mason Lewis (Modern Day Gladiators) should all have a say in how this bracket develops, but the perception is that Decker and Drury are the class of the field.
65 Kilograms
En-route to his appearance in the FloNational finals, Matt Singleton (Compound) went 4-0 with four tech's and outscored his opposition 35-0. Fargo runner-up Vincent Zerban (Xtreme) was there, too, and wound up fifth. Can a lot change in the five or so weeks since? Depends on who wants the World Team spot more. Tough Texan Chase Warden (3F Wrestling) has been right there every step of the way, as well, and is a markedly improved athlete who keeps adding to his arsenal and comprehension of Greco-Roman tie-ups. Warden doesn't all have the glossy credentials yet, but he's a keeper. This one could get exciting down the stretch, and even more so if Preston Decker (Spartan) winds up advancing to the later rounds. Great weight class.
You can watch Singleton tech his way to the finals of this year's FloNationals in the video below: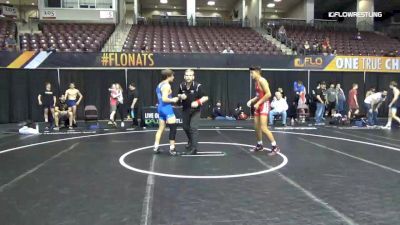 Unlock this video, live events, and more with a subscription!
Get Started
Already a subscriber? Log In
71 Kilograms
Things compress a little bit more once you start getting into the upper-weights. Brayden Roberts (Patriots) turned (and threw) a lot of heads with his Fargo title last year, so it's good to see him confidently gunning for a World Team spot. Momentum is on the side of John Martin Best (Felix Wrestling), who carries thirds from Fargo and the FloNationals/Cadet Pan Am Qualifier into this week. A lot of the heat resides with Michael Tal-Shahar, who won the FloNats. Trained by former World silver Shawn Sheldon, Tal-Shahar is a dynamic "feel" wrestler who transitions into scoring attempts better than most in this age division. Fargo All-Americans Brock Ellis (Region Wrestling Academy) and Daniel Segura (Team Miron) also figure to put forth strong efforts and should pose serious threats to the others.
80 Kilograms
Whenever an Illinois wrestler pounds out a Fargo title, or really, any other age-group Greco prize, it's not like it comes out of nowhere. But when Adrien Cramer (Izzy Style) did it in 2018, he impressed people with the vicious approach he brought onto the mat. He was out for blood, almost literally, just running over people. As such, he is quite the formidable entrant here. FloNationals runner-up Jack Darrah (Xtreme) and Wyoming Seminary's Dawin Hull are two similarly scintillating prospects who do nearly everything right as they continue to develop. If you want an out-of-nowhere name, it could be Micah Downs (IRTC). Downs finished eighth at Fargo in '18 but is now preparing in a more suitable environment, and that meshes well with the ability he has flashed on the come-up.
92 Kilograms
Chase Thompson (SWAT) has yet to break through at an event of this magnitude and it seems like his time is coming. He is a well-schooled, experienced athlete who has demonstrated scary power once he locks into position. But there are several thoroughbreds here, it's hard to take your pick. Seth Shumate (UA) you'll like. He is a points-hungry wrestler, has a solid front headlock, and rarely takes a step back. Pan Am qualifier Samuel Fisher (Birds of Prey) has taken a big step up from a year ago and is competing more assertively. That is an important difference, certainly with Cadets. Bryce Garcia (Sons of Thunder) and Kolby Franklin (LAB Trained) are greener than some of their contemporaries but have shown a willingness to battle into tie-ups without being gun shy. 92 kilos at Cadet tends to be friendlier to the all-around athletes who can blend styles, but an eagerness to fight it out no matter what still goes a long way.
110 Kilograms
Heavyweight is the least populated bracket but it features Fargo National champ Braxton Mikesell (INWTC), and that might be enough. Despite being a larger wrestler, Mikesell displays a whipping arm drag and intuitive usage of a two-on-one to set up body attacks. It's a little uncommon in this weight class, and that separates him from the pack. Apollo Gathard (Izzy Style) was in Akron last year, and though he only won one match and was then ousted by eventual champ Luke Luffman (IRTC), he brawled his heart out. You expect a step up in 2019. PINnacle's Daniel Striggow and Matt Moore (The Community) are just getting started at this level, but may just surprise some folks with their readiness once action begins.
Watch Mikesell cruise to a FloNationals title in less than a minute: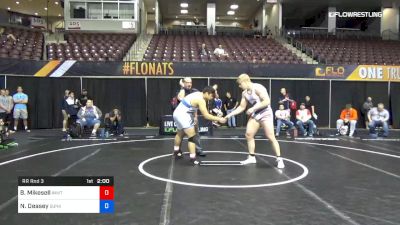 Unlock this video, live events, and more with a subscription!
Get Started
Already a subscriber? Log In