Create a free account to unlock this article!
Get Started
Already a subscriber? Log In
At this point, we've seen just about every contender in action.
But, as wrestling fans, we always want more. And there are some matches at the World Team Trials that we certainly need to see. Some of these we've seen before, some we've only seen in Folkstyle and others we haven't seen at all. But no matter what the circumstance, we need to run it back.
57kg: Thomas Gilman vs Jack Mueller
I know what you're thinking. Gilman is the returning world team member and world medalist. Mueller doesn't have any credentials that match up. I can also see it now in the comments "Mueller can't beat Iowa guys" and something about Spencer Lee. Well, stop it. Mueller has proven to be lightning in a bottle a few times. He just put on a helluva show at Beat the Streets against Nick Piccininni. He also showed out at U23 trials last year and took 5th at the U23 World Championships. On the flip side, it's Gilman, I've already given his creds and we know what he brings. The intrigue is to see how Mueller matches up against Gilman, plus it's a clash of styles. Gilman's Iowa style against Mueller's free flowing high pace. It's got my attention and I'd definitely like to see it.
65kg: JO vs Zain
Last time these guys met it was high scoring and it was JO's return to action. Before that it was the controversial ending, and let's be honest, it was the right call. But these two have so much history that every time they meet it must-see.
74kg: IMar vs Nolf
Nolf made the move up to 74kg this week and now a rematch of the 2016 NCAA Championship looms. We've only see them meet in folkstyle and IMar leads that series 2-1 with wins coming in the Big Ten and NCAA finals. Folkstyle is a different animal, Nolf is a little bit less creative and IMar seems to let loose more than he does in folk. No matter what, this is going to be some good wrasslin'.
79kg: Mark Hall vs Zahid Valencia
The last two years have been slanted towards Valencia as he won the bigger meetings between the two. Hall took the one in his home gym, but we all know what happened later on. However, freestyle is a bit of a different ballpark. They are both way more offensive and this could be one of the most exciting bouts of the weekend.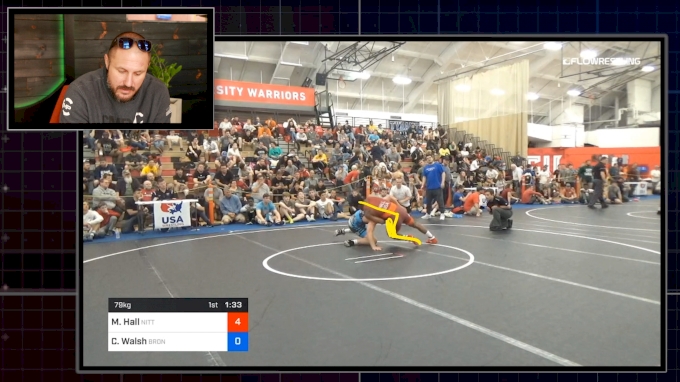 Unlock this video, live events, and more with a subscription!
Get Started
Already a subscriber? Log In
79kg: Mark Hall vs Alex Dieringer
Let me start by saying that this is in no way a prediction of the potential bout between Hall and Valencia, but we've seen Valencia take on Ringer. This is a match that we haven't seen. Hall looked great at Last Chance Qualifier and Ringer has been on another level. I for one am very excited to have Mark Hall back on the freestyle scene.
125kg: Gable Steveson vs Tony Nelson
We saw this bout last year and Nelson came out on top. Now Gable has had a year of NCAA competition under his belt along with a sour taste in his mouth from his showing at last year's Junior World Championships. He's going to be coming with something a bit different this year and whatever it is will make this match a bit different this time around.