Unlock this article, live events, and more with a subscription!
Get Started
Already a subscriber? Log In
Tim Hands of 5 Point Move is here to let you know what to Greco-Roman storylines you need to be hyped about heading towards the 2019 World Team Trials Challenge Tournament.
There is a sense of urgency that can be detected from the athletes who are locked in for the 2019 Senior Greco-Roman World Team Trials Challenge Tournament. The short turnaround coming off of the U.S. Open late last month combined with the just-as-compressed window before the Final X series makes this whole dance feel like it's forced. In case you're new, "forced" in Greco-Roman is not necessarily a bad thing. It's a sport in which athletes are often compelled into action. But on a more existential stream of thought, when you put some of these dudes' backs against the wall, they'll show you how at home they really are.
WATCH WORLD TEAM TRIALS LIVE HERE MAY 17-19
Each weight class presents its fair share of storylines, and those will be overviewed coming up. In the meantime, there are five lockdown conversations currently popping up in Greco circles regarding this World Team Trials Challenge Tournament, so consider this your first primer before the main event.
5) 87 kilos
For the third year in a row, 87 kilograms will be home to the deepest bracket at the Trials. In 2019 it is buoyed by multi-time finalist Jon Anderson, who missed out on this tournament a year ago due to being on deployment in Afghanistan. With Anderson back in the mix, this weight class can stake claim to more current or former national team members than any other, and as one might suspect, the least amount of breathing room between its Final X representative (Joe Rau) and the rest of the field. Between reigning world teamer Patrick Martinez, two-time Olympian Ben Provisor, Anderson, Kevin Radford, Barrett Stanghill, and James Souza, there's no shortage of candidates to keep an eye on, making this bracket easily one of the most harrowing in the tournament. We just want to see them score a little more.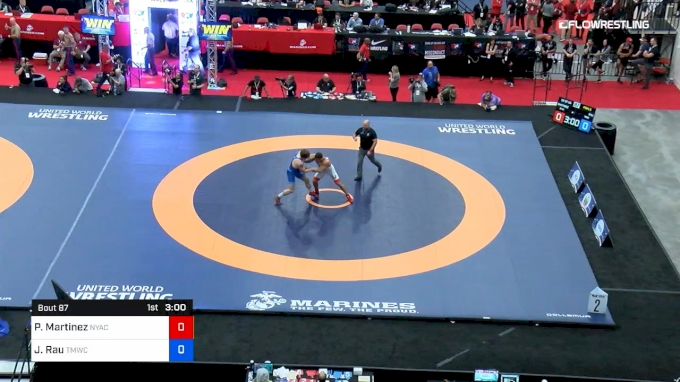 Unlock this video, live events, and more with a subscription!
Get Started
Already a subscriber? Log In
4) Can Spencer Woods do it again?
You'd like to say it as something more like "Is Spencer Woods for real?" but his skills are clearly a reality. Woods' ascension to the 82-kilogram Open finals was the result of his offering a thrilling blend of deft athleticism and unorthodox-yet-opportunistic positional discipline that is the antithesis of how most wrestlers prefer to operate. The only sticking point? There is now a book out on him. The "Alaskan Assassin" is credited with catching both Vlad Dombroskiy and two-time World Team member Cheney Haight by surprise. To assume others didn't take note of Woods' mechanics by now would likely be naive. Throw in junior world silver medalist Andrew Berreyesa, U23 world teamer Carter Nielsen, plus the emergence of Chandler Rogers, and potholes do exist that one Mr. Woods will have to navigate if lightning is going to strike twice.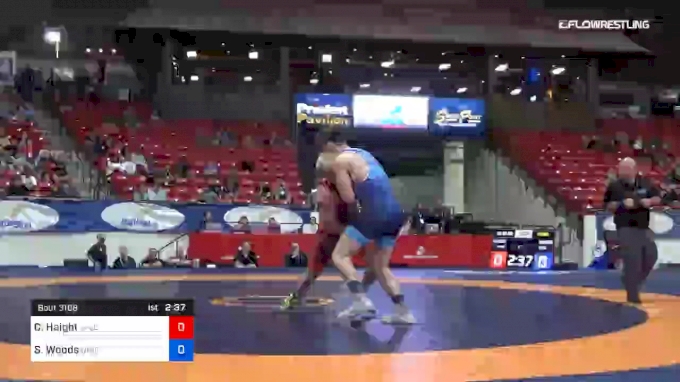 Unlock this video, live events, and more with a subscription!
Get Started
Already a subscriber? Log In
3) The Marines using fire superiority as a means of consistency.
The 2018 World Team Trials ended with four Marines earning national team honors: Xavier Johnson (63kg), Peyton Walsh (77kg), John Stefanowicz (82kg), and Daniel Miller (97kg). This year, they're already guaranteed one, since Ray Bunker (72kg) won the Open and awaits the Final X Series. Now look, it's obvious the four from 2018 are all still alive in terms of taking a step up and getting on the world team, as well as Jamel Johnson (67kg) who is also considered a prime contender. And all five might very well do just that. But it's worth it to take a second and acknowledge that just having this conversation means this is a program you can no longer speak of as full of "up-and-comers" or some such nonsense. This era of Marines has undoubtedly arrived.
2) If momentum is in fact not a myth, whoever comes out of 77 could be in good shape.
We go on and on about 87 kilos, and for good reason, it's stacked with guys holding serious domestic credentials. But 77 is just as inviting, with 2017 world teammates Patrick Smith and Mason Manville leading the charge. Smith has been in a groove thus far this season, and his Open final against champ Kamal Bey was one for the memory bank despite the controversial scoring. Manville is right there, he's just too good of a competitor; Corey Hope, who fell to both Smith and Manville last month, was rusty and still looked tough as nails; Walsh, Jesse Porter, and Air Force's Brandon Mueller all present problems in their own right. What it really comes down to is not who wins, but how, and how healthy they are afterwards. This thing is going to be a war of attrition. But to survive the gauntlet will mean something, and no doubt deliver a surge of confidence for the winner ahead of what is sure to be a much-anticipated showdown with Bey in Nebraska.
1) The returns of Jesse Thielke, Alex Sancho, and Robby Smith.
You can't come up with three bigger X-factors. 2016 Olympians Thielke and Smith have been on a combined eight senior world-level teams, and Sancho was on the inaugural U23 squad and is a three-time senior trials runner-up.
The circumstances surrounding the trio are as different as their styles.
We last saw Thielke at the Dave Schultz Memorial. The man many consider perhaps the most complete Greco athlete in the nation had originally planned on wrestling 63 kilos at Schultz, his usual weight, but jumped to 67 since 63 was a light bracket. He did OK, ultimately placing fourth. A minor injury then forced Thielke off the Pan Ams squad, but by all accounts he should be good to go in Raleigh where Travis Rice, Xavier Johnson, and Open runner-up Sammy Jones will be eagerly waiting.
The seeding order, however it turns out, is kind of besides the point here. One way or another, Thielke is expected by most to reach the challenge tournament final, though the triumvirate mentioned above are the furthest thing from mere stepping stones.
Sancho signed on with Army/WCAP in the fall as that program's latest big-time recruit and only finished basic training at Fort Leonard Wood less than two weeks ago. He literally just started practicing again. He'll also be up at 72 kilograms for this tournament.
Now you might say he hasn't had enough time to prepare and that he'll need to knock a lot of rust off quickly, and that would seem accurate. However, Sancho, a gifted natural scorer with old school intuition, is entering a bracket whose identity is in flux after Bunker's shocker last month over RaVaughn Perkins. It's a chaotic place to be. Sancho has had some good scuffles with Perkins in the past, and there are a few others here (like Michael Hooker and Lenny Merkin, who Sancho faced in 2017) capable of providing stiff tests. We don't see it often, high-level athletes coming off of hiatuses that don't include wrestling and are all of the sudden contending for world team spots. If anyone can pull it off, Sancho might be the guy.
The most interesting athlete to watch at the challenge tournament is probably Smith. The 32-year-old saw his five-year reign as heavyweight king end last June at the hands of eventual world silver medalist Adam Coon in bitter fashion. And then everything changed: the perception of this weight class, the narrative. Just everything. Smith left the Olympic Training Center fairly soon afterwards and now trains (and coaches) at Northwestern's Chicago RTC with 87-kilogram Final X entrant Joe Rau.
He insists the change has been good for him, and a bronze from Estonia in March should at least suggest he'll be sharp in Raleigh. If he's not, trouble is on the horizon. National champ Jacob Mitchell looked like a different cat in Vegas, and though Smith has yet to be put on his heels by Toby Erickson throughout their considerable time banging heads together, Erickson is going to show up with a point to prove after falling short last month. Health, the change in scenery, no longer seen as a World Team shoo-in, these are all new for Smith at this stage. The bottom line for him right now is that there are more questions related to his viability than answers, and you'd have to go back over half a decade since that has been the case.