Unlock this article, live events, and more with a subscription!
Get Started
Already a subscriber? Log In
Beat the Streets: Grapple at the Garden is just days away. For 364 days a year, Beat the Streets is a non-profit serving thousands of children in New York City. But on Monday, all eyes will be on the outstanding card they've put together for the 10th annual benefit.
Watch Beat the Streets 2019 Live on Flo
Monday May 6 | 6:00 PM Eastern
A five-time world and Olympic champ against an MMA champ. The world's #1 ranked wrestler from India taking on an American prodigy. An NCAA champ verse a world bronze medalist. Two of the greatest wrestlers in New Jersey history face off. Both women's matches feature world bronze against world bronze, plus the event features reigning world champs David Taylor and J'den Cox, as well as 2016 Olympic gold medalist Kyle Snyder.
As you can see, the list of credentials for the athletes competing is extensive, and the matchups are not only interesting, but ones we've never seen before. There are 13 bouts total, and below is the order in which they will be wrestled.
Beat the Streets Match Order
122lbs: Elleny Seda vs. Valentina Bailon
138lbs: JoJo Aragona (PA) vs. Adam Busiello (NY)
57kg: Nick Piccininni (Oklahoma State) vs. Jack Mueller (Virginia)
62kg: Mallory Velte (USA) vs. Linda Morais (Canada)
70kg: James Green (Nebraska WTC) vs. Anthony Ashnault (NJ RTC)
97kg: Kyle Snyder (Ohio RTC) vs. Nishan Randhawa (Canada)
125kg: Nick Gwiazdowski (Wolfpack WC) vs. Derek White (Cowboy RTC)
57kg: Becka Leathers (Tar Heel WC) vs. Diana Weicker (Canada)
61kg: Nick Suriano (Rutgers) vs. Joe Colon (Valley RTC)
86kg: David Taylor (Nittany Lion WC) vs. Drew Foster (Panther WC)
92kg: J'den Cox (Titan Mercury) vs. Patrick Brucki (Princeton)
65kg: Bajrang Punia (India) vs. Yianni Diakomihalis (Cornell)
79kg: Jordan Burroughs (Nebraska WTC) vs Ben Askren (UFC/AWA)
An excellent set of matches. Let's give each one some love. Each bout on the card will be contested in freestyle.
1) Elleny Seda vs Valentina Bailon
Starting us off will be two girls who are currently in Beat the Streets NYC program. At the recent Gotham City Girls event, both wrestled at 122, which is the weight they'll be wrestling on Monday. Seda, representing PSAL: MLK, was seeded fourth at Gotham and placed sixth. Bailon was seeded sixth and went 3-2, falling in the bloodround.
2) JoJo Aragona vs Adam Busiello
Although this match will be in freestyle, both of these guys are more known for their folkstyle accomplishments. Aragona went 42-0 for Pope John XXIII this year, finishing his career with his first New Jersey state title. The Rutgers commit ended the season as the nation's #1 ranked 138 pounder, and beat Gabe Tagg and Keegan O'Toole to win Who's #1 in October. Busiello won his fifth straight New York state title, and won six straight Super 32 titles between middle and high school. Their only prior meeting came in the 2015 Super 32 finals at 106lbs.
3) Nick Piccininni vs Jack Mueller
Both of these young men are two-time All-Americans, placing in the same brackets in the same years. Mueller was sixth in 2017 and runner-up this past year at 125, while Piccininni was fourth in 2017 and fifth in March. Yet somehow, their paths have never crossed. Mueller is more experienced in freestyle, having won multiple Fargo titles in high school and making the U23 world team last year. Piccininni just competed at the U.S. Open where he went 3-2.
WATCH BEAT THE STREETS LIVE MAY 6
4) Mallory Velte vs Linda Morais
Velte is sitting in Final X: Lincoln as a 62kg bronze medalist from last year's world championships in Budapest. Morais has represented Canada at three senior world championships, two University world championships, and twice at Junior world championships. She won gold at both University worlds, and a bronze in 2016 at the non-Olympic weight world championships. Both wrestled at the Grand Prix of Germany earlier this year but did not face each other.
5) James Green vs Anthony Ashnault
This will be the third straight year James Green has wrestled at Beat the Streets. The veteran is coming off a runner-up finish at the Open and also won a bronze at the Dan Kolov in March. The four-time All-American at Nebraska was a state champion in New Jersey, making this matchup great for local fans. Ashnault was the first four-time undefeated Jersey state champ, before going on to have the most accomplished career in Rutgeres history: 4x AA and 2019 national champ. Ashnault just won a Pan Am title in Argentina and is now looking to pick up the biggest win of his freestyle career.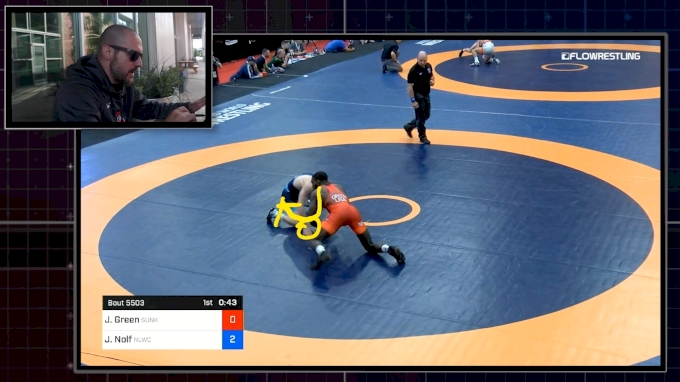 Unlock this video, live events, and more with a subscription!
Get Started
Already a subscriber? Log In
6) Kyle Snyder vs Nishan Randhawa
Snyder is making his fifth BTS appearance, and has won four straight after losing to Russian legend Khadjimurat Gatsalov while he was just a second year Junior. Last year's win over Reineris Salas Perez of Cuba was one of the most notable of his whole career, not just his BTS matches. He's not likely to break his winning streak against Randhawa, a 2016 and 2017 Junior Pan Am champ. Snyder will be wrestling in Final X: Lincoln on June 15 and this may be your final opportunity to watch him before then.
7) Nick Gwiazdowski vs Derek White
Like Green, Gwiz is also making his third straight appearance at Beat the Streets. His consecutive bronze medals have been an excellent start to his time on the world team and now he gets a chance against a guy he may have to beat at some point to make a world team in the future.
8) Becka Leathers vs Diana Weicker
Leathers was a late replacement for Sarah Hildebrandt, who suffered an injury at the Pan Am championships. Luckily, Weicker was fine with competing at 57kg, which is Leathers' scratch weight and the weight she won at the Open to earn her bid to Final X. Weicker has wrestled in the past two world championships for Canada, winning a bronze medal last year while moonlighting from her job as a registered nurse with two children, pretty impressive. Leathers will have the size advantage and is world class in her own right, winning a Junior bronze in 2015 and senior bronze in 2017.
9) Joe Colon vs Nick Suriano
It's been quite a year for Rutgers, having their first two national champs in the same season. Since their titles in Pittsburgh, Ashnault and Suriano have been to Mets and Devils games, receiving the grand tour around the greater NYC metro area due to champions. That also means the Rutgers and Jersey press corp will be out in full force covering what are perhaps the Scarlet Knights' two best student-athletes. Suriano hasn't wrestled freestyle since 2014, but his neutral game translates extremely well. However, Colon won a bronze medal last year and just knocked off the reigning world champ.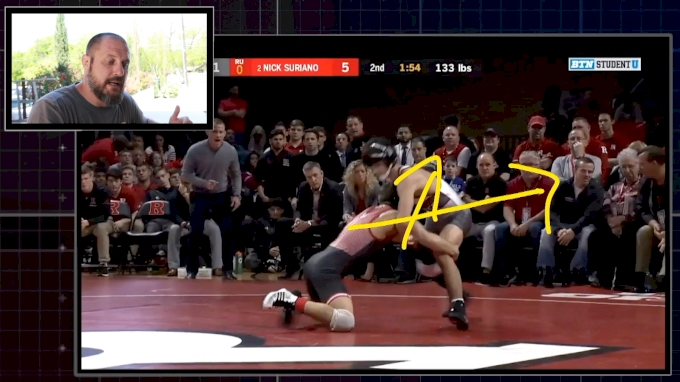 Unlock this video, live events, and more with a subscription!
Get Started
Already a subscriber? Log In
10) David Taylor vs Drew Foster
Aside from Jordan Burroughs, no one on this card has as many wins at Beat the Streets events as David Taylor. The defending world champ probably won't wrestle again until Final X: Rutgers and hasn't lost a match since the 2017 World Team Trials. Taylor should move to 5-0 all-time at BTS, but it will be great to see Foster there. A guy who never won a state title in Iowa, he became the face of Northern Iowa's program and their first NCAA champ since 2000.
11) J'den Cox vs Patrick Brucki
While all of these athletes make a point to embrace Beat the Streets mission, it is Cox who has beat the drum the loudest for the organization. It is his third appearance at the event, and the world champ seems to have embraced his role as an ambassador for the sport generally and BTS specifically. His move to the Olympic Training Center made him a role model and coach for the young athletes in the EAP, and he is ranked #1 in the world at 92kg by United World Wrestling. Brucki was a part of one of the best seasons in program history for Princeton and every time he gets to experience a big match like this it helps his goal of becoming Princeton's first national champ.
12) Yianni Diakomihalis vs Bajrang Punia
Yianni made an instagram post after winning the Open that summed up the doubt others had going in: "He's too young" "He's not strong enough" "He's not on that level yet" I'm here. I'm ready. Well, he'll now have to prove he's ready to take on a silver medalist currently ranked #1 in the world. Although this is an exhibition, neither will be treating it like one. Yianni is out to send a message and take the next step toward his ultimate goal of being a world and Olympic champion.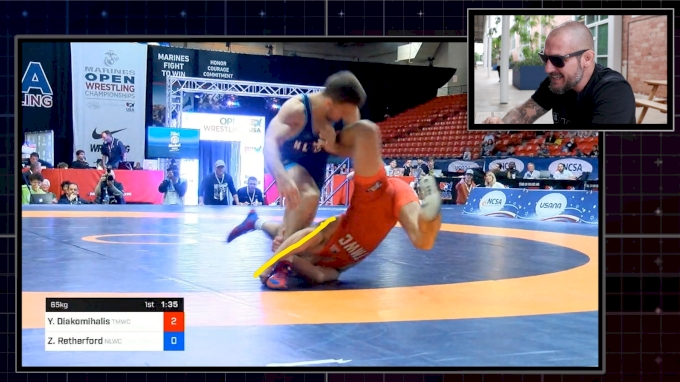 Unlock this video, live events, and more with a subscription!
Get Started
Already a subscriber? Log In
I laid out some of the pertinent facts about Bajrang here, but just know that he's made the finals of 11 of his past 12 tournaments, including eight titles. That includes golds at the Dan Kolov ranking series event, the Asian championships, and just yesterday at the Ali Aliyev in Russia. The guy has been wrestling everywhere, blossoming into a massive star in what is now a wrestling mad country in India.
13) Jordan Burroughs vs Ben Askren
Finishing us off will be one of the biggest matches in the history of the sport. While Ben Askren is long past his wrestling competing days, he is actively in pursuit of a UFC belt. One of the big questions in retrospect when looking back at Burroughs career is what would have happened had Askren continued wrestling through the London Olympics in 2012. While we'll never know that for sure, we still get this.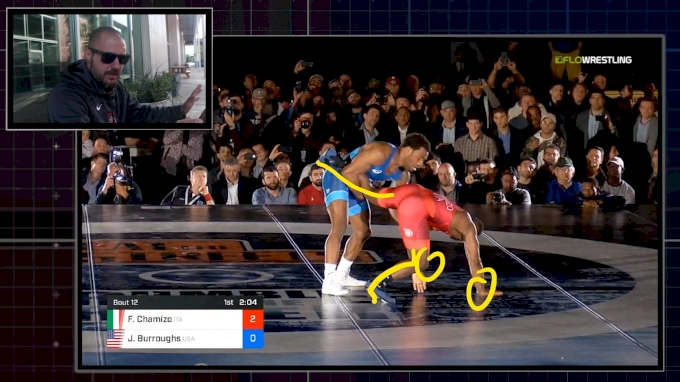 Unlock this video, live events, and more with a subscription!
Get Started
Already a subscriber? Log In
Burroughs has an "Undertaker at WrestleMania" like-streak going at Beat the Streets, with a 9-0 record in the past eight years (wrestling twice in 2013 when the sport was trying to fight its way back into the Olympics). The four-time world champ and 2012 Olympic gold medalist has knocked off four Russians, a Cuban, an Iranian, a world silver medalist from Japan, and last year defeated Frank Chamizo in what would set up an incredible trilogy that would end in the bronze medal match in Budapest.
Since making the 2008 Olympic team, Ben Askren has wrestled sparingly, but has amassed a 19-0 record in MMA and dabbled in jiu jitsu. He's one of the most polarizing athletes in mixed martial arts, and will likely finish out his career in the UFC. The MMA crowd has long been fascinated with wrestlers, in particular guys like Kyle Snyder and Jordan Burroughs. This Monday, the Askren/Burroughs match should introduce UFC fans to one of the best American wrestlers of all-time.