Unlock this article, live events, and more with a subscription!
Get Started
Already a subscriber? Log In
Daton Fix secured his spot in Final X: Lincoln with his U.S. Open title over Thomas Gilman. It was the expected final, but this year's NCAA runner-up made several adjustments from their matches last year that we're going to dive into below.
First, in case you forgot, the three-time All-American at Iowa beat Fix in two matches at last year's Final X: Lincoln by scores of 6-3 and 2-1. The classic matchup of Cowboy vs Hawkeye proved to be a hard fought, low scoring affair.
Very simply, each match will be broken down into period and any major flurry or engagement will be shown from the time it started to the time it ended. This helps us identify crucial positions, as well as allows us to track conversion time, a rough stat that I define as time of start of move to time of finish, especially when it results in points.
Here are a few things to keep in mind as you read the breakdowns:
The amount of times Daton level changes/jab steps last year
How effective Gilman's underhook and over/under is
Daton's feet position change year-over-year
Daton's use of grounding on the edge
Both man's ability to get to the other's legs
The scoring breakdown for Final X was a crotch lock and two shot clock points for Fix, while Gilman scored two takedowns, three stepouts, and a shot clock point. At the Open, Daton tallied two stepouts, an exposure, and a takedown. Gilman's points in Vegas all came in the second period and included a stepout, takedown, and point for Fix losing a challenge.
I'm not sure if we can solely blame tactics and coaching for any loss or win, as the wrestlers had to execute, but as you watch the matches and see how much within the margins they are, the adjustments made match-to-match play a huge role. In particular Daton's edge positioning and ability to not get tied up this past weekend, which I am in part attributing to the redshirt freshman looking physically stronger than he was a year ago.
On to the breakdowns, though I must also recommend Mike Mal's tech notes from last year and telestration from this year for further analysis of how these matches could have played out.
Final X Match 1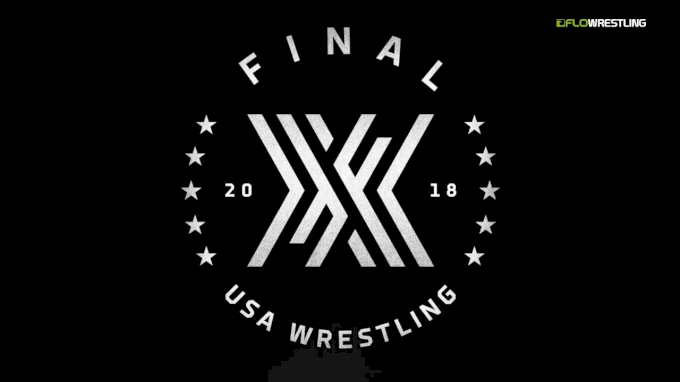 Unlock this video, live events, and more with a subscription!
Get Started
Already a subscriber? Log In
First Period
2:17 Passive against Gilman
1:44 Passive against Daton
1:16 Gilman goes on the clock
0:29 Gilman shot immediately converted
0:17 Daton crotch lock for two
Prior to the passive against Gilman, Daton jab stepped and/or level changed over 10 times and continued to try to go lefty club into righty underhook. After the whistle, Fix continued with four more jab steps and the same club/underhook combo. The jab steps declined slightly but overall it was at least 17 level changes and seven club/underhook attempts by Fix to get the Iowa grad on the shot clock. Gilman gave up the point, still not shooting yet, though he did have several hard snaps. Then, after seeing Daton circle right most of the match, Gilman shot when Fix crosed his feet, turning a single into a backleg double and getting two in a little over a second. However, one of Daton's greatest strengths is his scrambling and he scored off a crotch lock to take the lead heading into the break. It was the only time he was on top at Final X, and Gilman negated another of Fix's strengths: his trap arm and gut wrench.
Second Period
2:35 - 2:24 Daton in zone, Gilman body lock, to Fix grounded
2:06 Daton shot
2:03 Daton put on the clock
2:00 Fix swing single attempt
1:11 Daton shot, fought off quickly
0:49 - 0:33 Daton double from space, pulled into over/under
0:23 - 0:09 Daton shot on Gilman's right leg, into over/under and failed cartwheel attempt
A position that will come into play a lot at the Open is one of the few times Daton successfully fended off Gilman's body lock over their first two matches. After being pushed to the zone, he goes into a seatbelt position and grounds himself to not give up any points. At the 2:06 mark, Daton fired off his first shot but could not get his hands locked, after which time he was put on the shot clock.
Fix tried his second shot of the match after being put on the clock, but again did not threaten and had to fight out of a Gilman underhook. Near the end of the shot clock it looked like Daton wanted his inside trip, but Gilman had his head on Fix's left shoulder. That specific head position is very important and you will see it nearly any time Gilman is in over/under of fending off Fix's advances. That exact position is how he took a 4-3 lead after pulling Daton off a double from space, and then forcing a stepout. Gilman closed out the match by fighting off a leg attack, pulling Daton into over/under and then the Cowboy got desperate, digging an overhook and trying to cartwheel from a whizzer position. Gilman caught this and drove him to the mat for the icing takedown.
Final X Match 2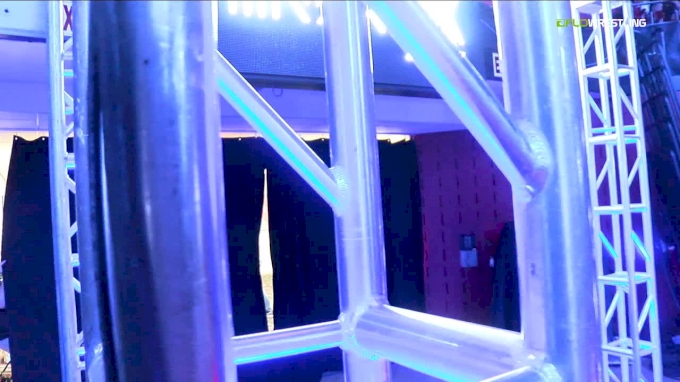 First Period
2:56 - 2:53 Fix shot on Gilman's left leg (Gilman squared up by 2:53)
2:54 - 2:36 Gilman has Fix in front head position
2:29 - 2:26 Fix shot from space on Gilman's left leg (sprawl to over/under position)
2:04 Passive on Gilman from over/under (not on left shoulder)*
1:53 - 1:34 Gilman collar tie, into lefty underhook, uses to catch Daton's leg even after he tries to circle out, whizzer crawls toward edge and stepout
1:34 Fix shot off the whistle, over/under on left shoulder until 0:58
0:33 Fix shot from space pulled into left should over under until 0:05
This period was defined by Gilman stopping Fix's attacks and pulling him up into an over/under position. I would compare Gilman tying Fix up, which he does for as long as 36 seconds at one point, to a boxer using a clinch to limit the striking ability of his opponent. All of Fix's shots in this period were from space, while Gilman's only shot came off an underhook. Gilman did not finish the takedown in that instance as Fix got into a seatbelt-whizzer position, which as we will see later was a crucial position in their Open final.
Second Period
2:53 - 2:13 Gilman shot on Fix's right leg, extended, fought off crotch lock
2:06 - 2:04 Fix switches legs on lefty hi-c, Gilman breaks lock, over/under left shoulder
drives Daton out at 1:55, clock runs to 1:53
1:25 - Daton right handed boot scoot attempt
1:11 - Daton double from space, Gilman goes on clock at 1:08
0:42 - Daton shot on Gilman's right leg, into front head, relinquishes at 0:26
0:23 - Daton shot on Gilman's right leg, sprawl
Gilman shot early on in this period, and was threatened by Daton's crotch lock which as we mentioned above he scored on in match one. But it ended up killing a ton of time and he did not give up any points, which is a neutral or win in terms of situational wrestling. A few seconds later, Daton tried firing off a lefty hi-c but scissor kicked his feet, giving Gilman time to catch the shot and eventually drove him out of bounds. After a couple more shot attempts, Gilman went on the clock, which Fix smartly timed a shot right as the shot clock was expiring. However, much like in the first period, Gilman dominated the over/under and front head positions to kill the clock.
US Open Final
Unlock this video, live events, and more with a subscription!
Get Started
Already a subscriber? Log In
First Period
2:38 - 2:04 Gilman knee pull single to right leg no score
1:41 - Passive against Fix
1:39 - 1:31 Fix lefty hi-c stepout
1:20 - 1:08 Gilman digs underhook, Daton grounds himself in seatbelt
0:45 - 0:38 Fix swing single stepout
0:36 - 0:21 Gilman knee pull stalemate
The early shot Gilman took was different than the one in the second Final X match where he got caught under. That looked like a double from space where he grabbed right leg, this was a knee pull to Daton's left leg, which Daton wound up scrambling out of but he was in far more danger than the shot above. The most impressive part was balancing on his head when Gilman tried to expose him. Right after that really changed the dynamics of this matchup as, for the first time, Daton got his hands locked on a shot and drove Gilman out of bounds.
Then again the improved tactics from Fix fighting off the underhook to bodylock by Gilman, grounding himself and preventing a stepout, which he was only able to successfully do once per Final X match. Again Daton got in, this time as Gilman was driving him towards the zone. He got his hands locked and quickly finishing a stepout, with a conversion time of about 7 seconds in his two first period scores; that's an elite number. A kneepull by Gilman to Daton's left leg ended up similar to the Final X situation, with Gilman extended under and not wanting to give up crotch lock. Overall, Fix did a much better job that period hand fighting and collar tying while not letting Gilman get to his underhook.
Second Period
2:44 - 2:26 Gilman starts digging underhook and drives to edge to get bodylock, Fix goes seatbelt
2:20 - 2:06 Gilman double unders drops to leg blown dead on edge
2:04 - 1:51 Fix shot to Gilman re-attack stepout
1:38 - 1:23 Gilman driving underhook, whizzer to mat, Fix roll through after boot thrown in
1:22 - 1:02 Gilman single to OOB (challenged and won)
0:31 - 0:27 Fix elbow control to bodylock takedown
Daton feigned a shot attempt early. Again, Gilman tried digging an underhook and eventually got to his bodylock that he loves but Fix successfully grounded himself a second time in the seatbelt position. Gilman went right back to underhook, this time lefty to double unders to bodylock. This was perhaps the most controversial of Fix's grounded attempts as it got blown dead pretty quickly when Gilman was in on a leg, but I believe it was because Daton's head hit out. A similar start to Gilman's Final X stepout happened next, but this time Gilman got to a leg off a re-attack instead of getting to his body lock.
The most crucial exchange of the match happened next as Gilman got an underhook, drove his feet like a lineman hitting the sled. For the first time he recognized Fix would ground himself and threw the boot over in the seatbelt position. Had Fix not rolled through immediately, I believe they may have went takedown Gilman there, and could have understood them going two and two. Immediately after he went to the left leg knee pull and looked like Gilman of old, Matt McDonough-esque after getting extended but fighting up to his knees and getting locked in Fix's crotch. Daton got to a quadpod and they went out, the two was called. Whether his leg was down or not, it was an interesting challenge from the Oklahoma State corner as it put them behind.
It looked like Gilman had control of the match when Fix shot with 54 seconds left and was pulled into front head. Though Daton fought out of it, Gilman got back to his underhook at 34 seconds. However, and again huge adjustment here, the Cowboy went classic OSU elbow control, got Gilman out of position and quickly finished a bodylock of his own. After not getting his hands locked basically at all in Final X, Daton had smart, quick finishes in the Open final.