Unlock this article, live events, and more with a subscription!
Get Started
Already a subscriber? Log In
Tim Hands of 5 Point Move recaps the senior Greco-Roman divisions of the 2019 U.S. Open.
When most in the greater wrestling community think of the US Open, their minds tend to drum up visions of grandeur. The prestige and spectacle associated with the tournament, both equally inviting attractions for the wandering eye, might even top the much-more-important World Team Trials. For although World and Olympic Team selection takes priority, it is the Open that does more to bend the imagination, thanks in large part to the greater number of participants.
You can ruminate about matchups, debate how or why the results from the Nationals mean more for one athlete over another, and perhaps best of all, wind up discovering a few diamonds in the rough who demonstrate immense potential to eventually climb the domestic ladder.
There is, to be sure, a lot to love about the Open, in all styles. But for Greco, at least occasionally in recent years, it had arrived on the calendar carrying begrudged significance. The most elite competitors signed up just as much for the prize money as they did the actual matches. That's not a knock -- the lion's share of full-time athletes are anything but wealthy, with most struggling just to get by in between events. But with Greco in the US existing as its very own subculture where the same guys run up against each other several times a year, the Open just didn't offer much in the way of an incentive, aside from the padding of resumes.
It's not that winning or doing well ceased to mean anything. Inside all of these guys is still a teenager who wants nothing more than the right to hold a stop sign above their heads.
Thing is, the elite know damn well that the fights they enter on the domestic circuit are at best a dress rehearsal for what happens internationally, so they sometimes don't find it easy to interrupt their seasons in the midst of training to make a World Team.
What Greco needed -- and what it had some years back -- was a bigger carrot to chase. It could no longer just be about a little money for the winners and Trials qualification/seeding for everyone else. We'd all be living on borrowed time if that were the case. In order for this style to catch eyeballs at what is a crucial moment in time, the involvement of its highest-profile wrestlers is absolutely required.
And one way to secure their most impassioned participation was by raising the stakes.
Starting last year, US Open champs received byes to the best-of-three World Team Trials finals, which for Greco-Roman in 2019 comes in the shape of the Final X Series. Make no mistake, without that stipulation thrown into the mix, plenty of familiar faces might have stayed home -- especially with the prize money for champions cut in half.
So instead of brackets that betrayed any semblance of sparsity, what you got was virtually every major player in the country, which is what the Open is always supposed to offer.
What had on and off been met with reluctance is once again greeted with enthusiasm, and it showed in 2015, '18, and again this year. Every match in every round mattered, regardless if we're talking about G'Angelo Hancock (Sunkist, and who was named Outstanding Wrestler) or a newbie scratching and clawing to make top-7. The intensity, the bad blood following hard exchanges, the magnificent throws -- they were all on display and cheered to the high heavens.
We'd all be fooling ourselves in believing that Greco can get away with failing to put its best foot forward on these shores, even for just one event. All of its power and all of its names have to show up right now, or risk losing opportunities to gain continued traction. The 2019 US Greco Open did what many of us hoped it would. It demonstrated the strength of our nation's program and entertained those who were willing to watch.
2019 US Greco Open - Five Main Takeaways
1) The story is Kendrick.
And his stablemate Spencer Woods, but only one of them is locked into the Final X. Kendrick Sanders', through most of his Senior career, has always been one of the most talented athletes in the country, but in recent years we've only seen glimpses of that ability. Or passion. 82 kilograms fits him like a glove at this stage, and if he's on his game, no one else who he might face can do what he does on the regular. That's an exciting proposition for his crew in Marquette.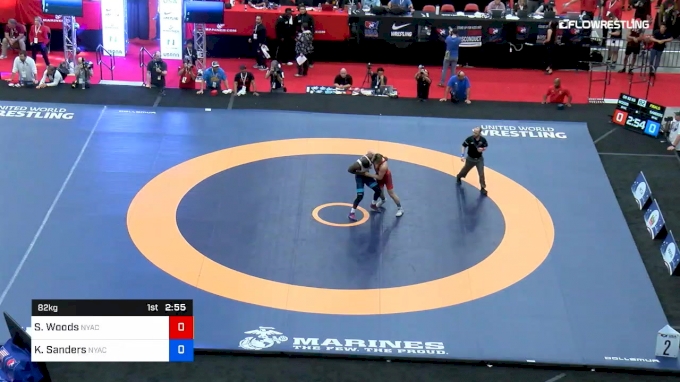 Unlock this video, live events, and more with a subscription!
Get Started
Already a subscriber? Log In
2) Singlet grabs or not, confusing scoring or not, Pat Smith is a threat to Kamal Bey.
Both athletes will learn from their finals match, and obviously Smith has his work cut out for him just to have another shot. But if they should meet again in a best-of-three, it's hard to see the pendulum swinging too far in one direction or the other. Smith comes on stronger late, and that makes his pressure-based style even more effective for suffocating explosive types. Bey is going to score against anyone, though Smith minimized the damage better than most have. The biggest upside in a potential rematch is that no matter who wins, prior Worlds experience is guaranteed.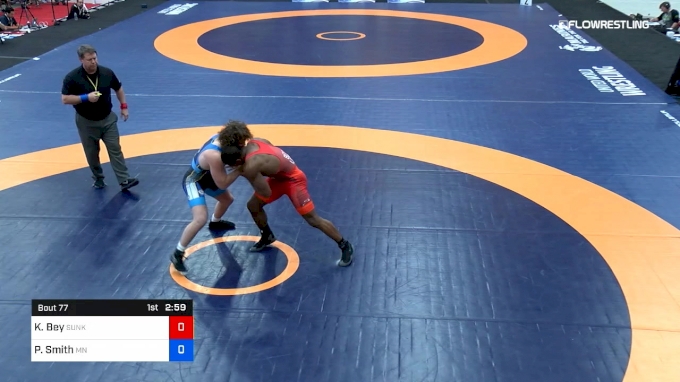 Create a free account to unlock this video!
Get Started
Already a subscriber? Log In
3) Ray Bunker's win over RaVaughn Perkins was not a fluke.
Just consider: Bunker won NYAC last year, Schultz this year, won February's Armed Forces, and owns a respectable overseas resume by now. The decision over Perkins was rightfully positioned as an upset given their histories and time in the sport, but it also isn't like Bunker just came out of nowhere and got lucky. A lot of insanely hard work went into what you saw, and it's doubtful things are going to slow down before June.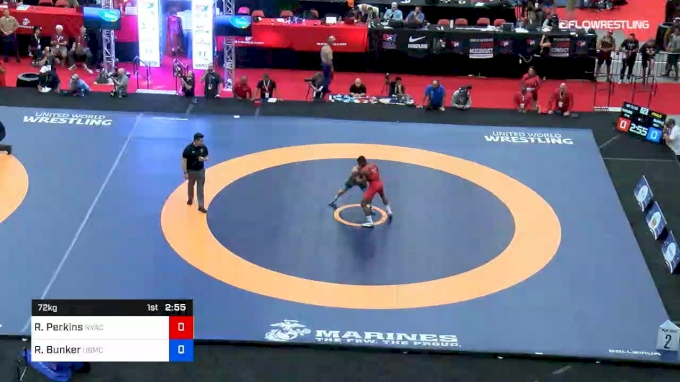 Unlock this video, live events, and more with a subscription!
Get Started
Already a subscriber? Log In
4) 60 kilograms is a hot mess.
But in a good way. Mike Fuenffinger's first Open title confirms what most already understood, which is that the top three (or four, or five) guys in this weight class can all beat each other with each match offering up enough uniqueness to completely dismiss the result before it. The one thing everyone is now assured of is that the Trials tournament at 60 will feature the past two Senior World Team members and plenty of problems for them to potentially handle en-route to the finals, should they advance. As for Fuenffinger, he's had all the tools for awhile and it was impressive to watch him put them together after falling just short a year ago.
5) The Hancock train keeps humming along the rails.
It's not that he went unscored upon with each win being earned via first-period tech why Hancock deserved to be named OW, it's that he operated with the kind of confidence that only comes when an athlete knows something the rest don't. Hancock didn't waste motion or rush to extend himself in any of his matches because he has gained enough experience to let certain positions arrive organically. In a sport where scores are often forced, that is a mighty huge edge to have. Both Luke Sheridan and Daniel Miller, the '18 Open champ, should still be seen as worthy opposition, unquestionably. However, the ground they have to make up appears more considerable than originally thought going by how efficiently Hancock performed.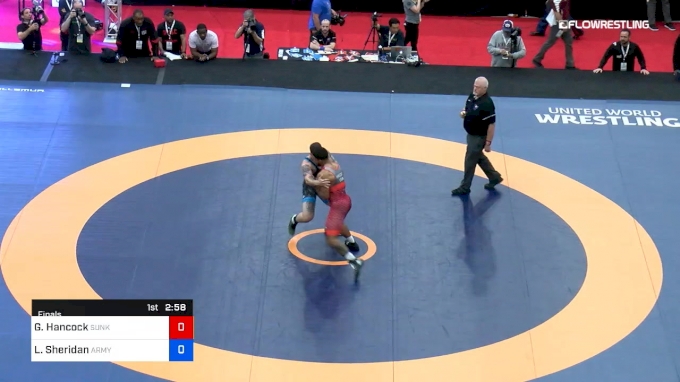 Unlock this video, live events, and more with a subscription!
Get Started
Already a subscriber? Log In
Quickly…
Daniel Dennis, come back! - It was great to see the former Hawkeye and 2016 Olympian give Senior Greco a try. Though his first go-round didn't yield a win, the fact that Dennis even tried provided the 2019 US Greco Open an extra buzz that can't be discounted. We'd like to see more of him, and more crossovers, period.

Speaking of crossovers, Jarod Verkleeren of Penn State took fifth and looked really good doing so. The 2015 freestyle Cadet World Champion has a good support structure in State College with the likes of Mason Manville and Ben Provisor, so expect to see an even better version of Verkleeren in May.

One more to go - The Last Chance Qualifier for the World Team Trials is next weekend at East Stroudsburg University. Due to some of the chaos that took place in Vegas, a few recognizable names might be showing up so they can book their flights to North Carolina.