2019 US Open Wrestling Championships
Complete 2019 U.S. Open Schedule
Complete 2019 U.S. Open Schedule
Check out when and what time all of the action is going down at the 2019 U.S. Open.
Apr 22, 2019
by Kyle Bratke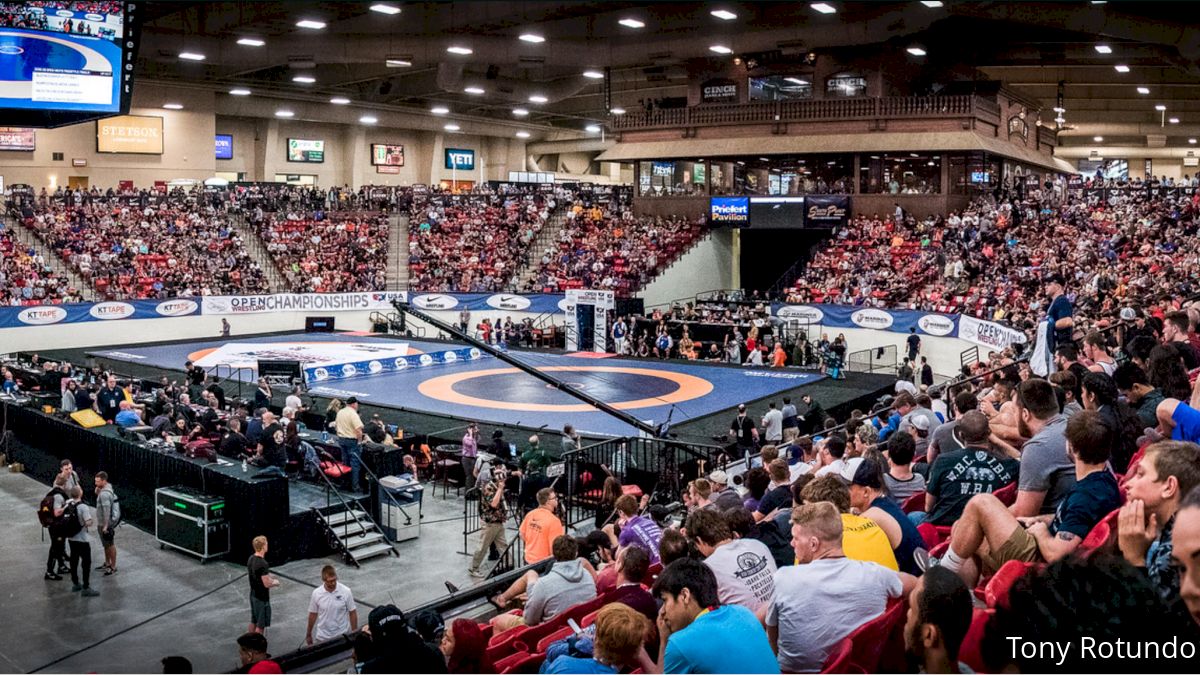 U.S. Open week is finally here! With so many events going on this week in the same building, it's important to know what is happening and when. We've got you covered!
NOTE: All times shown below are Pacific.
WATCH THE U.S. OPEN LIVE APRIL 24-28
Wednesday, April 24
9:00 AM – 1:00 PM: Masters Freestyle Session 1
2:00 PM – 5:00 PM: Masters Freestyle Session 2
Thursday, April 25
9:00 AM – 1:00 PM: UWW Junior's Greco-Roman Preliminaries, Quarterfinals, Semifinals, Consolations Rounds 1-4
9:00 AM – 1:00 PM: Senior Men's Greco-Roman Preliminaries & Quarterfinals
9:00 AM – 1:00 PM Senior Women's Freestyle Preliminaries, Quarterfinals
3:00 PM – 5:30 PM: UWW Junior's Greco-Roman Consolation Semifinals, 3rd and 5th place matches, and best 2 out of 3 WTT finals (rounds 1, 2 and 3 if needed)
3:00 PM – 9:00 PM: Masters Greco Roman Session 1
6:00 PM – 9:00 PM: Senior Men's Greco-Roman Semifinals, Consolation Rds 1-4
6:00 PM- 9:00 PM: Senior Women's Freestyle Semifinals &Consolation Rds 1-4
Friday, April 26
9:00 AM- 11:00 AM: Senior Men's Greco-Roman Consolation Semifinals, 3rd 5th 7th place matches
9:00 AM- 11:00 AM: Senior Women's Freestyle Consolation Semifinals, 3rd 5th 7th place matches
9:00 AM – 1:00 PM: Senior Men's Freestyle Preliminaries, Quarterfinals, Consolation Rds 1-3
3:00 PM –8:30 PM: UWW Junior's Freestyle Preliminaries & Consolation
3:00 PM – 6:30 PM: Senior Men's Freestyle Consolation Rds 4-5
5:00 PM – 6:30 PM: Senior Men's Freestyle Semifinals
7:00 PM – 9:00 PM: Senior Men's Greco-Roman Finals
7:00 PM – 9:00 PM: Senior Women's Freestyle Finals
Saturday, April 27
9:00 AM – 1:00 PM: UWW Junior's Freestyle Quarterfinals & Consolation
9:00 AM - 1:00 PM: Senior Men's Freestyle Consolation Rd 6, Consolation Semifinals, 3rd, 5th 7th place matches
2:00 PM – 4:30 PM Senior Men's Freestyle Finals
5:00 PM - 8:00 PM: UWW Junior Freestyle Consolation Semifinals, Semifinals, 3rd 5th 7th place and Finals matches