2019 Hodge Trophy Finalists Announced
2019 Hodge Trophy Finalists Announced
The four finalists for the 2019 Hodge Trophy were announced by WIN Magazine.
Mar 25, 2019
by Andrew Spey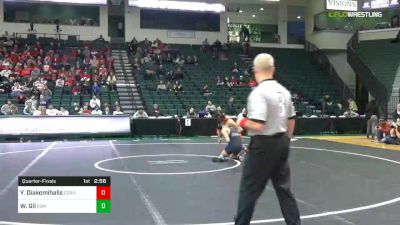 WIN Magazine just announced the four finalists for the 2019 Hodge Trophy, the most prestigious individual postseason award in college wrestling. The following wrestlers are all still eligible to win the coveted Hodge:
Bo Nickal (Penn State)
Jason Nolf (Penn State)
Yianni Diakomihalis (Cornell)
Anthony Ashnault (Rutgers)
The official Hodge criteria are as follows:
A wrestlers record
Number of pins
Dominance on the mat
Past credentials
Quality of competition
Sportsmanship/Citizenship
Heart
All four finalists are undefeated national champions. The criteria explicitly emphasize pins and dominance, so voters will have to decide which resume is more impressive.
Nolf and Nickal would appear to hold the advantage in that regard, as Nolf has 15 pins and 26 bonus wins in 31 matches (for an 87% bonus rate), while Nickal has 18 pins and 27 bonus wins in 30 matches (a 90% bonus rate).
Our own Daniel Lobdell broke down the Hodge race as it stood before the NCAA tournament and pretty much nailed the finalists, as the top four on his leader board that also won NCAA titles are all represented in the official finalist field.
The Hodge has been awarded since 1995. A list of past winners can be found here. Fans can vote for their pick to win here.