2019 Big Ten Wrestling Championship
Big Ten Championship Match Notes: Semifinals
Big Ten Championship Match Notes: Semifinals
Match Notes of the semifinals of the 2019 Big Ten Wrestling Championship from Minneapolis.
Mar 9, 2019
by Andrew Spey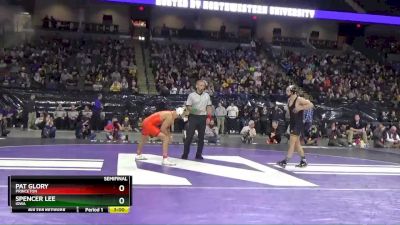 Unlock this article, live events, and more with a subscription!
Get Started
Already a subscriber? Log In
We're back in the Williams Arena for session II, which will feature some truly spectacular semifinal matchups.
Watch Big Tens LIVE on FloWrestling
They will wrestle a round of consolation matches before rolling right into the semifinals. We're a little less than half an hour away from that first whistle of the session and the arena is already close to half full. There is some serious energy in the concourse. The tournament attendees have been tremendous and the evening session should be even better than the outstanding morning round.
125 #1 Sebastian Rivera (Northwestern) vs #11 Rayvon Foley (Michigan State)
The first semifinal to get going is Seabass and Foley. Rivera on a low ankle shot and converts for 2. Rivera cuts Foley and takes him down again to increase his lead to 3. Another escape makes it 4-2, still in Rivera's favor. Pressure from River and then a shot gets Foley dinged for stalling. He does defend Rivera's attack though. Rivera takes a 4-2 lead into the second. Foley wins the coin flip and takes bottom.
Foley escapes but Rivera gets right back in on a leg and takes Foley down, running the score to 6-3. 6-4 now with the escape. Just a two-point match but it's been all Rivera. Single leg up in the air with a back trip finish makes it 8-4. Rivera has over 2 minutes of riding time as we go to the third, same score. Rivera will start down.
Rivera stands and is out. He holds a 5 point lead, RT close to being locked up. Another takedown and then Foley gets to his feet, or one foot, and instead of finishing on the mat Rivera shows off a mean streak and shoves Foley out of bounds and on the mat. More TDs and escapes and its a 14-6 major for Rivera. Northwestern will have a finalist tomorrow.
125 #6 Sean Russell (Minnesota) vs #3 Spencer Lee (Iowa)
Our second semifinal gets underway. Lee on a single, Russell close to out of bounds. Lee drags him back toward the center and picks up the second leg for an early takedown and 2-0 lead. Lee keeping Russell down, RT over a minute. Russell spent most of the period on his stomach. Lee can't get a turn but he has over 2 minutes of riding time. Lee will be underneath to start the second.
Russell trying to give Lee a taste of his own medicine on top. Riding tough for 30 seconds now. Lee up to his feet but Russell drops to a leg and runs them out of bounds. No change in position. Now Lee earns the escape. Tack on stall point to make it 4-0 and we'll go to the third, which will start in neutral. Shot form Russell but Lee counters with a reattack and finishes cleanly to make it 6-0. Riding time approaching the point of no return. Another stall call makes it 7-0 just as RT gets locked up. Lee rides out the period and will advance with a major decision over Russell. He's going to get an opportunity for revenge against Rivera in the finals.
133 #1 Stevan Micic (Michigan) vs #10 Luke Pletcher (Ohio State)
With his qualifying bid secured, Micic will default out of the semis. Pletcher advances to the finals.
133 #4 Nick Suriano (Rutgers) vs #3 Austin DeSanto (Iowa)
These two balls of energy finally get their match going. The electricity is palpable. A poke in the eye makes for an ealy stoppage as DeSanto looks for his contact lens. Suriano gives a dismissive wave of his hand. Suriano is in on a deep shot, DeSanto drapes over himself over Suriano's back. Suriano on his feet, DeSanto in an upside down backpack position, and it's stalemated. Suriano in on another shot, and this time he converts. He leads 2-0 with over a minute to go in the first. Suriano with a tough ride and DeSanto can't escape. He's got 1:20 of RT as we go to the second. Suriano chooses down leading 209.
Suriano is up and out in 3 seconds flat. Not a lot of action until 30 seconds left in the period and DeSanto fires off a straight ahead shot. Suriano sprawls and defends. Period ends with Suriano still ahead by 3.
Before the period can begin, DeSanto has to fix his headgear. After the equipment delay, DeSanto assumes the down position. DeSanto escapes but not before Suriano picks up a stall call. Now DeSanto is going into frenzy mode. A stall on Suriano makes it 3-2. Another stall ties it up in short time. But Suriano has RT locked up. Another shot by DeSanto but Suriano counters. Two is awarded to Suriano as time expires. And here come the extracurriculars. The coaches are getting involves, the wrestlers have to be separated. A challenge brick comes in from the Iowa bench. Even if no two is awarded the result would be the same. Cooler heads prevail and the two superstars shake hands without further incidencet. Suriano advances to the finals in as dramatic a fashion as they come.
141 Chad Red (Nebraska) vs #7 Kanen Storr (Michigan)
Micic's default puts Red and Storr on the mat before Suriano and DeSanto could get going. No scores after 90 seconds. Red draws first blood and leads 2-0 after a takedown. Red rides out the period.
Red escapes in about 20 seconds to make it 3-0 in the second. Red in on Storr's leg. Storr grabs Red's far ankle and earns a stalemate and fresh start. Snatch single for Storr but a strong 3/4 nelson from Red defends successfully. No more scores in the period and we go to the third, Red leading 3-0.
Storr underneath, has some ground to make up, but Red has been wrestling great so far this tournament. A time eating scramble leaves Storr with less than a minute to mount his comeback. Red has riding time over a minute. And Red takes it 4-1 and advances to the finals. Red is on a roll.
141 #3 Joey McKenna (Ohio State) vs #2 Nick Lee State (Penn State)
A rematch from a dual meet that Lee won. McKenna gets the first takedown. Lee escapes and gets close to scoring but McKenna defends and gets another takedown in short time to make it 4-1. McKenna escapes and is leading 5-1 deep in the second. Lee again in deep but McKenna too strong and he defends. Lee starts the third period underneath.
A sit out to a stand gives Lee a point and cuts the deficit to 3. RT not a factor. Less than a minute to go. Lee will need a couple scores to close the gap. A scramble chews up a ton of clock and Lee only has 15 seconds to work now. He goes upper body and McKenna bails to give up just the two but thats with about a second left on the clock and McKenna will get revenge and advance to the finals with a 5-4 victory.
149 Thomas Thorn Minnesota) vs #1 Anthony Ashnault (Rutgers)
Ashnault starts his match with Tommy Thorn right after his teammate Nick Suriano began his match with Austin DeSanto. Ashnault with the first takedown. Thorn is out in 25 seconds. Thorn now on a single leg, but he can't finish as the period ends. Ashnault leading 2-1.
Nifty back trip by Ashnault sends Thorn back to the mat and Anthony's RT over a minute. Ashnault with a punishing ride, he will get the full two minute ride out, though he did not turn Thorn.
The third period will begin in neutral. Ashnault lands a clutch takedown comes with a minute to go in regulation. Ashnault rides out the period for a dominating win. Rutgers will have at least one finalist as Suriano and DeSanto are still wrestling.
149 #2 Micah Jordan (Ohio State) vs #14 Brady Berge (Penn State)
I'll be honest, I missed a lot of this match in the Suriano DeSanto kerfluffle, but it's been all Jordan. Micah is winning 9-3 deep in the third, Berge has only escape points. It's 10-4 as time runs out. But not before Jordan gets another takedown. An RT points makes it a dominant 13-4 victory and the Buckeyes have a Big Ten finalist.
157 #2 Tyler Berger (Nebraska) vs #10 Steve Bleise (Minnesota)
Berger with the first takedown to gain an early 2 point lead. Bleise escapes to make it 2-1. No scores the rest of the period. Bleise escapes early in the second to tie the score. Bleise shoots on Berger and draws a stall warning, Berger's first, but no points. Berger comes up with a clutch takedown in the second on the boundary with 16 seconds on the clock. Now the refs are going to review it to make sure. And the points come off the board. It's back to being a 2-2 match, Bleise now in the top position? Not sure why, maybe Bleise took injury time. Anyway, Berger escapes on the restart and it's 3-2.
Third period begins and Berger is on bottom. He escapes and then gets a take down with a minute left to take a commanding 6-2 lead. Bleise escsapes but only has 10 seconds to mount a comeback. He cannot, and Berger advances to the finals. The Husker fans will have another wrestler to cheer for tomorrow afternoon.
157 #5 Alec Pantaleo (Michigan) vs #1 Jason Nolf (Penn State)
Nolf takes the first shot of any consequence but Pantaleo defends. Nolf converts on his next serious attempt and has Pantaleo flat on his belly. Pantaleo sits, reaches back and turns to face Nolf for one after 1:15 of riding time is amassed by Nolf. 2-1 is how the period ends.
Nolf doing Nolf things, and by that I mean scoring points. Also gets a stall point from Pantaleo while he was on bottom. It's 6-1, Nolf has over 2 minutes of RT. We begin the third in neutral. Neutral is how the period will end. With the riding time point is still just a 7-1 victory, so Nolf is denied bonus points for just the third time this season.
165 #1 Vincenzo Joseph (Penn State) vs #7 Logan Massa (Michigan)
One of two fire 165-pound semis gets underway. Cenzo strikes first and it's now 2-1 after a Massa escape. No more scores in the first and we go to the second, Massa on bottom. Logan escapes to tie the score and has a hand on Cenzo's leg bu Joseph kicks out of danger. No scores from neutral so we go to the third.
Joseph's turn underneath. He escapes in short order to regain the lead, 3-2. Riding time not a factor. 60 seconds remaining in the match. Marinelli looking for an opening, but Cenzo shuts the door on him permanently. It's pancake to a pinfall for Joseph. More bonus points for Penn State as they have another finalist.
165 #2 Alex Marinelli (Iowa) vs #3 Evan Wick (Wisconsin)
Wick looks to get back to his winning ways over Marinelli. Wick beat the Bull twice at 2018 NCAAs but lost in their one meeting this season. Marinelli gets the first points off a takedown. Marinelli with a crucial rideout, denying Wick the escape and gaining 2:12 of RT. Marinelli did pick up a stall warning though.
Wick riding Marinelli tough. He works RT under a minute deep into the second period. Wick gets a two minute ride out of his own. We'll start the third in neutral. Marinelli leads 2-0, RT down to just 12 seconds. A stall call after a minute of wrestling on Marinelli gives Wick his first point and cut the lead in half. Wick attacking but no scores and no stall calls come, much to the dismay of the Wisconsin bench. Coach Bono is less than pleased as Marinelli takes the match 2-1 and the Hawkeyes get a finalist. Hawkeye fans cheer, most of the rest of the arena boos.
174 #1 Mark Hall (Penn State) vs #13 Devin Skatzka (Minnesota)
Scoreless after 90 seconds. Hall held scoreless by the underdog and we got to the second with donuts on the scoreboard. Hall chooses down and escapes in 7 seconds to take the lead. Hall gets in on a leg in short time and sends Skatzka crashing down with a back trip for the first offensive score of the match. Hall leads 3-0 and we go to the third.
Skatzka's turn on bottom. Hall riding tough, has riding time at 46 seconds when they go out of bounds with 1:24 on the clock. A reversal from Skatzka though has him right back in the match. Hall escapes and it's 4-2 Hall with about 30 seconds to go. RT not a factor. Hall's defense holds up, though, and the Nittany Lions have another finalist after the 4-2 victory.
174 #12 Dylan Lydy (Purdue) vs #4 Myles Amine (Michigan)
Lydy scores two on a lightening reattack. Amine is right out to make it 2-1. Amine on the attack now, has Lydy in danger, and after an extended scramble, finally collects his two. Lydy is out to knot the score at 3 with 90 seconds still to go in the first stanza. Action cools down and there are no more scores in the first.
Amine begins the second on bottom and escapes quickly to gain the slim 1-point lead. A clutch takedown from Amine in short time as the Wolverine begins to pull away. Lydy escapes though to make it a two-point match. RT not a factor and Lydy begins the third on bottom.
A third-period escape makes it a 1 point match. Lydy desperately looking for a way through Amine's defenses but he won't find one. Time runs out on Lydy and Amine is through to the finals.
184 #1 Myles Martin (Ohio State) vs #8 Emery Parker (Illinois)
MyMar has been lights out all season. Parker has a tall order ahead of him. Martin gets the first and second takedown, making it look far too easy against the stout Parker. Martin deciding to try and ride Parker. He's got 52 of RT with 1:42 on the clock. Parker escapes but Martin just teleports into a perfect double leg position and collects two more for a 6-2 lead.
It's 7-3 for Martin deep in the third. Parker has only been able to manage escape points. Martin will take the match and advances to the Big Ten finals. He'll have Shakur Rasheed.
184 #4 Taylor Venz (Nebraska) vs #7 Shakur Rasheed (Penn State)
Rasheed will have the toughest opponent's he's faced all season at 184. Venz attacks early but Rasheed counters and picks up the first takedown and points of the match. Venz escapes to chop the lead in half. Rasheed back in on a leg, Venz tries to cut the corner but Rasheed has the better positioning and emerges from the scramble with two more and a 4-1 lead. Venz escapes once again but not after Rasheed puts 1:20 on the riding time clock. We go to the second, still 4-2 Rasheed.
In the second Venz escapes, Rasheed now has 1:51 of RT and a 1 point lead. Rasheed gets a turn on bottom now in the third. Venz tries to muscle him over in a scramble but Rasheed won't go over, earning an escape and maintaining the riding time advantage. Venz in on a shot but Rasheed has been the superior scrambler and eats up some clock without getting in much danger before a stalemate is called. Another scramble, Venz locks up a cradle and two points, but Rasheed won't be turned and had riding time locked up. Rasheed will advance to the finals and stays undefeated. Rasheed gets a match with Myles Martin for his efforts.
197 #1 Bo Nickal (Penn State) vs #12 Eric Schultz (Nebraska)
Nickal strikes first and has a two nothing lead. Schultz escapes, the score is 2-1, still in the first. Another Nickal TD in short time gives the Penn Stater a 4-1 lead going into the second. Schultz starts on bottom. Schultz escapes to make it 4-2, halfway through the second. Nickal is denied a takedown due to the out of bound lines but won't be denied on his next attempt. It's 6-2 lead for Nickal. Bo will be on bottom to start the third. An escape runs the score to 7-2, RT all but locked up. Let's just say it is. RT locked up.
Some ferocious attacks from Schultz but Nickal defends and then, because he is Bo Nickal, counters and gets two of his own in short time. It's 9-2, now 10-2 for a major decision. Bo Nickal is back in the Big Ten finals.
197 #5 Jacob Warner (Iowa) vs #2 Kollin Moore (Ohio State)
Moore in on a shot but Warner scrambles out of danger. Scoreless after about two minutes. There was a challenge from the Iowa corner but I'm not sure about what. Regardless, nothing is overturned and it's 0-0 deep in the first. Moore starts on bottom in the second, it's still 0-0.
Moore escapes in the second after 26 seconds to hold a slim 1-0 lead. No more scores and we go to the third. Warner going underneath. Warner escapes to tie things up, but it's Moore who comes up clutch with the first takedown of the match. Warner escapes to draw within 1. Moore powers through, nearly whipping Warner over but Jacob gives up 2 and no nearfalls. That's how it ends, Kollin Moore is headed to the finals and another match with Bo Nickal.
Every semifinalist has already qualified for NCAAs except Warner and Schultz. With only 5 auto-bids up for grabs, both 197-pound semifinal losers will have to win at least one more match to punch their tickets to Pittsburgh.
285 #1 Gable Steveson (Minnesota) vs #6 Trent Hillger (Wisconsin)
Steveson beat Hillger 11-2 when they met earlier this season in a dual meet. Steveson gets a takedown early on for a 2-0 lead. Hillger escapes after 1:07 of riding time for Steveson. Gable starts the second on bottom leading 2-1. He escapes and takes Hillger down on the edge to make it 5-1. The officials will review that last takedown though. The call on the mat stands. Hillger escapes after the restart to make it 5-2. Steveson in the top position to start the third. Hillger escapes but Steveson takes himdown again. Another Hillger escape makes it 7-4, all the offense coming from Steveson. And the final will be 10-4 after another TD and the riding time point. Gable Steveson delights the hometown crowd and the 18 year old true freshman will wrestle tomorrow afternoon for a Big Ten title.
285 #8 Conan Jennings (Northwestern) vs #3 Anthony Cassar (Penn State)
The final match of the semifinals officially gets underway. Cassar was victorious 12-2 over Jennings when they met in a dual meet this season. Cassar gets a quick TD and then Jennings escapes. Cassar now leads 4-1 in the second. They're in neutral, but not for long. Another TD makes it 6-1 for Cassar. In the third Cassar has a 9-1 leads and Jennings is not showing much signs of life. About 30 seconds left in the match. 10-2 is how it ends. Cassar is the sixth finalist for the Nittany Lions. Incredible performance. Cassar and Steveson have never met. Tomorrow should be fun.
And that does it for the semifinals. Deep and profound thanks to all of you for following along. Apoligies for the typos. See you Sunday for the main event!