2019 Big 12 Wrestling Championship
Big 12 Lightweight Preview
Big 12 Lightweight Preview
The Big 12 Championships will be live from the BOK Center in Tulsa, OK. Watch as Oklahoma State goes for their 60th Big 12 title.
Mar 6, 2019
by Michael Malinconico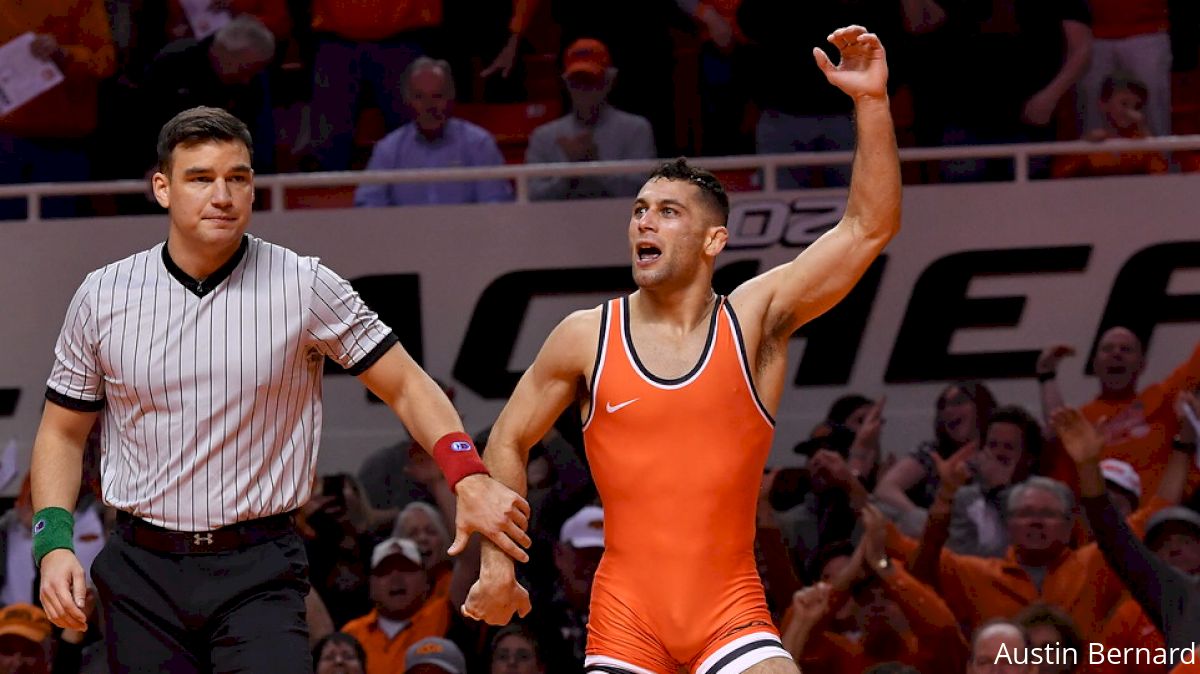 By: Oliver Astone
With conference week coming this weekend, March Matness is officially upon us. College wrestlers across the country will be competing for their spot at the big show in Pittsburgh. Oklahoma State, Northern Iowa, South Dakota State, Oklahoma, Iowa State, West Virginia, Wyoming, North Dakota State, Air Force, Northern Colorado, Utah Valley, and Fresno State will be fighting it out for their spots in the BOK Center in Tulsa Oklahoma, and streaming live for you guys at home this weekend.
125 Pounds
There are 6 allocations here in the Big 12 at 125. 6 is an interesting number for this weight because other then the top guy, I don't think much is certain. I wouldn't be shocked at any of the possible 2-7 outcomes, and one quality guy will be left hoping for a wild card.
Seeding
Nick Piccininni, Oklahoma State

Brent Fleetwood, North Dakota State

Jay Schwarm, Northern Iowa

Rico Montoya, Northern Colorado

Alex Mackall, Iowa State

Cole Verner, Wyoming

Christian Moody, Oklahoma

Sidney Flores, Air Force
Top Half
Nicky Picc is the clear front runner in the weight class. He's been undefeated all season long which I think a lot of people may have expected, but what no one expected was Picc crunching Spencer Lee up in a cradle and sticking him the way he did. If Lee didn't put an end to Nick Piccininni's hot streak I don't think the Big 12 field will either. Although Picc is the favorite in the tournament and especially the top half of the bracket, it'll be interesting to see who comes out of the 4/5 Quarters match up. Rico Montoya and Alex Mackall are slated for a rematch of when they met in the Scuffle Semi's, in which Montoya came out on top 4-0. It was 0-0 going into the third, where Montoya got the escape, takedown, and riding time point. Don't be shocked if Mackall is able to turn the tables and win the takedown battle and the match in this one though, it was closely contested on the feet at the Scuffle.
Bottom Half
The bottom half is a little more interesting and hard to predict then the top half. The number 2 seed, NDSU's Brent Fleetwood just got done with a close overtime victory over the Oklahoma Sooner, Christian Moody. And who does Fleetwood have in the 2/7 Quarters match up?… Christian Moody. Moody is the top guy without an allocation and if can turn the tides, he'll be in position to go and steal himself a bid to the big show. In the other Quarter-Final match up, we're slated to get 3 seed Jay Schwarm against 6 seed Cole Verner. These two haven't hit each other this season and have similar wins over common opponents. The two Quarter-Finals are toss-ups, but it's hard to go against the consistency of Fleetwood this year, his only 3 losses were to all-Americans so I'm picking him to beat Moody. I'm also picking him against whoever wins the Schwarm/Verner match-up, in which I think Verner has what it takes to get the upset here. If Verner does get the win, it'll set up a rematch against Fleetwood, in which Fleetwood squeaked by with a 6-5 decision.
Ollie's Picks.
1.Nick Piccininni. 2. Brent Fleetwood 3. Rico Montoya 4. Cole Verner
133 Pounds
There are 5 Allocations here at 133 pounds in the Big 12 but I don't see much drama coming from that angle. The top 3 guys are the real national threats and I don't see them not cracking the top 5. Where this bracket can have some heavier implications is if Daton wins, he may be putting himself in position to get the number 1 seed at nationals. But then again looking at how loaded 133 is, I don't know how helpful any seeding will be.
Seeding
Daton Fix, Oklahoma State

Austin Gomez, Iowa State

Montorie Bridges, Wyoming

Matt Schmitt, West Virginia

Cam Sykora, North Dakota State

Anthony Madrigal, Oklahoma

John Twomey, Air Force

Gary Joint, Fresno State
Top Half
Daton Fix doesn't look like he'll be getting tested until the Finals in this bracket. If the seeding holds Daton will be waiting for either Schmitt or Sykora who are meeting at the 4/5 match up. Matt Schmitt seems to have Cam Sykora's number, these three have met three times in college with Schmitt winning each time and each time Schmitt wins he pulls away a little bit more. The first match of theirs went into overtime and the last one was a 5 point decision. I think the trend will continue and Schmitt will punch into the semis to see Daton. Schmitt is tough but I don't think he's tough enough to really bring any smoke Daton's way. Daton will cruise into the finals, where he'll like be getting Gomez or Bridges.
Bottom Half
The two big guns down low don't seem to have the competition to stop the Bridges and Gomez showdown from happening. If the two make it to the Semi's, as I suspect they will, it could be either man's game. The Wyoming Cowboy, Montorie Bridges, has been peaking and is riding a 13 match win streak, whereas on the other hand, the ISU Cyclone Gomez has been spinning out of control a little bit. Gomez is coming off the Mizzou-ISU dual where Gomez was teched by Erneste. With that being said, Austin Gomez has Barry Bonds type home run capabilities and as we saw in his match against RBY, he can end the match at any moment with a walk-off toss. In this case I'm going with the All-American experience and picking Bridges to avoid the big move and to get the win.
Ollie's Pick's
1.Daton Fix 2. Montorie Bridges 3. Austin Gomez 4.Matt Schmitt
141 Pounds
Ok, so 141 is going to be nuts at the Big 12s this year. There's 6 allocations which seems to be enough for everyone who belongs at the tournament. Where things get sticky is that there's a possibility where guys like Kaid Brock and Dom Demas could end up in the wrestle backs early, and then anything can happen.
Seeding
Josh Alber, Northern Iowa

Ian Parker, Iowa State

Dom Demas, Oklahoma

Matt Findlay, Utah Valley

Kaid Brock, Oklahoma State

Sam Turner, Wyoming

Garrett O'Shea Air Force

Chris DeLoza, Fresno State
Top Half
Josh Alber has been insanely clutch all season long, getting numerous crunch time, match winning take downs, and a good amount of them against conference rivals. If Alber keeps that up he'll be a shoe-in for the Semi's where things get tough. The quintessential Cowboy, Kaid Brock has dropped a few matches this season which puts him at the 5 seed with a tough Quarter-Final match-up against Matt Findlay out of Utah Valley. Findlay is definitely big for the weight and Kaid hasn't quite looked his best since coming up from 133, but I think the bull type style of Findlay will feed into the slickness of Kaid Brock and he'll be able to get the win. If Brock gets the win he'll get another shot at a match that he definitely wants back, Brock had a 3-2 lead against Alber in the OSU-UNI dual, and lost it when he got taken down off a restart with only a few seconds left on the clock.
Bottom Half
The bottom half of the bracket is similar to the top half in that the top seed doesn't seem to be threatened, that is until the Semi-Finals. The 2 seed Ian Parker has shown that he has the ability to beat top guys since he came into college wrestling last year. Parker will need to show that ability once again if he makes it to the Semi-Finals. The 3/6 Quarters match up of Dom Demas and Cole Verner is an interesting one, but I think it's Demas' match to lose. If Demas makes the Semis against Parker, Parker will need to be dodging bombs for the whole match, Demas has repeatedly shown he can light dudes up and put them on their heads with highlight judo throws. The selfish part of me wants to pick Demas so we can have a Demas Vs. Brock Final, which would be sick, but the logical part of me thinks that Parker will be able to dodge the Demas bombs and find his way to victory.
Ollie's Picks
1. Kaid Brock 2. Ian Parker 3. Josh Alber 4. Dom Demas