2019 Big 12 Wrestling Championship
2019 Big 12 Tournament Pre-Seeds Announced
2019 Big 12 Tournament Pre-Seeds Announced
2019 Big 12 Tournament Pre-Seeds Announced
Mar 4, 2019
by Wrestling Nomad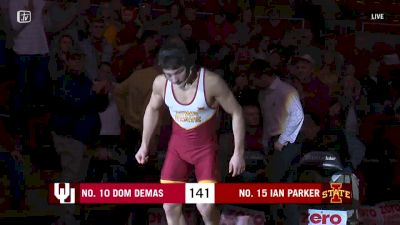 For the fourth year in a row FloWrestling will be streaming the Big 12 tournament. Before that gets going though, the conference has blessed us with pre-brackets.
Watch the Big 12 Championships Live on Flo
March 9-10 | 11:00 AM Central
These seeds and brackets are subject to change. For those who are unseeded, their first round opponent was randomly selected. Compare these to our conference rankings.
125 Pounds
Nick Piccininni, Oklahoma State
Brent Fleetwood, North Dakota State
Jay Schwarm, Northern Iowa
Rico Montoya, Northern Colorado
Alex Mackall, Iowa State
Cole Verner, Wyoming
Christian Moody, Oklahoma
Sidney Flores, Air Force
133 Pounds
Daton Fix, Oklahoma State
Austin Gomez, Iowa State
Montorie Bridges, Wyoming
Matt Schmitt, West Virginia
Cam Sykora, North Dakota State
Anthony Madrigal, Oklahoma
John Twomey, Air Force
Gary Joint Fresno State
141 Pounds
Josh Alber, Northern Iowa
Ian Parker, Iowa State
Dom Demas, Oklahoma
Matt Findlay, Utah Valley
Kaid Brock, Oklahoma State
Sam Turner, Wyoming
Garrett O'Shea Air Force
Chris DeLoza, Fresno State
149 Pounds
Kaden Gfeller, Oklahoma State
Max Thomsen, Northern Iowa
Jarrett Degen, Iowa State
Christian Monserrat, West Virginia
Khristian Olivas, Fresno State
Davion Jeffries, Oklahoma
Henry Pohlmeyer, South Dakota State
Jaden Van Maanen, North Dakota State
157 Pounds
Justin Thomas, Oklahoma
Jacob Wright, Fresno State
Chase Straw, Iowa State
Wyatt Sheets, Oklahoma State
Luke Weber, North Dakota State
Dewey Krueger, Wyoming
Alex Mossing, Air Force
Colten Carlson, South Dakota State
165 Pounds
Branson Ashworth, Wyoming
Demetrius Romero, Utah Valley
Bryce Steiert, Northern Iowa
Nick Kiussis, West Virginia
Andrew Fogarty, North Dakota State
Isaiah Hokit, Fresno State
Jeremy Thomas, Oklahoma
Joseph Smith, Oklahoma State
174 Pounds
Jacobe Smith, Oklahoma State
Kimball Bastian, Utah Valley
Taylor Lujan, Northern Iowa
Marcus Coleman, Iowa State
Hayden Hastings, Wyoming
Lorenzo de la Riva, North Dakota State
Anthony Mantanona, Oklahoma
Dominic Kincaid, Fresno State
184 Pounds
Sam Colbray, Iowa State
Drew Foster, Northern Iowa
Dakota Geer, Oklahoma State
Tate Samuelson, Wyoming
Jackson Hemauer, Fresno State
Will Sumner, Utah Valley
Zach Carlson, South Dakota State
Kayne MacCallum, Oklahoma
197 Pounds
Preston Weigel, Oklahoma State
Willie Miklus, Iowa State
Josh Hokit, Fresno State
Tanner Orndorff, Utah Valley
Jake Woodley, Oklahoma
Noah Adams, West Virginia
Jacob Seely, Northern Colorado
Cale Davidson, Wyoming
285 Pounds
Derek White, Oklahoma State
AJ Nevills, Fresno State
Gannon Gremmel, Iowa State
Tate Orndorff, Utah Valley
Brian Andrew, Wyoming
Carter Isley, Northern Iowa
Brandon Ngati, West Virginia
Kayne Hutchinson, Air Force