Unlock this article, live events, and more with a subscription!
Get Started
Already a subscriber? Log In
With just two weekends remaining in the regular season, it's high time for teams to start finalizing their lineups for the postseason. The most highly discussed and debated roster of the offseason still is not set.
After Oklahoma State's 39-0 win over Air Force, our friend Seth Duckworth over at Pistols Firing filmed John Smith's post dual comments to the media. You can watch the full video below.
Just before the two-minute mark, Coach Smith makes it clear that the Cowboys will be bringing some of their upperweights down:
We will make the move for Dakota Geer to move down to 84, and Jacobe Smith down to 174, and somebody's gonna have to fight it out at 65 or 74.
That means three weights are very clear: Wyatt Sheets has wrestled six straight duals at 157 so he'll be there, Preston Weigel came back against Air Force and will be their 197, and Dakota Geer will finish off the season at 184.
Which means there will be an All-American sitting on the bench in the postseason between Chandler Rogers, Jacobe Smith, and Joe Smith. If it's either of the first two, it will be the end of their collegiate career.
Rogers was on crutches after the Southern Scuffle and missed over a month of action before returning against Air Force. After twice being an All-American at 157, Joe Smith redshirted last year and wrestled one tournament at 165 and once at 174; he's been at 174 this entire season.
Jacobe transferred in to Oklahoma State after winning two NJCAA titles at Northeastern Oklahoma A&M. He was an All-American at 174 last season, and wrestled his first 10 matches of this year at that weight. After Reno Tournament of Champions, the senior wrestled the Southern Scuffle and all eight of the proceeding dual meets at 184.
A big part of the question might be who weighs in for their last two duals while the wrestlers get down to weight. Based on descent plans, Geer won't be able to wrestle 184 until Big 12s, so if he does wrestle against Missouri or Iowa, it will have to be at 197.
The same applies to Jacobe, who cannot make 174 under his descent plan until the conference tournament. So he will probably have to wrestle 184, weighing in lighter. That makes it likely Joe Smith will have to do the same thing, wrestle 174 while weighing in light so he can drop to 165 for Big 12s. Unless of course they put out Christian Bahl again like they did against the Falcons. So on the surface, Cowboy fans will probably see the same lineup for the last couple duals.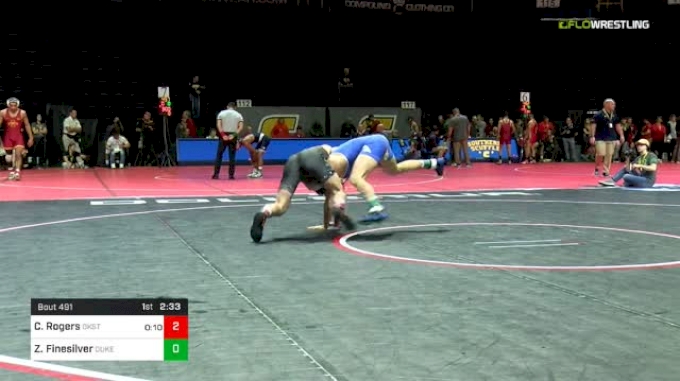 Unlock this video, live events, and more with a subscription!
Get Started
Already a subscriber? Log In
However, which combination will produce the most points at NCAAs? In Cleveland, Rogers scored 6.5 team points and Jacobe put up 7.5 team points. Both are home run hitters who can get a pin somewhere at the tournament, but Joe Smith likely would place above either of them no matter which weight he goes.
There was a time it looked like Joe could finish third or fourth at 174. But then he lost to Jordan Kutler and Taylor Lujan in the same weekend, which probably contributed to him not wrestling this weekend against Air Force while they figured out if he could drop to 165. Which means the coaching staff must feel he can crack the top four at 165, beating out the likes of Isaiah White, Josh Shields, Logan Massa, and his former teammate Chance Marsteller. It's important to remember though, that with no matches at the weight aside from Big 12s, he's not going to get a very good seed.
Not sure if the seeding thought will cross their minds, but Jacobe Smith has wins over Devin Skatzka, Seldon Wright, and Hayden Hastings. Meanwhile, Rogers just has wins over Zach Finesilver and Colt Yinger. So if they want Joe in the lineup, it makes more sense to bump out Rogers than Jacobe.
What's interesting here is that Jacobe also has good wins at 184 over Drew Foster and Nino Bonaccorsi, a better resume than Geer has at the same weight. But leaving Jacobe up does not appear to be in the cards.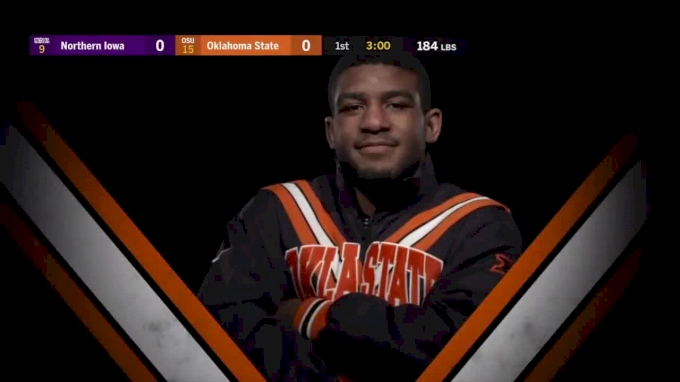 Unlock this video, live events, and more with a subscription!
Get Started
Already a subscriber? Log In
It's awful hard to see Joe Smith not wrestling this postseason for the Cowboys. Not that this probably factors in, but he does have one season of eligibility remaining, while Jacobe and Chandler are done after this year whether they wrestle at NCAAs or not.
Cocah Smith's mind appears made up: Jacobe Smith will be wrestling 174 in the near future. He didn't definitively say whether Joe Smith would be making the same drop, but considering he said somebody's going to fight it out at 65, the tea leaves are reading that we might see Chandler Rogers ending his career in February and not March.
Regardless of what the final decision is, there will be an All-American sitting at home in Stillwater by the time the Big 12 championships start on March 9th in Tulsa.