2019 Ivan Yariguin
Brackets And Reactions For 2019 Yariguin Day 1
Brackets And Reactions For 2019 Yariguin Day 1
Brackets for Thomas Gilman, James Green, Cory Clark, Zane Richards and Joe Colon have been released.
Jan 23, 2019
by Christian Pyles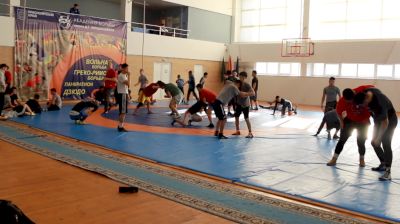 Unlock this video, live events, and more with a subscription!
Get Started
Already a subscriber? Log In
Unlock this article, live events, and more with a subscription!
Get Started
Already a subscriber? Log In
The day 1 brackets for the 2019 Ivan Yariguin Grand Prix have been released.
Watch 2019 Ivan Yariguin Grand Prix Live on Flo
Wed. Jan. 23 | 11:00 PM Eastern
Americans Thomas Gilman, Zane Richards, Joe Colon, Cory Clark, Jason Chamberlain, James Green, Victoria Anthony and Forrest Molinari will be competing starting tonight at 11pm ET, live on FloWrestling.
Check out the draws for the eight members of Team USA who will be wrestling later tonight.
MFS 57 - Thomas Gilman and Zane Richards


Both Americans start on the bottom side of a 12-man bracket and they can potentially meet in the semis. Thomas Gilman will make his Yariguin debut against Ahmet Peker, Turkey's representative at last year's European championships and a bronze medalist at the Dan Kolov. Gilman should be favored to win that one but will have a formidable opponent in the quarters. He'll either see Junior world champ Abasgadzhi Magomedov of Dagestan or Budapest bronze medalist Tuvshintulga Tumenbileg of Mongolia, who is dropping down from 61kg.
Zane Richard starts off against two-time world bronze medalist Bekhbayar Eredenebat of Mongolia. Should Richard pull the upset, he'll see one of two Russians in Aryan Tyutrin or Amirkhan Guvazhokov. Tyutrin has been bronze at Russian Nationals two of the past three years and beat Guvazhokov last week in the Mindiashvili tournament, which qualified both wrestlers for the Yariguin.
MFS 61 - Joe Colon and Cory Clark

The two Americans will meet in the first round, gotta love random draw. However, on a positive note, the winner should have a relatively favorable road to the finals, meaning the loser will get pulled back in to repechage and have a chance at bronze. Russian Nationals champ Magomedrasul Idrisov and Alans champ Ramazan Ferzaliev are both on the opposite side of the bracket.
The winner will be guaranteed a Russian, because right above them in the bracket is a wrestle-off to cull the number of Russians in the bracket from five to three per UWW rules, as well as a former Ruski in Nikolai Okhlopkov, now representing Romania. Okhlopkov is wrestling in his fifth Yariguin but has never come close to placing. He was a U23 bronze medalist last year.
The wrestle-off is between Eduard Grigoriev, a native of Yakutsk, and Maidyr Dongak of Tuva. They meet in last week's Mindiasvhili finals, with Grigoriev coming out on top. The Yakutian was second at the Intercontinental Cup in November and has previously faced an American at Yariguin when he lost 4-3 to Tony Ramos in 2016.
MFS 70 - James Green and Jason Chamberlain

Both Americans fell on the bottom side of this 12-man bracket but will not see each other until the semis. If they did, it would be a rematch of Final X: Lincoln, won in two matches by Jams Green over Jason Chamberlain.
Green starts with a still Junior eligbile Perman Hammadov of Turkmenistan. After winning that, he has a couple options of who he could see in the quarters. It could be Temuulen Enkhtuya of Mongolia, a 2017 Junior world bronze medalist. Enkhtuya's Russian opponent has yet to be determined, but it will probably be last year's JR world silver Razambek Zhamalov of Dagestan. Zhamalov was the bronze on the opposite side of Green at the Alans last month.
Chamberlain has a tougher road to the semis. He'll start with 2016 Olympian Katal Yeerlanbieke of China, who American fans may remember from his excellent battle with Brent Metcalf at worlds in 2015. After that though, he could face defending world champ Magomedrasul Gazimagomedov. Unless of course 2017 JR world champ David Baev, the same Baev that has twice defeated Magomed Kurbanaliev, avenges his loss to Gazi from this past year's Russian Nationals. The Baev and Gazi match will carry a bit of extra intrigue as it is an Osssetian against a Dagestani, which for you who are unfamiliar just picture Iowa vs Oklahoma State.
WFS 50 - Victoria Anthony

Victoria Anthony is the only American in this bracket. The Sunkist Kids athlete is at the bottom of her bracket, and will have the advantage of watching her first opponent before having to face her. In fact, given that there is wrestle-off to figure out which Russian makes it in the field, her foe could have already wrestled two times already and be a bit more tired than Anthony. Tyumerekevoa is still Junior eligible and has never wrestled the American, but Anthony is 3-1 all-time against Chepsarakova.
WFS 55 - No American



WFS 59 - No American


WFS 65 - Forrest Molinari
Forrest Molinari draws Sakhipjamal Aleuatdinova, whose only known result is going 0-1 at U23 worlds at 62kg last year.