2019 World of Wrestling Tulsa Nationals
Almost Half The JH Big Boarders Are At Tulsa Nationals
Almost Half The JH Big Boarders Are At Tulsa Nationals
Check out the Junior High Big Boards set to compete at the Tulsa Nationals.
Jan 18, 2019
by Kyle Bratke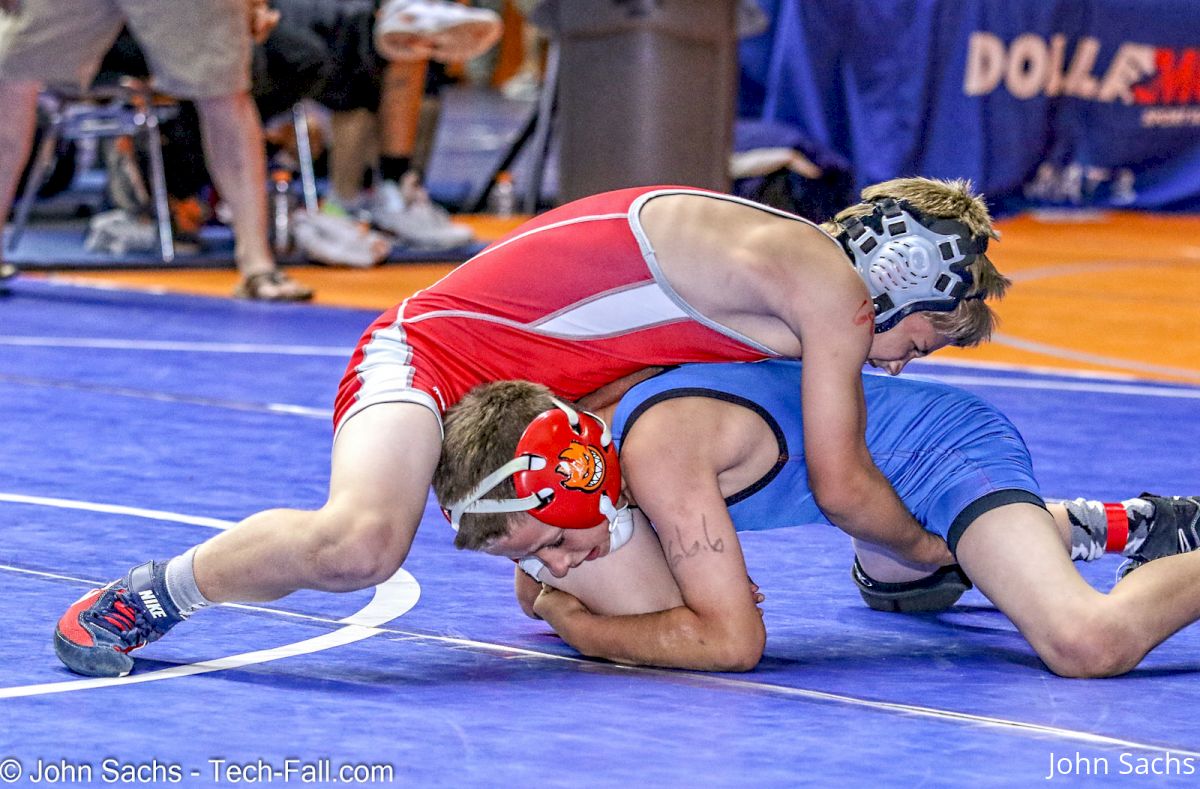 The Roller World of Wrestling events have a reputation of putting together the biggest and best youth wrestling events in the country. Such a big part of what makes the World of Wrestling events so special is the immense amount of young talent that compete at the events. It might be crazy to say, but this years field at Tulsa Nationals may be the most packed and stacked field in the history of the event.
WATCH 2019 TULSA NATIONALS LIVE
While putting together the Junior High Big Board, the wise Willie Saylor scoured the country to find the 100 best Junior High wrestlers that America has to offer. Now out of those 100 wrestlers on the big board, 45 of them will be competing in Tulsa this weekend. Yup, that's right, almost half of the entire Junior High Big Board are scrapping it out, in hopes of a Tulsa Nationals Title. Look through the list of big boarders below will be wrestling this weekend.
| | | | | |
| --- | --- | --- | --- | --- |
| 4 | Cody Chittum | McCallie | TN | 140 |
| 5 | Josh Barr | Flushing | MI | 130 |
| 6 | Nasir Bailey | TF North | IL | 106 |
| 8 | Maxximus Martinez | SJ Bosco | CA | 101 |
| 9 | Rocco Welsh | Waynesburg | PA | 112 |
| 12 | Brayden Thompson | Chicago | IL | 145 |
| 13 | Aden Valencia | Morgan Hill | CA | 82 |
| 14 | Vince Robinson | Monee | IL | 120 |
| 15 | Seth Mendoza | Mokena | IL | 75 |
| 22 | Clarence Moore | Gilroy | CA | 100 |
| 24 | Cody Goodwin | Crown Point | IN | 135 |
| 26 | Tyler Kasak | Doylestown | PA | 89 |
| 31 | Greyson Clark | Kaukauna | WI | 100 |
| 32 | Brady Colbert | Manassas | VA | 210 |
| 34 | Dylan Elmore | Paola | KS | 120 |
| 35 | Ethan Stiles | Montini | IL | 120 |
| 36 | Jace Roller | Bixby | OK | 108 |
| 39 | Canon Acklin | Collinsville | OK | 75 |
| 40 | August Hibler | Pound Ridge | NY | 92 |
| 45 | Weston Dalton | Pueblo West | CO | 95 |
| 47 | Carter McCallister | Columbia | MO | 95 |
| 52 | Christian Carroll | Schmucker | IN | 157 |
| 55 | Nathaneal Jesuroga | Pleasant Hill | IA | 90 |
| 56 | Riley Graber | Northfield | MN | 75 |
| 58 | Gabe Moore | Roanoke | TX | 210 |
| 60 | Max Callahan | Romulus | MI | 160 |
| 61 | Clayton Giddens-Buttram | Bixby | OK | 75 |
| 66 | Mac Church | Waynesburg | PA | 100 |
| 67 | Brock Woodcock | St. Clair | MO | 101 |
| 69 | Kale Petersen | Rockford | IA | 80 |
| 70 | Tyler Wells | Richfield | MN | 85 |
| 71 | Brandon Cannon | West | CO | 85 |
| 74 | Christian Kaiser | Bixby | OK | 101 |
| 76 | Logan Rozynski | Sparta | NJ | 95 |
| 77 | Joe Davi | Basking Ridge | NJ | 95 |
| 82 | Orlando Cruz | Crown Point | IN | 140 |
| 84 | Tate Naaktegboren | Marion | IA | 140 |
| 85 | CJ Walrath | Keokuk | IA | 140 |
| 90 | Ben Keuter | Iowa City | IA | 130 |
| 95 | Nico Ruiz | Montclair | CA | 130 |
| 98 | Landon Robideau | St. Micheal | MN | 90 |
| 99 | Daniel Zepeda | South Valley | CA | 85 |