2019 World of Wrestling Tulsa Nationals
5 Flashbacks From World Of Wrestling Tulsa Nationals
5 Flashbacks From World Of Wrestling Tulsa Nationals
Take a look back at five Tulsa Nationals finals match that featured two future stars.
Jan 16, 2019
by Kyle Bratke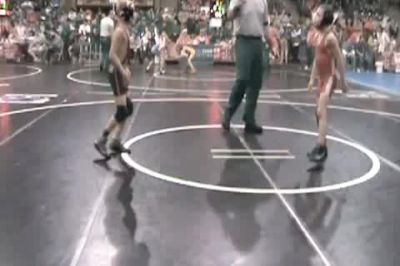 The World of Wrestling events bring out the best young scrappers from all over the country, especially Tulsa Nationals. Now, a lot of those young scrappers account for some of today's best college and high school wrestlers. It's pretty cool to go back and see how much these guys have progressed through the years and how some of them stayed true to who they were as a wrestler, even as a middle schooler. Check out some of the matchups I found from back in the day, and maybe even go through some of those old matches yourself, you won't regret it.
WATCH WORLD OF WRESTLING TULSA NATIONALS
2010: Nick Suriano (NJ) vs. Mario Guillen (OH)
Before Nick Suriano was making the NCAA finals and wrestling in maybe the two longest wrestling matches in history, he was bringing home some Roller World of Wrestling hardware. In this finals match, Nick went up against Mario Guillen, future Ohio state champion and now a redshirt freshman at Ohio University. Suriano's wrestling has obviously improved on his way from Tulsa National Champion to NCAA finalist, but you can see in this match he always had that Jersey attitude. You can watch the match above.
2011: Chad Red (IN) vs. Austin Gomez (IL)
This match between two of today's best young stars in college wrestling went how you might expect it to if they met today. Chad Red was using the same slickness that he showed on his All-American run last year; Gomez was going for his signature upper body throws like the one he pinned RBY with, and it's flat-out exciting. Watch below to see who wins this down-to-the-wire Tulsa Nationals final, and watch this weekend to see which budding stars will be making a name for themselves.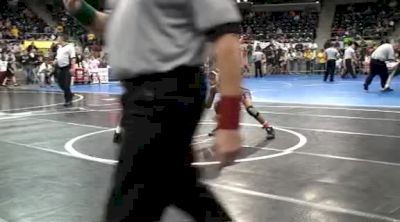 2012: Real Woods (IL) vs. Theorius Robison (CO)
These two seemed certain for a bright future when they met in the 2012 Tulsa National finals, and they haven't disappointed since. Real Woods, now redshirting for Stanford, just turned in an impressive Southern Scuffle performance by making it all the way to the finals before falling to Nick Lee. Theorius Robison announced this past fall that he'll be joining fellow top prospect Andrew Alirez at Northern Colorado to wrestle for Coach Troy Nickerson. Robison recently went down to 138 pounds, which could be setting him up to go 141 in college, the same weight as Woods, so we may be seeing these two go at it again in college.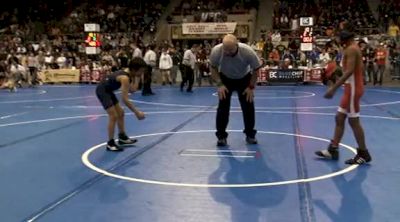 2015: Julian Chlebove (PA) vs. Kevon Davenport (MI)
These guys went from two of middle school's brightest stars, to two of high school's most electrifying wrestlers. Now that we are coming to the end of the line for high school wrestling fans to enjoy watching Julian Chlebove and Kevon Davenport, it's fun to take a look back to before their high school careers really got started. High school fans, don't be too sad, we get to continue to watch these guys as Chlebove brings that funky style of wrestling of his to Arizona State, and Davenport is going to Nebraska where I'm sure he's bringing those big throws we watched him hit so often in high school.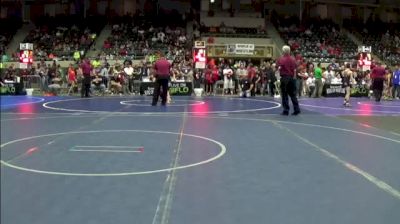 Unlock this video, live events, and more with a subscription!
Get Started
Already a subscriber? Log In
2016: Robert Howard (NJ) vs. Mosha Schwartz (CO)
As you guys can tell from this list, you can find some pretty fun and interesting matchups in the World of Wrestling results, but this one definitely has some added importance due to recent events. Not only is this a fun matchup because Robbie Howard and Mosha Schwartz are two of the top high school wrestlers in the country, but these two met to help make one of the biggest shake-ups to the high school wrestling landscape in recent memory. On Jan. 5, three of the top pound-for-pound wrestlers in the country all lost on the same day, Robbie Howard lost to Mosha Schwartz in the Doc B finals. Howard was ranked #3 at 126 and #13 overall on the Pound-for-Pound Rankings. When they met in the Doc B finals, little did some of us know, Schwartz had some payback on his mind from the Tulsa National finals three years earlier.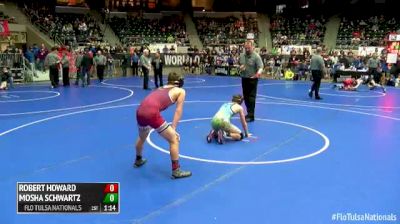 Unlock this video, live events, and more with a subscription!
Get Started
Already a subscriber? Log In
WATCH WORLD OF WRESTLING TULSA NATIONALS