2018-19 Preseason Girls National High School Rankings
2018-19 Preseason Girls National High School Rankings
The 2018-19 preseason girls national high school rankings have been released by USA Wrestling, FloWrestling and the National Wrestling Hall of Fame.
Nov 16, 2018
by Wrestling Nomad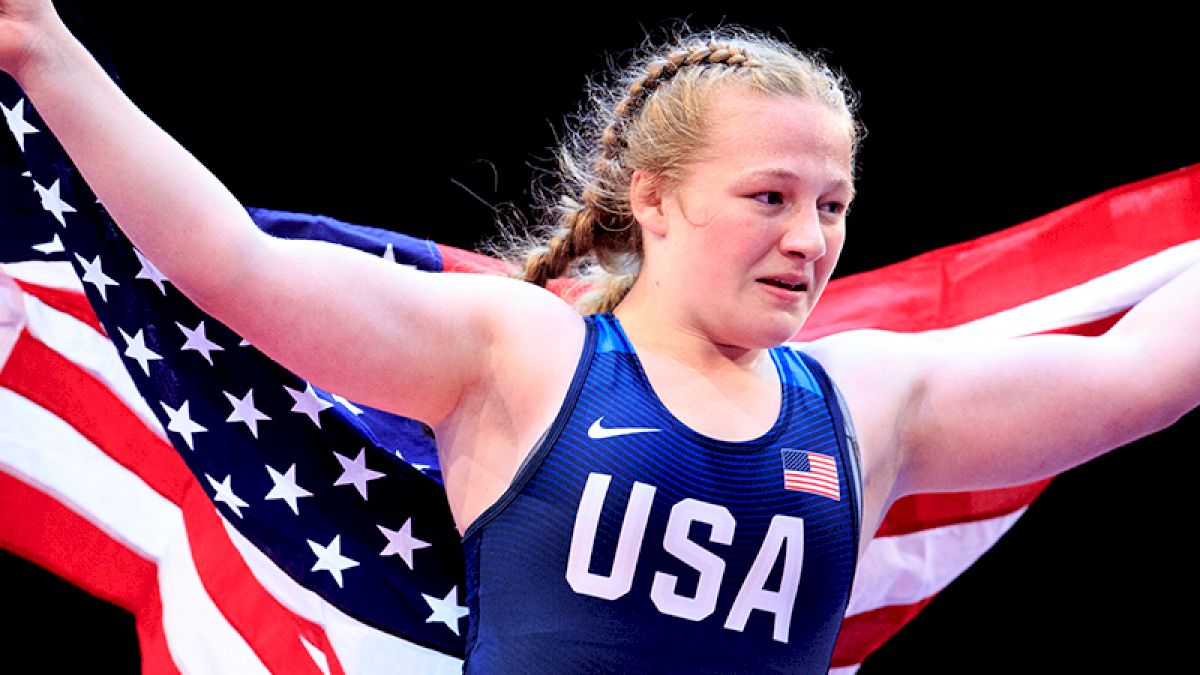 USA Wrestling, FloWrestling and the National Wrestling Hall of Fame and Museum are again partnered to create its preseason national rankings for high school girls wrestlers for the 2018-19 season.
This ranking evaluates all girls enrolled in grades 9-12, and include athletes from all 50 states. There are 14 states which sponsor official or emerging girls state high school championships, while many other states are also developing their girls high school program.
The preseason ranking evaluates success from the summer USA Wrestling schedule, other post-season events and some early pre-season competitions, where top high school girls from across the nation face each other.
The ranking list will indicate what the athlete's previous ranking was in July's final 2017-18 ranking.
Four athletes who were ranked No. 1 in the final ranking of 2017-18 have returned and received No. 1 rankings: Emily Shilson of Minnesota (100), Macey Kilty of Wisconsin (152), Tavi Heidelberg of California (200) and Gabi Holloway of Texas (225).
The additional publication dates for the 2018-19 season are January 9, January 13, February 20, March 13, May 1 and June 26.
The staffs from these three leading wrestling organizations are working together to strategically publish this ranking throughout the year. The girls high school ranking will appear on the websites of all three organizations, and be promoted through each of their different media platforms.
Coaches, parents and athletes are encouraged to provide information about specific athletes and their achievements throughout the year for the committee to consider. If they have information on specific girls who should be considered for ranking, please send it by email to girlsrankings@usawrestling.org
NATIONAL GIRLS HIGH SCHOOL RANKINGS
Developed by USA Wrestling, Flowrestling and the National Wrestling Hall of Fame
Preseason Rankings, November 16
100 pounds
Emily Shilson, senior, Maple Grove, Minn., Mounds View High School (1)
Sage Mortimer, sophomore, Mapleton, Utah, American Leadership Academy (6)
Lizette Rodriguez, junior, Hayward, Calif., James Logan High School (3)
Sami Saribay, senior, Lahaina, Hawaii, Lahainaluna High School (NR)
Alejandra Corral, junior, Aiea, Hawaii, Aiea High School (7)
Estrella Dorado Marin, junior, Denver, Colo., Springs Studio for Academic Excellence/Betterman Elite (NR)
Jessica Corredor, junior, Orlando, Fla., Dr. Phillips High School (14)
Sterling Dias, freshman, Las Vegas, Nev., SLAM Academy (NR)
Grace Gundrum, junior, Bethlehem, Pa., Homeschooled (NR)
Juliana Moccia, sophomore, Bel Air, Md., The John Carroll (5)
Alice Todryk, senior, Hermiston, Ore., Hermiston High School (8)
Allison Hynes, sophomore, Broken Arrow, Okla , Broken Arrow High School (9)
Ava Bayless, freshman, Greenville, Pa. Wyoming Seminary (PA) (NR)
Dianna Holmes sophomore, Suwanee, Ga., North Gwinnett High School (14)
Hailey Ward, junior, Turlock, Calif., Turlock High School (NR)
Rayana Sahagun, junior, Sparta, Mich., Sparta High School (13 at 106)
Heaven Fitch, sophomore, Concord, N.C., Jay M Robinson High School (NR)
Angel Rios, junior, Arvada, Colo., Roosevelt High School (NR)
Melissa F. Lee, junior, Sunnyvale, Calif., Fremont High School (NR)
Abbygale Duke, junior, Patterson, N.Y., Wyoming Seminary (PA) (NR)
106 pounds
Mia Palumbo, sophomore, Oak Lawn, Ill., Richards High School (9)
Caitlyn Walker, junior, Hatboro, Pa., Wyoming Seminary (PA) (2 at 100)
Olivia Shore, sophomore, St. Paris, Ohio, Miami East High School (1)
Tiare-Lynn Ikei, junior, Honolulu, Hawaii, Kaiser High School (3)
Tilynne Vasquez, junior, Kalispell, Montana, Flathead High School (5)
Amani Jones, sophomore, McDonough, Ga. Ola High School (12 at 100)
Jaslyn Gallegos, senior, Brighton, Colo.,Skyview High School (4 at 112)
Angelina Gomez, senior, West Covina, Calif., Northview High School (4)
Joanne Ortiz, senior, New Milford, Conn., New Milford High School (8)
Tehani Soares, junior, Las Vegas, Nev., Shadow Ridge High School (15 at 112)
Nichole Moore, junior, Abbyville, Kansas, Nickerson High School (10)
Sofia Martinez, senior, Chino Hills, Calif., Ayala High School (11)
Lauren Stone, junior, Osprey, Fla., Venice High School (12)
Ciera Broukal, senior, Spencer, Ind., Bloomington South High School (15)
Jevani Alejandro, freshman, Las Vegas Nev., Centennial High School (NR)
Amiyah Hart, sophomore, Jonesboro, Ill., Anna-Jonesboro High School (NR)
Marissa Riojas sophomore, Toppenish, Wash., Toppenish High School (NR)
Paige Denke, sophomore, Chadron, Neb., Chadron High School (NR)
Trinity Rios, senior, Orlando, Fla., Dr. Phillips High School (NR)
Tatyana Ortiz, senior, Philadelphia, Pa., Mariana Bracetti Academy (NR)
112 pounds
Peyton Prussin, senior, Las Vegas, Nev., Arbor View High School (3)
Stefana Jelacic, senior, Fountain Hills, Ariz., Mesa Mountain View High School (4 at 117)
Samara Chavez, sophomore, Arlington, Texas, Arlington Martin High School (2 at 106)
Kiersten Bush, junior, Riverdale, Utah, Bonneville High School (6)
Ally Fitzgerald, sophomore, Lynbrook, N.Y., Lynbrook High School (NR)
Holly Beaudoin, junior, Poulsbo, Wash., North Kitsap High School (13)
Kenzie Cormier, sophomore, Enumclaw, Wash., Enumclaw High School (NR)
Brelane Huber, junior, Post Falls, Idaho, Post Falls High School (6)
Montana Delawder, sophomore, Gettysburg, Pa., Gettysburg High School (14 at 106)
Cayden Condit, sophomore, Littleton, Colo., Conifer High School (7 at 106)
Charlotte Kouyamtijian, sophomore, Porterville, Calif., Monache High School (NR)
Josie Bartishofski, senior, River Falls, Wis., River Falls High School (6)
Marlene Avila, senior, Fabens, Texas, Fabens High School (10)
Gwen Golueke, junior, Poynette, Wis., Poynette High School (11)
Kyleigh Lopez, senior, Medford, Ore., North Medford High School (12)
Savannah West, senior, Frisco, Texas, Liberty High School (NR)
Ashley Venegas, junior, Visalia, Calif., Mt. Whitney High School (NR)
Molly Williams, junior, Redmond, Wash., Redmond High School (NR)
Greta Gustafson, sophomore, Santa Cruz, Calif., Santa Cruz High School (NR)
Samantha Martinez, senior, Chino Hills, Calif., Ayala High School (NR)
117 pounds
1. Vayle Baker, senior, Benton, Pa., Wyoming Seminary (PA) (2)
Phoenix Dubose, senior, Yelm, Wash., Yelm High School, (9)
3. Gabrielle Skidmore, senior, Spooner, Wis., Cumberland High School (10 at 122)
4. Riley Dalrymple, junior, Carthage, N.Y., Copenhagen High School (NR)
5. Taryn Martin, sophomore, Grove City, Ohio, Grove City High School (3 at 100)
6. Aliya Rollins, senior, Granada Hills, Calif., Birmingham Charter School (NR)
7. Camille Fournier, junior, Weatherford, Texas, Weatherford High School (7 at 112)
8. Adriana Dorado-Marin, sophomore, Springs Studio for Academic Excellence/Betterman Elite (NR)
(NR)
9. Jordyn Knecht, sophomore, Paola, Kansas, Paola High School (10)
10. Olivia Mottley, junior, Cypress, Texas, Cypress Ranch High School (NR)
11. Isabella Badon, senior, Johnson City, Tenn., Daniel Boone High School (15)
12. Isabelle Gonzalez, senior, El Paso, Texas, Hanks High School (12)
13. Alana Vivas, Kahuku, Hawaii, KS Kapalama High School, (NR)
14. Annamarie Crixell, senior, Spring, Texas, Conroe Oak Ridge High School (NR)
15. Autumn Flanigan, junior, Troy, Mo., Buchanan High School (NR)
16. Samantha Barragan, sophomore, Hemet, Calif., Hemet High School (NR)
17. Alisha Narvaez, junior, Oakland, Calif., Arroyo High School (NR)
18. Desinee Lopez, junior, Folsom, Calif., Folsom High School (NR)
19. Anunthaya MacDonnell, sophomore, Falmouth, Maine, Falmouth High School (NR)
20. Alyssa Valdivia, sophomore, Bakerfield, Calif., Frontier High School (NR)
122 pounds
1. Alexis Zepeda, sophomore, Gervais, Ore., Gervais High School (8 at 117)
2. Amanda Walker, senior, Hatboro, Pa., Wyoming Seminary (PA) (4)
3. Leilah Castro, junior, New Lexington, Ohio, New Lexington High School (5 at 117)
4. Payton Stroud, South Prairie, Wash., senior, White River High School (5)
5. Ainslie Lane, senior, Bixby, Okla., Bixby High School (3)
6. Nanea Estrella, junior, Lahaina, Hawaii, Lahainaluna High School (NR)
7. Korina Blades, freshman, Broadview, Ill., Wyoming Seminary (PA) (NR)
8. Viktorya Torres, junior, Granger. Wash., Granger High School (6)
9. Kortney Atchley, junior, East Peoria, Ill., East Peoria High School (NR)
10. Andrea Schlabach, senior, Hamilton, Ohio, Stephen T. Badin High School (8)
11. Maggie Palmore, junior, Germantown, Md., Northwest High School (NR)
12. Melanie Mendoza, junior, Selma, Calif. Selma High School (NR)
13. Sophia Smith, junior, Bismarck, N.D., Wyoming Seminary (PA), (12)
14. Amor Tuttle, sophomore, St. Paul, Minn., North St. Paul High School (NR)
15. Lana Perez, junior, Honolulu, Hawaii, Moanalua High School (NR)
16. Sofia Macaluso, freshman, Minisink, N.Y., Minisink Valley High School (NR)
17. Aki Choates, junior, Duluth, Ga., Duluth High School (NR)
18. Samantha Larsen, junior, Princeton, N.J., Walkill Valley High School (NR)
19. Skylar Hattendorf, Hookset, N.H. (NR)
20. Taylor Olson, senior, Bend, Ore., Mountain View High School (NR)
127 pounds
1. Xochitl Mota-Pettis, senior, Humble, Texas, Klein High School (2)
2. Louisa Schwab, junior, Plainfield, Ill, Joliet West High School, (9 at 132)
3. Niya Teresita Gaines, senior, Stockton, Calif., Bear Creek High School (NR)
4. Kaylee Moore, senior, Yakima, Wash., Naches Valley High School (4)
5. Mia Macaluso, junior, Otisville, N.Y., Minisink Valley High School (7)
6. Karoline Ortiz, senior, Orlando, Fla., Dr. Phillips High School (14 at 122)
7. Waipuilani Estrella Beauchamp, junior, Wailuku, Hawaii, Baldwin High School (NR)
8. Nonnie Justice, sophomore, Harrisonville, Mo., Harrisonville High School (15)
9. Mya Kretzer, senior, McPherson, Kan., McPherson High School (11 at 122)
10. Naomi Henry, junior, Brooklyn, N.Y., Wingate Educational Campus (NR)
11. Jacqueline Ghent, senior, CC Veterans Memorial High School (14)
12. Robin Yunis, junior, Clarksville, Tenn., Rossview High School (NR)
13. Brooke-Lynn Rush, senior, St. Joseph, Mo., Benton High School (12)
14. Emma Truax, junior, Phoenix, Ore., Phoenix High School (NR)
15. Jessi Johnson, sophomore, Manalapan, N.J. Manalapan High School (NR)
16. Claire Dicugno, sophomore, Lake Tapps, Wash.,White River High School (NR)
17. Natalie Dunn, junior, Staten Island, N.Y., CSI High School for International Studies (NR)
18. Caroline Moreno, sophomore, Sammerton, Ariz., Kofa High School (NR)
19. Zoe Buteau, senior, Wales, Maine, Oak Hill High School (NR)
20. Ashley Whetzal, senior, Virginia Beach, Va., Kellum High School (NR)
132 pounds
1. Cheyenne Bowman, sophomore, LaHabra, Calif., Rowland High School (3)
2. Ashton Cadman, senior, River Falls, Wis., River Falls High School (7)
3. Mary Lopez, senior, Brentwood, Calif., Liberty High School (15)
4. Marisol Nugent, junior, Boxford, Mass., Phillips Academy Andover (6 at 127)
5. Randi Robinson, senior, East Peoria, Ill., East Peoria Community High School (15 at 122)
6. Lily Sherer, sophomore, Shohola, Pa., Delaware Valley High School (NR)
7. Emma Walker, junior, Clarksville, Tenn., Rossview High School (5)
8. Morgan Norris, senior, Sparks, Nev., Reed High School (6)
9. Grace Pauls, junior, Middletown, N.Y., Minisink Valley High School (NR)
10. Paige Respicio, junior, Ewa Beach, Hawaii Kamehameha-Kapalama High School (10)
11. Charmayne Delong, junior, Moorcroft, Wyo., Moorcroft High School (13)
12. Hannah Strauss, junior, Algonquin, Ill., Jacobs High School (NR)
13. Nanen Aguilar, junior, Limon, Colo., Betterman Elite Academy (NR)
14. Hosanna Kropp, senior, West Palm Beach, Fla., Wellington High School (NR)
15. Shelby Ottum, junior, Anchorage, Alaska, South Anchorage High School (NR)
16. Allison Blaine, junior, Vancouver, Wash., Hudson's Bay High School (NR)
17. Nanelly Rivadeneira, junior, Costa Mesa, Calif., Estancia High School (NR)
18. Madison Matta, junior, Blue Ridge Summit, Pa., Waynesboro Area High School (NR)
19. Angelina Baltazar, junior, El Paso, Texas, Hanks High School (NR)
20. Gianna Culbert, sophomore, Burlingame, Kansas, Burlingame High School
138 pounds
1. Alara Boyd, senior, River Falls, Wis., River Falls High School (3 at 144)
2. Aine Drury, junior, Westminster, Calif., Westminster High School (7)
3. Kaden Campbell, senior, Greeley, Colo., Douglas County High School (2 at 132)
4. Lexie Basham, junior, Roanoke, Texas, Byron Nelson High School, (6)
5. Mattison Parker, senior, Texas, Northwest Eaton High School (11)
6. Dalia Garibay, senior, Brentwood, Calif., Freedom High School (8)
7. Jahnea Miguel, Hawaii, Baldwin High School (NR)
8. Sara Sulejmani, sophomore, Buffalo Grove, Ill. Stevenson High School (NR)
9. Jordan Suarez, junior, Texas, Morton Ranch High School (9)
10. Jade Herzer, sophomore, Wisconsin Dells, Wis., Wisconsin Dells High School (14)
11. Marlee Smith, senior, Wantage, N.J., Wyoming Seminary (PA), (10 at 144)
12. Shaina Murray, senior, Watchung, N.J., Wyoming Seminary, PA (7)
13. Reese Larramendy, freshman, Reno, Nev., Wyoming Seminary (PA) (NR)
14. Joanna Qiu, junior, San Pablo, Calif., Albany High School (11)
15. Cassandra Smith, senior, Cincinnati, Ohio, Colerain High School (12)
16. Madison Fisher, senior, Lake Toxaway, N.C., Rossman High School (15)
17. Annie Hua, sophomore, Sunnyvale, Calif., Fremont High School (NR)
18. Destiny Benjamin, senior, Timonium, Md., Dulaney High School (NR)
19. Beyonce Garcia, junior, Hayward, Calif., James Logan High School (NR)
20. Tristen Music, sophomore, Waycross, Ga., Pierce County High School (NR)
144 pounds
1. Jerzie Estrada, senior, Selma, Calif., Selma High School (3 at 152)
2. Kiana Pugh, senior, Mosinee, Wis., Mosinee High School (2 at 152)
3. Jillian Bruno, senior, East Stroudsburg, Pa., Stroudsburg High School (15 at 152)
4. Hunter Robinson, senior, Springtown, Texas, College Park High School (5 at 138)
5. Emmily Patneaud, junior, Calif., Newark Memorial High School (9)
6. Tiyahna Askew, junior, Lawrenceville, Ga., Collins Hill High School (4)
8. Adelyhda Perez, senior, Uvalde, Texas, Uvalde High School (11)
9. Malea Palahniuk, senior, Springfield, Ore., Thurston High School (13)
10. Nevaeh Cassidy, junior, Vancouver, Wash., Union High School (NR)
11. Sydney Manos, sophomore, Rockford, Ill, Stillman Valley High School (NR)
12. Tiffani Baublitz, sophomore, Stewartstown, Pa., Wyoming Seminary (PA) (NR)
13. Seda Tsarni, sophomore, Montgomery County, Md., Watkins Mill High School (NR)
14. Jayden Bentley, sophomore, Evansdale, Iowa, Waterloo East High School (NR)
15. Khaila Hughes, sophomore, Alton, Ill. Alton High School (NR)
16. Jaleena Graham, freshman, Columbia, S.C., Dutch Fork High School (NR)
17. Nia Miranda, junior, Cypress, Texas, Cypress Ranch High School (NR)
18. Madison Camp, junior, Buena Park, Calif., Kennedy High School (14)
19. Jazzmine Seely, Fort Leonard Wood, Mo, Waynesville High School (NR)
20. Ashley Cook, senior, Plano, Texas, Frisco Liberty High School (NR)
152 pounds
1. Macey Kilty, senior, River Falls, Wis., River Falls High School (1)
2. Kennedy Blades, freshman, Broadview, Ill., Wyoming Seminary (NR)
3. Kaylynn Albrecht, senior, Keller, Texas, Byron Nelson High School (NR)
4. Kiley Hubby, junior, Everett, Wash., Glacier Peak High School (8)
5. Alexis Gomez, senior, Carol Stream, Ill., Glenbard North High School (6)
6. Lourdes Torres, sophomore, Sunnyside, Wash., Sunnyside High School (NR)
7. Gianna Anaya, junior, Los Angeles, Calif., San Fernando High School (NR)
8. Yelena Makoyed, senior, Orangevale, Calif., Bella Vista High School (9)
9. Liliana Vergara, senior, Salida, Calif., Gregori High School (11)
10. Madison Konopka, junior, Hellertown, Pa., Saucon Valley High School (NR)
11. Alice Brulotte, sophomore, Ferndale, Wash,, Ferndale High School (NR)
12. Kai Poux, junior, Brooklyn, N.Y., Brooklyn Tech (NR)
13. Madison Ellis, sophomore, Anchorage, Alaska, South Anchorage High School (NR)
14. Kaylee Gross, sophomore, Ste. Genevieve, Mo., Ste. Genevieve High School (NR)
15. Sawyer Graham, sophomore, Bel Air, Md., C. Milton Wright High School (15)
16. Victoria Hinojo, junior, El Paso, Texas, Hanks High School (12)
17. Alexandra Lefort, junior, Texas, Lucas Lovejoy High School (14)
18. Joylynn Wegman, junior, Fort Worth, Texas, Timber Creek High School (NR)
19. Mason Claibourn, senior, Fredonia, Kansas, Fredonia High School (14)
20. Avery Guerra, senior, San Antonio, Texas, Johnson High School (NR)
164
1. Tristan Kelly, junior, Castle Rock, Colo., Douglas County High School (2 at 152)
2. Kelani Corbett, senior, Mililani, Hawaii, Leilehua High School (4 at 152)
3. Katja Osteen, sophomore, Simi Valley, Calif., Chaminade High School (3)
4. Natalie Kemp, senior, DeForest, Wis., DeForest High School (6 at 180)
5. Olivia Robinson, junior, Hillsboro, Ore., St. Mary's Academy, (8)
6. Alia Abushi, junior, San Leandro, Calif., Arroyo High School (NR)
7. Kapoina Bailey, senior, Kealalekua, Hawaii, Konawaena High School (NR)
8. Katie Moore, junior, Wading River, N.Y., Riverhead High School (15)
9. Sariah Stewart, junior, East Greenbush, N.Y., Columbia High School, (7 at 152)
10. Shania Gowan, senior, Orlando, Fla., Dr. Phillips High School (7)
11. Marlynne Deede, Springville, Utah, Springfield High School (5)
12. Sierra Mason, junior, Hanford, Wash., Hanford High School (NR)
13. Heaven Byrd, junior, Hiram, Ga., Hiram High School (NR)
14. Alexandra Nelson, Charlestown, R.I., Chariho High School (NR)
15. Alexis Young, senior, Yuba City, Calif., River Valley High School (13)
16. Jasmine Hale, junior, Indianapolis, Ind., Pike High School, (14)
17. Katelyn Lewis, freshman, Peshtigo, Wis., Peshtigo High School (NR)
18. Danielle Saldivar, senior, El Paso, Texas, Eastwood High School (NR)
19. Sandra Guerrero, junior, West Orange, N.J., West Orange High School (NR)
20. Dasia Yearby, freshman, Wellford, S.C., Christ Church Episcopal School (NR)
180
1. Jaycee Foeller, sophomore, De Soto, Mo., De Soto High School (4)
2. Adelina Parra, junior, San Fernando, Calif., San Fernando High School (14)
3. Elisa Robinson, junior, Fort Riley, Kansas, Junction City High School (9)
4. Bailey Dennis, junior, Madras, Ore., Ridgeview High School (10 at 164)
5. Emily Sandoval, senior, Hayward, Calif., James Logan High School (12)
6. Faith Tuttle, senior, North St. Paul, Minn., North High School (5)
7. Olivia Rondeau, senior, Gaithersburg, Md., Penn Foster High School (8)
8. Brittyn Corbishley, sophomore, The Woodlands, Texas, College Park High School (NR)
9. Joanna Jones, junior, Brooklyn, N.Y. Wingate Educational Campus (NR)
10. Bianca Rosales, senior, Fort Worth, Texas, Birdville High School (4 at 200)
11. Brianna Staebler, Whitewater, Wis., Whitewater High School (NR)
12. Roxie Umu, senior, Kailua-Kona, Hawaii, Kealakehe High School (11)
13. America Lopez, sophomore, Valencia, Calif., Valencia High School (NR)
14. Jayleen Sekona, sophomore, Anchorage, Alaska, South Anchorage High School (13 at 200)
15. Tatum Heikkila, sophomore, Aberdeen, Wash., Aberdeen High School (NR)
16. Caitlyn Gilmore, Pleasant View, Tenn, Sycamore High School (NR)
17. Issa Salgado, senior, Orlando, Fla., Freedom High School (NR)
18. Folashade Akinola, senior, Calif., Menlo Atherton High School (13)
19. Daniella Seely, junior, Haltom City, Texas, Haltom High School (15)
20. Sarah Sams, junior, Parker, Colo., Douglas County High School (NR)
200
1. Tavi Heidelberg, senior, Sacramento, Calif., McClatchy High School (1)
2. Sierra Adams-Gregory, senior, Lakewood, Calif., Milliken High School (2)
3. Gabrielle Hamilton, junior, Gridley, Ill.. Gridley High School (10 at 180)
4. Isabeau Shalack, junior, Evergreen Park, Ill , Evergreen Park High School (6)
5. Olivia Brown, sophomore, Tulsa, Okla., Holland Hall (3)
6. Angela Buenrrostro, senior, North Hills, Calif., Monroe High School (NR)
7. Ryan Schlereth, sophomore, St. Louis, Mo., Hancock Place High School (15)
8. Jasmine Clark, senior, Kelseyville, Calif., Kelseyville High School, (NR)
9. Juliannah Bolli, junior, San Jose, Calif., Silver Creek High School (NR)
10. Catherine Palmieri, junior, Woodlawn, Tenn. Northwest High School (NR)
11. Daya Powell, North Richland Hills, Texas, Timber Creek High School (9)
12. Rose Gailah, junior, Nashville, Tenn. John Overton High School, (10)
13. Alyssa Marinaccio, senior, Damascus, Md., Damascus High School (7)
14. Rachel Moore, senior, Shaktoolik, Alaska, Shaktoolik High School (12)
15. Ofa He Lotu Tuifua, sophomore, Kent, Wash., Kent Meridian High School (NR)
16. Shedeline Ulysse, senior, Orlando, Fla., Dr. Phillips High School (NR)
17. Madeline Flight, senior, Indianapolis, Ind., Pike High School (NR)
18. Emma Lozado, sophomore, Princeton, Texas, Princeton High School (NR)
19. Shola Cascen, Bronx, N.Y., Harry S. Truman High School (NR)
20. Kayvette Osorio, senior, Bakersfield, Calif., Golden Valley High School (NR)
225
1. Gabi Holloway, senior, Katy, Texas, Seven Lakes High School (1)
2. Cristina Santoyo, senior, Vallejo, Calif. North Hills High School (14)
3. Stacey Pgouda, junior, Hiram, Ga., Hiram High School (NR)
4. MaQuoia Bernabe, junior, Versailles, Ky, Woodford County High School (13)
5. Taja Showers, senior, Front Royal, Va., Skyline High School (4)
6. Shamia Wells, junior, Elizabethton, Tenn., Elizabethton High School (5)
7. Madlyne Navarro, senior, Oceanside, Calif., El Camino High School (7)
8. Kaitlyn Vanhoose, junior, St. Paris, Ohio, Graham High School (8)
9. Tangitenina Niutupuivaha, junior, Kahuku, Hawaii, Kahuku High School (10)
10. Lilian McCoy, junior, Petaluma, Calif., Casa Grande High School (11)
11. Kayla Henk, senior, Whitehall, Wis., Whitehall High School (NR)
12. Dominque Diaz, freshman, Brooklyn, N.Y., New Design High School (NR)
13. Mili-Nanea Nihipali, senior, Hillsboro, Ore., Century High School (12)
14. Lily Mills, senior, Amarillo, Texas, Canyon Randall High School (15)
15. Samantha Apple, junior, St. Louis, Mo., Mehlville High School (NR)
16. Celine Gomes, Wailuku, Hawaii, Baldwin High School (16)
17. Aaliyahrai Stewart, senior, Haltom City, Texas, Haltom High School (NR)
18. Lavenia Fotu, senior, Honolulu, Hawaii, Farrington High School (NR)
19. Vanessa Herrera, junior, Denver, Colo., Skyview High School (NR)
20. Andelisia Henry, Osceola, Ind., Penn High School (NR)